All Posts Tagged With: "Oscar Blandi"
It's no secret that '90s-inspired looks are back – including the "wet hair" look! Everyone including Beyoncé, Kim Kardashian West and Gigi Hadid has worn the look. Here is how to create it at home using Oscar Blandi Hair Care.
Marta Walsh's Hair: On my recent trip to LA I had to get my hair done before my photo-shoot for the NOH8 Campaign. BTW my photo for the NOH8 Campaign and my interview with founders Adam Bouska and Jeff Parhsley are coming up!! Now back to my blow out: I was super excited to schedule my very glamorous and photo-ready blow out with Gregory Russell at the Andy Lecompte Salon. It was around my birthday too so all was good:) I wanted to share with you the photo right after my blow out with Gregory. I mean, look at my hair! I LOVE it!!!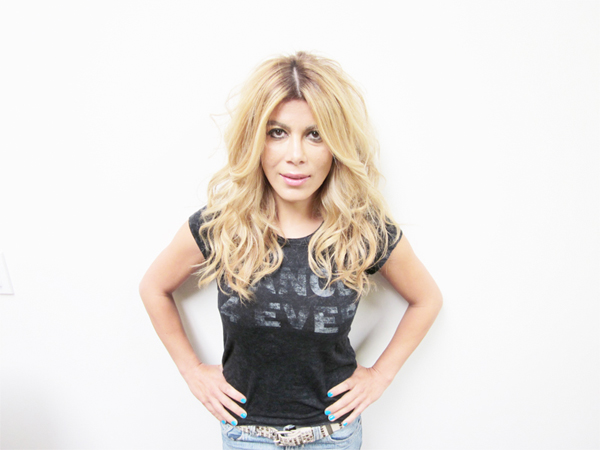 Marta Walsh. Hair by Gregory Russell at Andy Lecompte Salon. Products: Oribe Shampoo & Conditioner for Magnificent Volume and Oscar Blandi Volumizing Spray. The rest: Just Talent!
The messy up do was a trend on the Academy Awards 2010 red carpet. Celebs including Faith Hill, Jennifer Lopez, Sarah Jessica Parker, Rachel McAdams, Miley Cyrus, Penelope Cruz, Zoe Saldana and Kristen Stewart all embraced this look.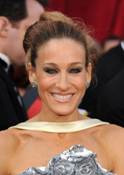 To get the look at home, celebrity stylist Oscar Blandi (who created Faith Hill's Oscars 2010 hairstyle and has worked with Penelope Cruz and Jennifer Lopez) suggests following these steps: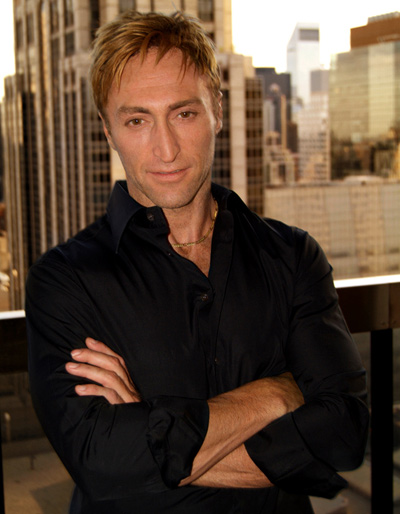 Oscar Blandi
Step 1: To create this look, the base is critical. Let 70% of the hair air dry and apply Oscar Blandi Volumizing Spray ($18, available at Sephora.com) from roots to end. Flip the hair upside-down and blow-dry on low mild heat.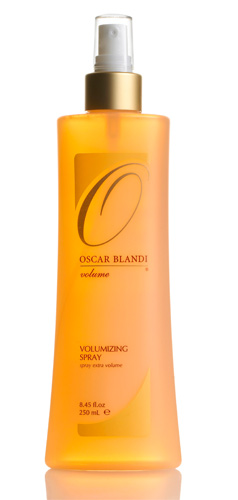 It's been a long but fun beautiful year here at Talking Makeup. I've tried many beauty products and fell in love 100 plus times. Here is the list of my favorite hair products for 2009! I really hope you all enjoy "The List" and love them as much as I do:)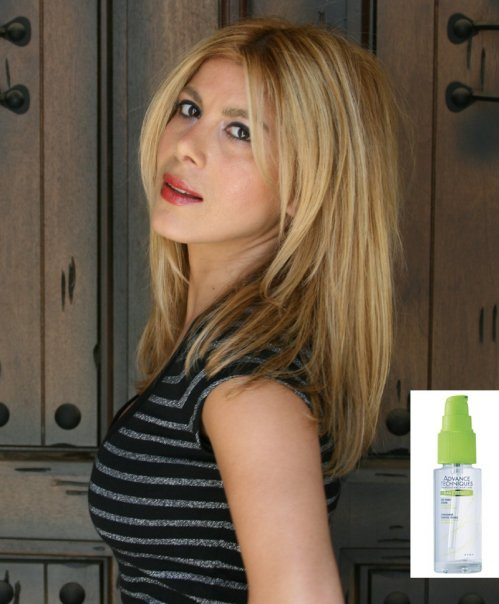 Marta Walsh is having a great hair day thanks to Avon Advanced Techniques Dry Ends Serum:)
Shampoo & Conditioner
For Blonde Hair:
1. Pantene highlighting expressions
2. John Frieda Collection sheer blonde
3. Redken Blonde Glam
Frizzy hair, dry hair, color treated hair:
1. Pantene Smooth Vitality
2. Pureology supersmooth and Pureology hydrate
3. Living proof no frizz
4. Paul Labrecque Repair
5. Moroccanoil moisture repair
6. L'Oreal Professionnel Paris vitamino color
7. Pantene Pro V Restoratives Frizz Control
8. L'Oreal EverPure Moisture
9. Leonor Greyl nourishing shampoo for long and dry hair
Lately I'm giving the Oscar Blandi Pronto Dry Shampoo a go. First time for me! I'm still getting the hang of using it. I put a little bit on my ends and tiny on the roots. If your hair is oily, the powder works well in controlling that too oily feeling. I wouldn't skip my wash entirely with this dry shampoo. But on the days I haven't washed my hair this product makes my hair smell good and refreshed. Verdict: it's a keeper. Available at Sephora and sephora.com
Oscar Blandi created Julia Louis-Dreyfus' 2009 Emmy Look. The polished romantic style was Oscar's reinterpretation of old Hollywood glamour.
Oscar Blandi and his team from the Oscar Blandi Salon were at the HBO Emmy Party providing guests with star styling services at an on-site Oscar Blandi Touch Up Lounge.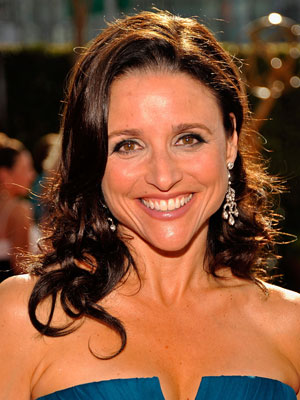 How to get Julia Louis-Dreyfus' hairstlye at the 2009 Emmy Awards:
1: Prep damp hair with Oscar Blandi Jasmine Protein Mist. ($18 on Sephora.com)

New York Fashion Week Spring 2010 Report: The makeup look for the Julie Haus fashion show was created by Stila for Beauty.com.
The Look at Julie Haus:
Makeup: Stila for Beauty.com
Hair: Oscar Blandi for Beauty.com
Skincare: Arcona for Beauty.com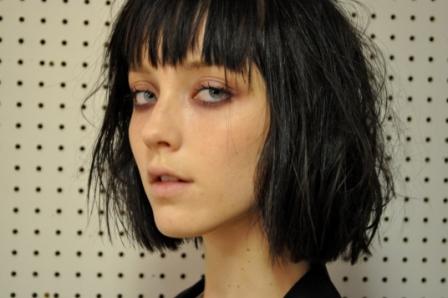 Nails: Lippmann for Beauty.com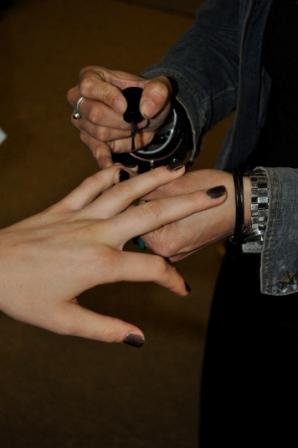 Celebrity Hairdressers Oscar Blandi & Mark Townsend get Hollywood's biggest stars glam for the 2009 Costume Institute Gala.
Calvin Klein (styled by Oscar Blandi, wearing Calvin Klein Collection).
With Brooke's hair, Oscar wanted to keep it very clean. "I decided to give her curls and keep them loose so that the look stayed soft." When her hair was still wet, he applied his Volumizing Spray to the root and then the Onde Wave Spray all over the hair to really lock in the curl. After drying the hair, he used both a medium and large barrel curling iron throughout. Using two different size barrels prevents the curls from all being the same size and ultimately blending together, so this way we avoid the blending and create more dimension. Once the curls were finished, he gently applied a small amount of Jasmine Oil on the hair to create sheen and sprayed Lacca hairspray all over.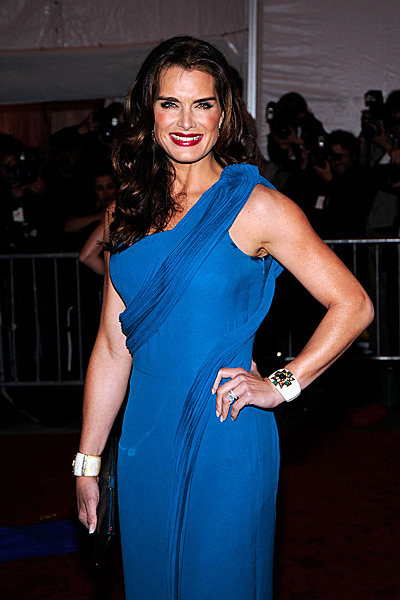 Rosario Dawson (styled by Oscar Blandi, wearing Diane von Furstenberg)
"For Rosario, I created what I like to call an abstract chignon." First Oscar blow dried the hair straight and then secured a low pony tail above the nape of the neck. Once the ponytail is set, you add medium and large size plastic rollers to the loose hair (again with both sizes to ensure texture throughout the hair). Then he sprayed Onde Wave Spray while setting the curl make sure the hair takes. Once he pulled out the rollers, it was easy to create a chignon with loose pieces– you just follow the curve of the hair and begin pinning sections in place with a bobby pin. Feel free to let hair hang and fall as it may and pull out pieces in the front to layer around the face. The final step was to spray the look with Lacca for hold through the night.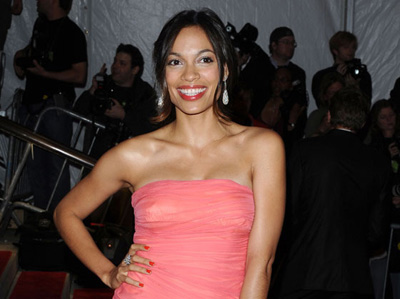 Ashley Olsen (styled by Matrix stylist Mark Townsend, wearing The Row)
Matrix celebrity stylist Mark Townsend recently cut Ashley's hair into an asymmetrical bob, so for the Met Ball they wanted to leave her hair down.
Talking Makeup's Top 10 celebrity hair stylist tips:
1. "I always use the same brushes: Mason Pearson for detangling and blowing out bangs and Spornett mixed bristle round brushes for blowouts. The mixed bristles grip the hair and create enough tension to get the hair really smooth without pulling on the hair"-Mark Townsend.
2. "There are so many to choose from now days so make sure you understand your hair type, etc. Do you have fine hair or thick hair or kinky hair….this makes a big difference in what shampoo and conditioner would be right for you. Fekkai has a very wide range of shampoos and conditioners that I love that would fit almost all hair-types out there…. Experiment till you find the one that makes your hair soft and shiny without leaving too much residue or buildup on your hair"-Adir Abergel.
3. "It is always important to apply strong volumizer on the roots to achieve a full and glamorous base. Polished, soft and natural curls always add to a glamorous look the without appearing too overdone. A good tip to make the hair fall glamorously around the face is to line the hair in proportion with the cheekbones. This tip emphasizes the beauty and the overall effect of the hairstyle"-Oscar Blandi.
4. "Moisture"-Jamal Hammadi.
5. "My number one hair care tip is: invest in good hair products and visit your hairstylist frequently. Don't be afraid of asking your hairstylist questions – that is part of their craft"-Omar Lopez.
6. "The Cutler Fly-Away Control Stick is definitely a must-have. It's easy to travel with and great to pull out to add shine and bring down fly-aways. Another great product is Redken's Workforce 09 hairspray it's lightweight and adds shine"-Rodney Cutler.
7. "Texture hair is always in need of moisture, conditioning, and a good stylist who understands their hair type. Most stylists are not trained to understand our hair, so a lot of Caucasian stylist will turn them away"-Kiyah Wright.
8. "The biggest mistake people make is going to the salon when they are emotional. It is important to explain to your stylist your lifestyle whether it is work, family or friends"-Kaz Amor.
9. "I cannot live without Vavoom Gold Heat Iron-In Control Protective Dry Mist! This is the product I used to create Reese's straight, sleek, shiny hair for the Globes. You spray the hair with this, then run a flat iron over the hair and it seals the hair and fights against humidity"-Mark Townsend.
10. " I love to use jasmine oil on my clients because I am usually working under fast turn around so it is easy enough for women to use it every day"-Oscar Blandi.
via: Beauty Interviews.
Get your exclusive backstage pass to New York Fashion Week at the Jenni Kayne Fall 2008 Fashion Show. Here is a video featuring celebrity hairstylist Oscar Blandi creating sophisticated, bed-head chic hair styles, and makeup artist Carlo Longo creating smokey eyes.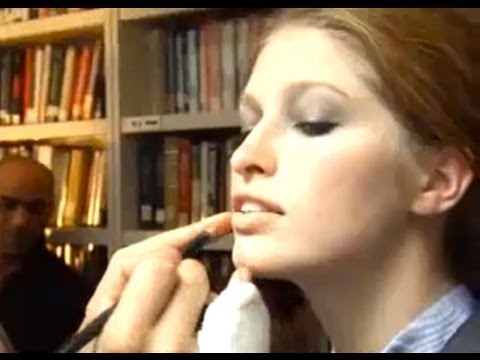 Oscar used Oscar Blandi Volumizing Spary ($18 at sephora.com) to create the depth and volume of in each braided look. He also used Oscar Blandi Jasmine Oil  Shine Spray ($22 at sephora.com) to finish each look. The amount of product used is pretty minimal to give it much more organic look. 
Oscar Blandi's celebrity clients include: Jennifer Garner, Kelly Ripa, Jessica Biel, Faith Hill, and Jessica Alba.