All Posts Tagged With: "Hair Mask"
Best Hair Mask (high end): The winner is: It's a "10" Miracle Silk Express Hair Mask. Claims to Instantly detangles and Reduces frizz: True for both. You really feel this deep conditioner working as soon as you put it on. Hair does feel smooth and silky right away, which some conditioners can't do. It is a 10.
Whether its managing home life and kids or tending to a demanding job, to-do lists seem to get longer by the minute (and second!). It's time we get smarter about the choices we make and the priorities we keep. Making simple changes with smart solutions can even start with what you use in the shower. Redken, the leading professional haircare company, has discovered a way for haircare to be smart and multitask.
Winter Hair:  Take care of your hair this season! Fight harsh winter elements by hydrating, protecting and nurturing brittle, flat and damaged hair. Wella System Professional Power Mask is designed to smooth and condition severely damaged hair, while improving manageability and shine.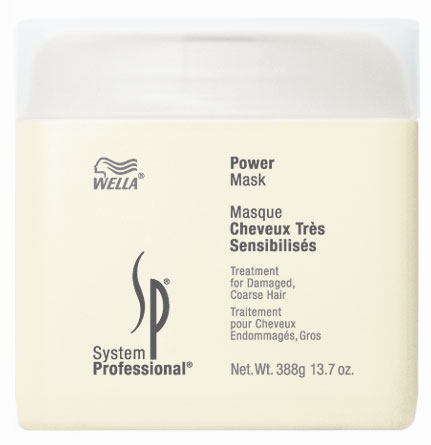 Tip: Cold weather drains the moisture from your hair. Wear a scarf, hat or cap to protect your hair from the cold and wind. This will also help to prevent knots and dry ends. Stash a smoothing balm in your purse to tame flyaways.
It's been a long but fun beautiful year here at Talking Makeup. I've tried many beauty products and fell in love 100 plus times. Here is the list of my favorite hair products for 2009! I really hope you all enjoy "The List" and love them as much as I do:)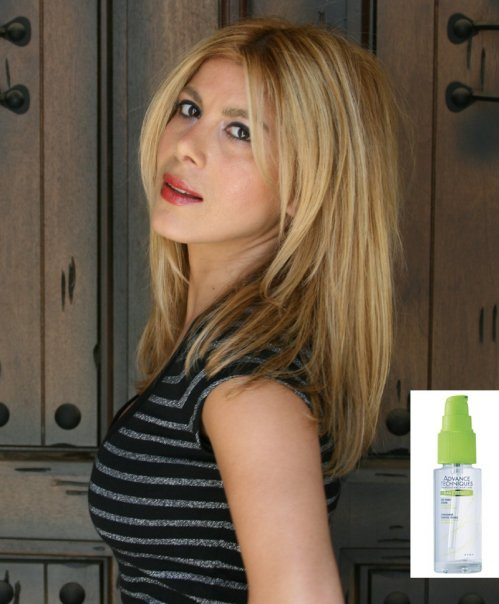 Marta Walsh is having a great hair day thanks to Avon Advanced Techniques Dry Ends Serum:)
Shampoo & Conditioner
For Blonde Hair:
1. Pantene highlighting expressions
2. John Frieda Collection sheer blonde
3. Redken Blonde Glam
Frizzy hair, dry hair, color treated hair:
1. Pantene Smooth Vitality
2. Pureology supersmooth and Pureology hydrate
3. Living proof no frizz
4. Paul Labrecque Repair
5. Moroccanoil moisture repair
6. L'Oreal Professionnel Paris vitamino color
7. Pantene Pro V Restoratives Frizz Control
8. L'Oreal EverPure Moisture
9. Leonor Greyl nourishing shampoo for long and dry hair
Today it's a good hair day here at the headquarters of Talking Makeup. My hair feels super soft and smells amazing. I like to thank Morocconoil haircare products for making my day/hair so beautiful.
These are the Morocconoil products that I used on my hair:
Moroccanoil Moisture Repair Shampoo: This shampoo is sulfate-free and gentle to hair. It doesn't lather a lot but enough.

Watch Marta's vlog talking about her favorite haircare products for the winter. Marta is giving winter hair tips and she is all about Pantene Pro-V Restoratives Time Renewal Shampoo Conditioner and Mask.
Products mentioned in Marta's vlog:
Pantene Pro-V Restoratives Time Renewal Shampoo
Pantene Pro-V Restoratives Time Renewal Conditioner
Pantene Pro-V Restoratives Time Replenishing Mask
Visit  www.pantene.com for additional product details.
*Products in Marta's video blog for today were provided by Pantene.
The Show: Carolina Herrera
The Trend: Fine-textured low twisted chignons with touches of delicate long strings of intricate seed-beads swept throughout strands of the hair.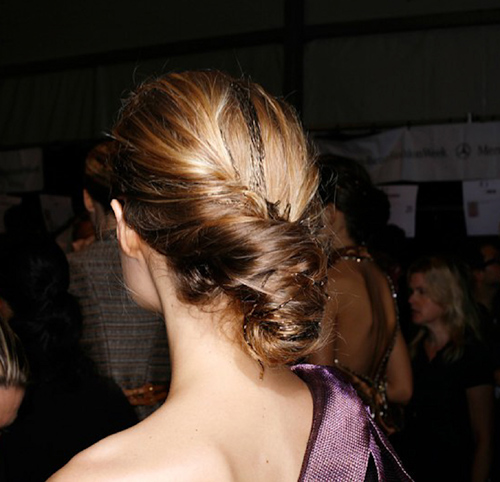 The Inspiration: The Carolina Herrera Spring 2010 collection was inspired by intricate forms woven in Japanese baskets. The texture of the fabrics and prints was taken from patterns found in the details of these baskets. Colors including amber, rose and caramel were drawn from the waning light cast at the end of a summer's day, with the luminous quality of this light reflected in the fabrics and embroidery used for evening.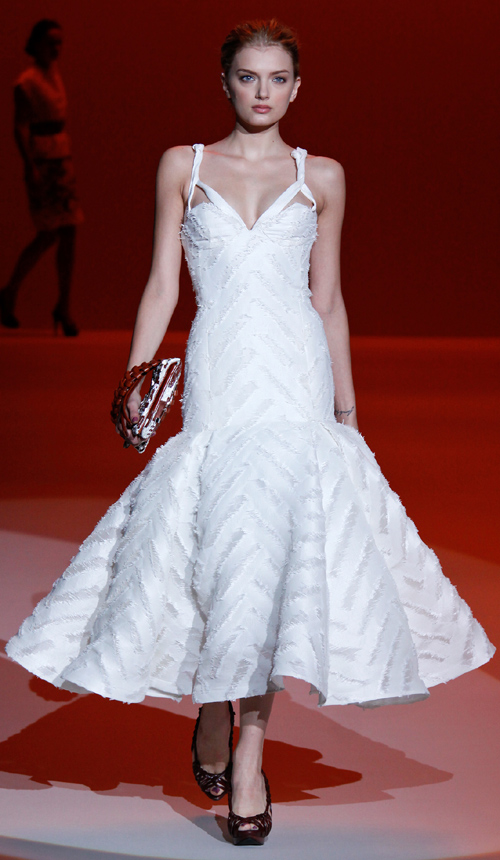 The Hair: Orlando Pita, using Moroccanoil, created beautiful, fine-textured low twisted chignons with touches of delicate long strings of intricate seed-beads swept throughout strands of the hair. The looks, created with Moroccanoil Hydrating Styling Cream, highlighted smooth elegance with a natural ease, texture and flow.
"We used argan-oil infused Moroccanoil Hydrating Styling Cream to prime the hair and give it a natural-looking, frizz-free texture with a soft hold," noted Pita. "The beads were designed to blend subtly through the hair; appearing almost as if they're embedded in the strands themselves." Pita plays with texture and keeps the look relaxed and piece-y, without stiffness or tight structure (Tip: Rather than using a brush to blow-dry strands, Pita mussed hair with his fingers as he blow-dried to enhance the tresses' natural separation and create further definition.)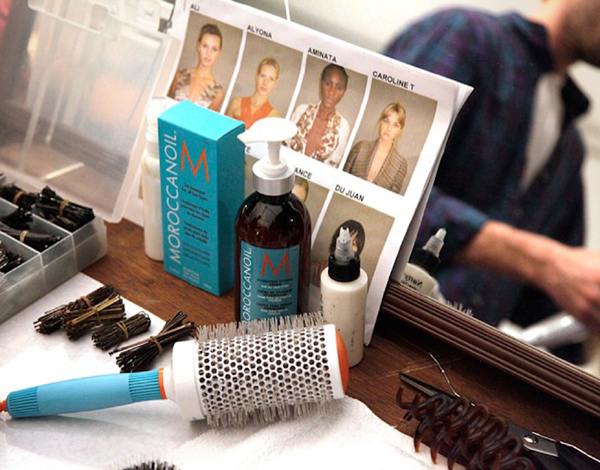 How to get the hairdo as seen backstage at Carolins Herrera: