All Posts Tagged With: "color-treated hair"
I never thought that I would be getting hair style inspiration from a Princess. Sounds cliche but Kate Middleton happens to have a beautiful hair and the matching hair style. What I love about Kate's hair style is that it's really not too much of a hair style. Very long layers and not too many sharp edges makes this hair style very practical to even the fussiest and busiest women. The longer the hair is, like Kate's, the easier it is to maintain.
Think about it, when your hair has long layers you don't have to spend extra time blow drying these stubborn short bangs that get messed up through out the day (did I mention give the hair spray a break), hair  just falls down with ease. Needless to say, Kate's hair color looks in exceptional condition. I recently saw an old photo of  Kate as a young girl and her hair was lighter, dark blonde perhaps. So IF she currently colors her hair to bit of a darker brown shade it's quite inspirational to me to have such sleek and elegant color treated hair. The truth is loves, I believe with just a little TLC to our hair and the right hair care products, Princess or not, we all have a chance!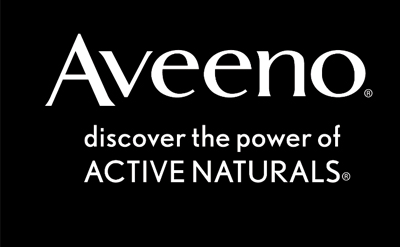 The AVEENO® LIVING COLORTM Hair Care Collection helps to preserve beautiful, vibrant color for up to 40 washes with the help of ACTIVE NATURALS® ingredient Lupine Botanicals. The line includes shampoos and conditioners formulated specifically for fine and medium-thick hair, and a shine glaze to lock in color vibrancy with each use. For more information, visit http://www.aveeno.com/hair-care/living-color
"Disclosure: Compensation was provided by AVEENO® LIVING COLORTM via Glam Media"
"The opinions expressed herein are those of the author and are not indicative of the opinions or positions of AVEENO® LIVING COLORTM"
Every now and again my hair seems to feel dry, distressed, and overworked and in need for some help. It happens to the best of us. This morning I used Redken extreme shampoo and NEW Redken extreme strength bulder plus fortifying mask, and anti-snap leave-in treatment for distressed hair. These hair care products made my hair feel like silk. Wow. It's not an oily treatment which sometimes I find to weigh down my hair. It's an intense protein and ceramide treatment. Not greasy at all just silky.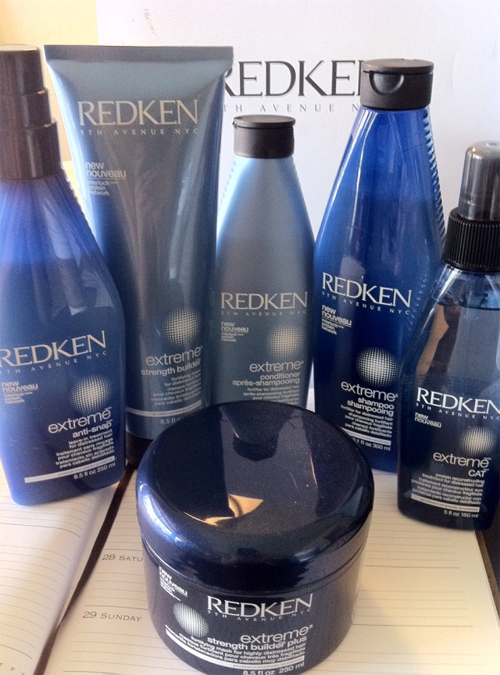 Redken extreme Hair care Line
Did you know that: " Redken was the first brand to introduce protein into professional haicare in the 60's..and now, Redken unvails a new generation of protein science with the dual-patnted Fotfying Complex and Interlock Protein Network, enebling penetration of the hair shaft more than ever before"-Dr. David Cannell, Redken's R&D expert.
The Beauty of Glaze Plus, $15: As an alcohol-free styling aid with a mousse-like performance, achieve amazing frizz free volume hair and a medium hold to any curly hairstyle, while color enhancers and Chamomile extract provide UVB protection to keep color longer and shinier.

Glaze Plus for Anti-Frizz, High Gloss Hair
Visit www.whitesandsproducts.com for additional details.
How To Get Adrienne Bailon's Hairdo: Are you in a winter hair rut? Need to give your hair a revival? Actress and singer Adrienne Bailon was feeling the same way when she came into the Hair Rules Salon in New York City this week. Adrienne turned her hair over to the salon team, led by texture- guru Dickey, to give her hair a much-needed boost. The mastermind behind the texture-based salon and hair care brand, Dickey has decades of experience bringing out the best in every texture imaginable, from the runway to the red carpet. "I want something new and different to start of 2010," Adrienne told Dickey. "I want to go back to blonde – they say that blondes have more fun; let's see!"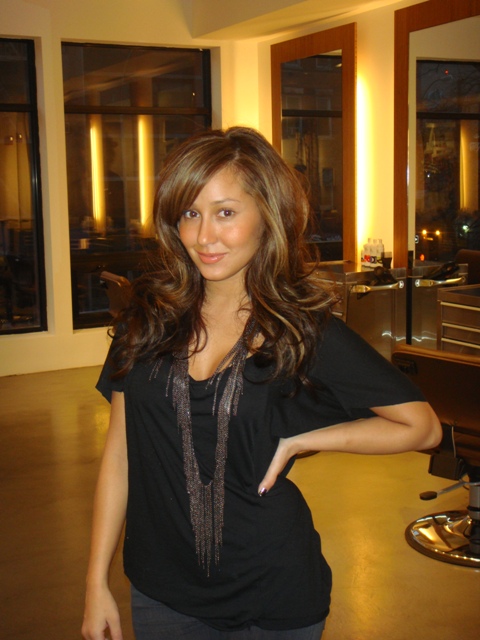 Adrienne Bailon Visits The Hair Rules Salon
Dickey and his team went to work, giving Adrienne gorgeous golden highlights, a clean cut, and a sexy blowout.
"I'm obsessed with my new color!" Adrienne gushed. "Ask any of my twitter followers – I literally ask at least once a week what color I should have. This will be my color for the next year at least. I just LOVE it – I look sun-kissed."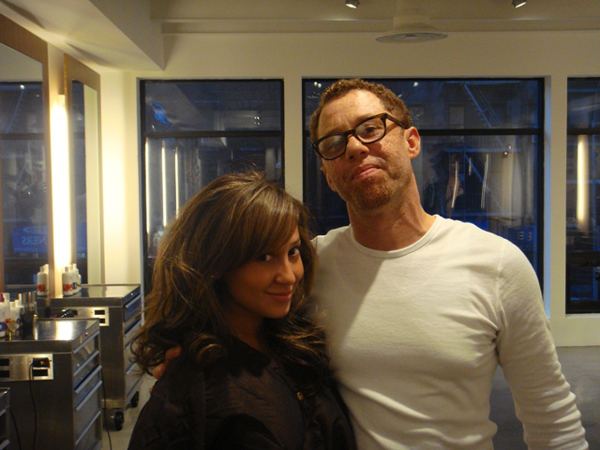 Adrienne Bailon and The Hair Rules Salon Dickey
Want Adrienne's golden tresses? Here's how in three simple steps from Dickey and the Hair Rules team:
It's been a long but fun beautiful year here at Talking Makeup. I've tried many beauty products and fell in love 100 plus times. Here is the list of my favorite hair products for 2009! I really hope you all enjoy "The List" and love them as much as I do:)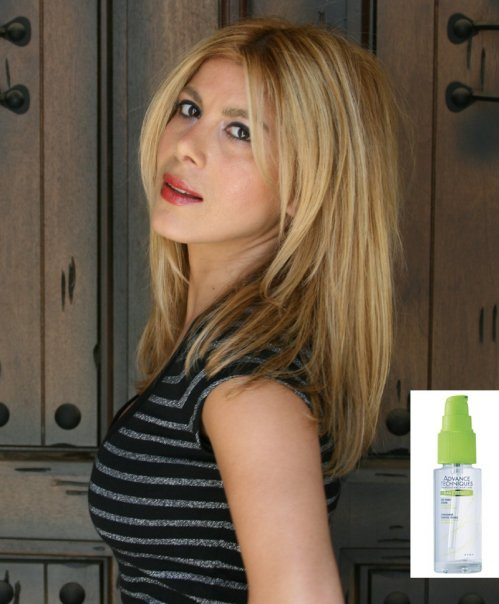 Marta Walsh is having a great hair day thanks to Avon Advanced Techniques Dry Ends Serum:)
Shampoo & Conditioner
For Blonde Hair:
1. Pantene highlighting expressions
2. John Frieda Collection sheer blonde
3. Redken Blonde Glam
Frizzy hair, dry hair, color treated hair:
1. Pantene Smooth Vitality
2. Pureology supersmooth and Pureology hydrate
3. Living proof no frizz
4. Paul Labrecque Repair
5. Moroccanoil moisture repair
6. L'Oreal Professionnel Paris vitamino color
7. Pantene Pro V Restoratives Frizz Control
8. L'Oreal EverPure Moisture
9. Leonor Greyl nourishing shampoo for long and dry hair
I'm excited to share with you my interview with Wella colorist Eva Scrivo. Eva is a stylist, colorist, and owner of the Eva Scrivo Salon in New York. Eva is also known as the Long-time stylist to Martha Stewart and a frequent guest on her show. And on top of it all, she is an all around beauty expert and has a call-in show on Sirius called Beauty Talk and wrote a beauty guide that will be published for Fall 2010.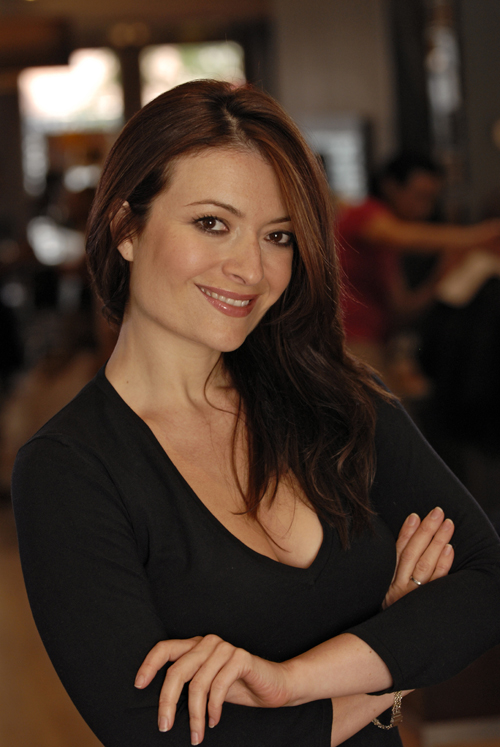 Eva Scrivo
In this interview Eva Scrivo talks about why she has decided on a career in hairdressing and some of her biggest breaks as a top colorist. Gives advice on hair and on what does it take to have a career as a top hairdresser. You will also find out which city Eva loves the most.
Marta Walsh: When and why did your fascination with hair begin?
Eva Scrivo: Growing up, I was an avid student of the arts. Painting, pottery and theatre were all subjects I loved. This absolutely laid the groundwork which led me to choose a creative field like hairdressing as a career.
New This month (August 2009): Rene Furterer introduces VOLUMEA, a 3-sku volumizing range. The product range consists of the VOLUMEA volumizing shampoo and two leave-in treatments VOLUMEA no rise volumizing conditioning spray and VOLUMEA leave-in volumizing foam. The products are formulated with their patent pending natural Carob extract. This proprietary ingredient coats the entire hair shaft from root to end, enhancing the diameter of each strand to perceptibly thicken and plump without weighing hair down and providing long-lasting airy volume.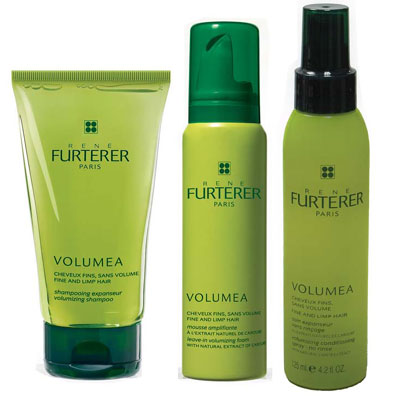 KLORANE introduces to their range for color-treated hair, the NEW no rinse care with pomegranate and NEW formulations of shampoo with pomegranate and conditioner with pomegranate, all proven to help color last twice as long.