All Posts Tagged With: "Eva Scrivo"
New York Fashion Week Fall Winter 2010. Show: Cynthia Rowley. Hair by Wella Professionals. Hair Trend: Color Extensions.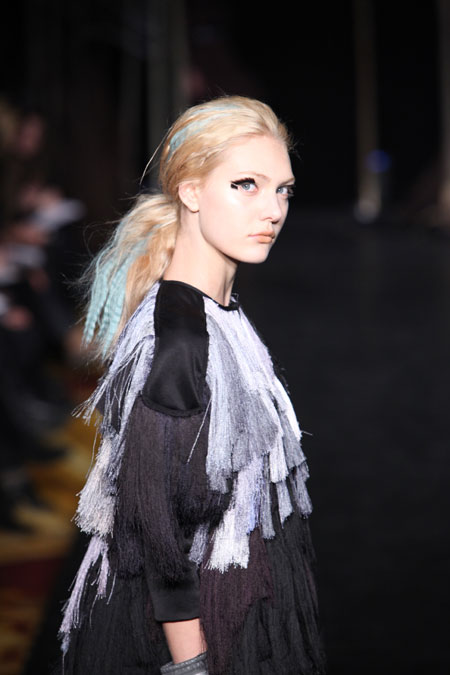 Inspiration: Cynthia Rowley is known for her whimsical-yet-sophisticated aesthetic with a vintage-inspired slant. For Fall '10, the collection feels more indie and tough, not ladylike. She takes classic, feminine wardrobe elements, like the dress and the elbow glove, but redefines them for the modern, tough girl. The clothing and accessories for Fall concentrate on volume, texture and movement, which is accomplished with lots of feathers, fringed leather, and silk fringe. [The array of shaded extensions prepared for the show.]
Looks like it's time to break out the Manic Panic. The big beauty trend for hair at Fashion Week was bright, chunky streaks of color that brought to mind punk-inspired street style circa 1996. At the Cynthia Rowley Fall 2010 fashion show, Eva Scrivo for Wella Professionals custom colored hair extensions in shades of emerald, lapis, amethyst, navy and turquoise to replicate the rich jewel tones present in the collection. Each hair extension was completely saturated with professional salon haircolor and then woven into the hair and styled, creating an element of surprise and intrigue when models hit the runway. Read full article in dailymakeover.com

Turquoise tresses at Cynthia Rowley.
Photo courtesy of Wella Professionals
For more Beauty Trends and News visit dailymakeover.com
I'm excited to share with you my interview with Wella colorist Eva Scrivo. Eva is a stylist, colorist, and owner of the Eva Scrivo Salon in New York. Eva is also known as the Long-time stylist to Martha Stewart and a frequent guest on her show. And on top of it all, she is an all around beauty expert and has a call-in show on Sirius called Beauty Talk and wrote a beauty guide that will be published for Fall 2010.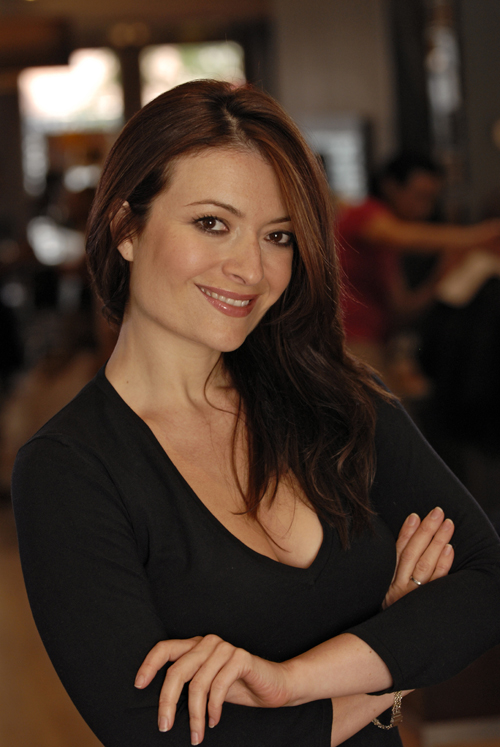 Eva Scrivo
In this interview Eva Scrivo talks about why she has decided on a career in hairdressing and some of her biggest breaks as a top colorist. Gives advice on hair and on what does it take to have a career as a top hairdresser. You will also find out which city Eva loves the most.
Marta Walsh: When and why did your fascination with hair begin?
Eva Scrivo: Growing up, I was an avid student of the arts. Painting, pottery and theatre were all subjects I loved. This absolutely laid the groundwork which led me to choose a creative field like hairdressing as a career.
New York Fashion Week Fall 2009 Report: Wella gives us an exciting, backstage look into the makings of one of the most talked-about fashion shows this fall, Malandrino.
Hair color is the newest fashion accessory this fall. For the second season in a row, Wella Professionals brought hair color to New York Fashion Week at Catherine Malandrino's Fall '09 show at NYC's the Rainbow Room. The fashionable female team that collaborated on this Surrealist-inspired hairstyle included lead stylist Odile Gilbert and Eva Scrivo, lead colorist for Wella Professionals.
Watch this behind-the-scenes video of Wella Professionals at the Fall '09 Malandrino:

Backstage with Wella video is feaured on by www.misslush.com  style & beauty video sharing website. Upload your video today, just register it's FREE, and upload! Also, join & chat in Miss Lush's Forums!