New York Fashion Week Fall Winter 2010. Show: Cynthia Rowley. Hair by Wella Professionals. Hair Trend: Color Extensions.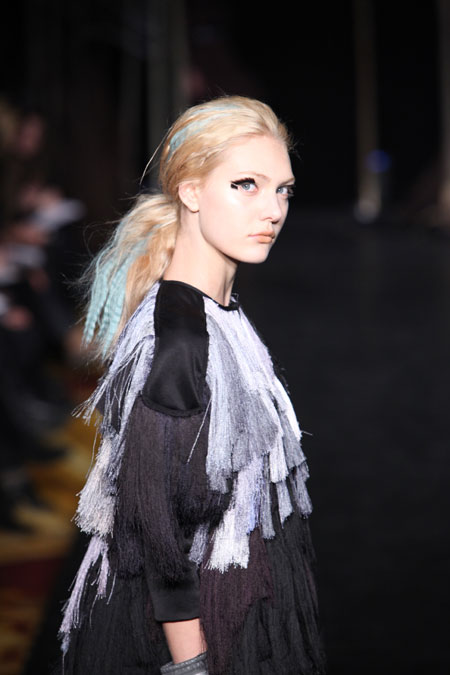 Inspiration: Cynthia Rowley is known for her whimsical-yet-sophisticated aesthetic with a vintage-inspired slant. For Fall '10, the collection feels more indie and tough, not ladylike. She takes classic, feminine wardrobe elements, like the dress and the elbow glove, but redefines them for the modern, tough girl. The clothing and accessories for Fall concentrate on volume, texture and movement, which is accomplished with lots of feathers, fringed leather, and silk fringe. [The array of shaded extensions prepared for the show.]
The Look: The hair look is a tangible interpretation of nouveau fun, marrying the funky hair accessory with wearable street style. A natural, textured ponytail is accented with the striking contrast of artificial colored hair extensions blended seamlessly within the ponytail for a modern twist.
The Hair Color Story: Wella Professionals lead colorist Eva Scrivo directed a team of Wella stylists to custom color extensions that replicate the rich, artificial jewel tones of the collection, such as emerald, amethyst, lapis, bright turquoise, and navy. Wella Professionals Koleston Perfect Special Mix shades were used to completely saturate the natural hair extensions with rich, vibrant shades stemming from the primary color palette. The sophisticated nuances of the Special Mix collection allow for creativity without limits – turning any color fantasy into a reality on the runway or in real life. The multi-dimensional tones and layers reveal sensuous colors in a range of shades, while embedded with an element of surprise. Hair color is a woman's best accessory and the concept for Cynthia Rowley's show reflects this with a literal interpretation.
Hair Tutorial:
1. Section hair off and working from back of the head to the front, prepare hair with System Professional Ultimation hair spray for added texture and shine.
2. Create texture within each section by using a combination of a curling iron and crimping iron for non-uniform waviness.
3. Place Wella colored hair pieces that have been crimped within sections of the natural hair so that the extensions blend in seamlessly.
4. Pull the hair back into a soft ponytail at the nape of the neck with the ends flowing naturally, while allowing the streaks of color to show through for added dimension.
Hot Products: Provided by System Professional
System Professional Ultimation: Strong-hold hairspray with long-lasting hold and maximum shine (SRP: $18)
Hair Color: Eva Scrivo for Wella Professionals
Hair products provided by Wella System Professional
Lead Stylist: Alain Pichon for Antonio Prieto Salon