All Posts Tagged With: "Cynthia Rowley"
Renowned designer Cynthia Rowley has launched a limited-edition suncare kit with luxury sun and skincare brand, COOLA in celebration of World Ocean Day. Consisting of a curated assortment of COOLA SPF products, the colorful water resistant pouch created specifically for the partnership will retail for $75 and is available on coolasuncare.com/change.
For her sophisticate-on-seaside-holiday collection, Cynthia Rowley took her 'show on the road' yesterday, June 16th, 2010, in New York City, bringing the 'presentation to the people' garnering big buzz and excitement by tourists and fashionistas. To compliment her collection of denim and chiffon patchwork, bold geometric prints, and bright metallic fabrics, Cynthia turned to Rodney Cutler of Cutler/Redken salon, for a remarkable hairstyle to complement each of the looks on the 9 models.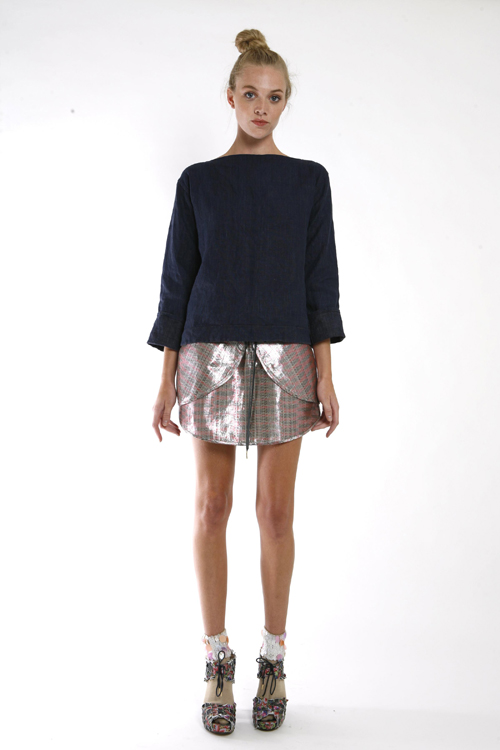 Cutler fashioned a trendy texturized top knot, loose enough to look like she woke up at her suite and styled her hair up to lounge at the pool. Even if you're not lounging poolside or frolicking in the sand, this style is suitable for the office or a night on the town. Here is a step-by-step to achieve on your own!
New York Fashion Week Fall Winter 2010. Show: Cynthia Rowley. Hair by Wella Professionals. Hair Trend: Color Extensions.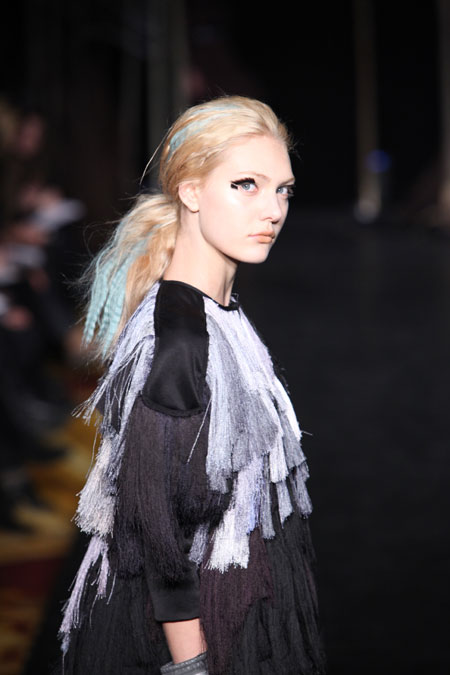 Inspiration: Cynthia Rowley is known for her whimsical-yet-sophisticated aesthetic with a vintage-inspired slant. For Fall '10, the collection feels more indie and tough, not ladylike. She takes classic, feminine wardrobe elements, like the dress and the elbow glove, but redefines them for the modern, tough girl. The clothing and accessories for Fall concentrate on volume, texture and movement, which is accomplished with lots of feathers, fringed leather, and silk fringe. [The array of shaded extensions prepared for the show.]
Looks like it's time to break out the Manic Panic. The big beauty trend for hair at Fashion Week was bright, chunky streaks of color that brought to mind punk-inspired street style circa 1996. At the Cynthia Rowley Fall 2010 fashion show, Eva Scrivo for Wella Professionals custom colored hair extensions in shades of emerald, lapis, amethyst, navy and turquoise to replicate the rich jewel tones present in the collection. Each hair extension was completely saturated with professional salon haircolor and then woven into the hair and styled, creating an element of surprise and intrigue when models hit the runway. Read full article in dailymakeover.com

Turquoise tresses at Cynthia Rowley.
Photo courtesy of Wella Professionals
For more Beauty Trends and News visit dailymakeover.com
We are going backstage with AVON to learn how to get that "straight off the runway" look, inspired by the Fall 2008 Cynthia Rowley Runway Show:
Hair: The hair created by Avon Global Stylist Advisors Allen Ruiz, Anthony Barrow and Chie Sugwara was inspired by the romance of the Cynthia Rowley Collection. Ruiz and Barrow wanted to keep the girls looking beautiful with very soft romantic hair. The look is matte in texture for movement on the runway, and shiny to keep with the romance of the collection.
The team used Avon Advanced Techniques Volumizing Mousse on damp hair focusing on the roots to create a volume foundation and gave the models' hair shine throughout. Hair was blow dried using the Advance Techniques Two-Sided Oval Brush. To add texture and volume to the hair the Advance Techniques Extra Hold Hair Spray was used while blow drying and back-combing the hair with the Advanced Techniques Flair Styler Brush. Finally, they applied a mist of Advance Techniques Mirror Shine Spray to create a "halo" effect at the crown adding to the contrasting of textures of smooth crown and texturized full body.
Introducing two new designer fragrances Flower and Petal by Cynthia Rowley exclusively at Avon.
The renowned style maker has created two new fashionable floral scents exclusively for Avon, available from April 2008.
Flower by Cynthia Rowley is feminine and flirty, yet sophisticated. Every note was hand-picked by Cynthia herself, creating a bouquet of florals surrounded by warm woods and musks. The notes include: Casablanca Lily, Freesia, Cashmere Woods, Warm Vanilla, Skin Musk, Velvet Woods, and Sandalwood. Price: $30 for 50ml.
"I wanted to capture the essence of our collection and the women we dress in this fragrance," says Cynthia. "I think we can associate the elements of design-texture, shape, color-with these scents that embody our sensibilities. I like that the fragrance is complex, with so many disparate notes, but has such a simple name-Flower." -Cynthia Rowley.
Petal by Cynthia Rowley is the bud for the grownup Flower by Cynthia Rowley and captures the innocent, youthful blush of freshly bloomed Lily of the Valley. It is a natural extension of Flower, similar to the inextricable bond between mothers and daughters. Petal is lighter than Flower, with a more carefree sensibility, and was made to be worn by young girls as well as women who are young in heart. Price: $15 for 30ml.
"The scent of my mom's fragrance, which she would wear on special occasions and spritz on me before going out, is one of my favorite memories from childhood. I wanted to make something that I could share with my daughters-only with their own fragrance notes."-Cynthia Rowley.
For additional product information visit: www.avon.com