For her sophisticate-on-seaside-holiday collection, Cynthia Rowley took her 'show on the road' yesterday, June 16th, 2010, in New York City, bringing the 'presentation to the people' garnering big buzz and excitement by tourists and fashionistas. To compliment her collection of denim and chiffon patchwork, bold geometric prints, and bright metallic fabrics, Cynthia turned to Rodney Cutler of Cutler/Redken salon, for a remarkable hairstyle to complement each of the looks on the 9 models.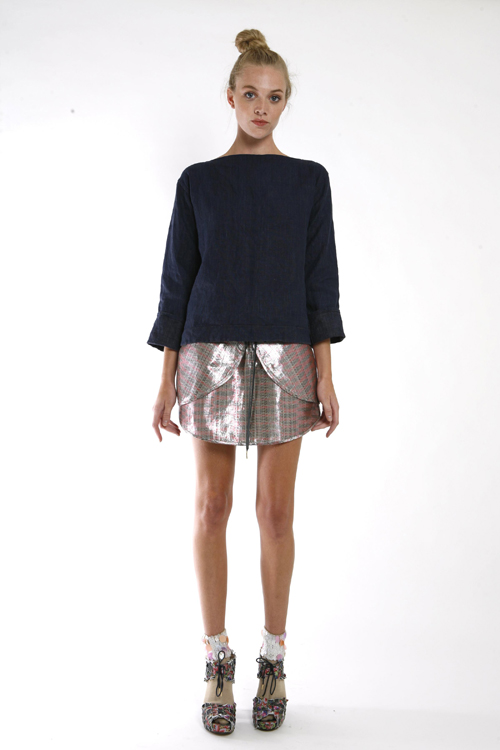 Cutler fashioned a trendy texturized top knot, loose enough to look like she woke up at her suite and styled her hair up to lounge at the pool. Even if you're not lounging poolside or frolicking in the sand, this style is suitable for the office or a night on the town. Here is a step-by-step to achieve on your own!
Cynthia Rowley Top Knot How to Hair Tutorial:

Rodney Cutler
1. Start by applying Redken spray starch 15 versatile ironing spray on damp hair, follow by blow-drying the hair using a flat brush in an upward direction to get the roots moving away from the hairline.
2. To create your ponytail, apply quick dry 18 instant finishing spray as you are brushing the pre dried hair up into a high-top ponytail.
3. Create a high-top ponytail that is clean but not slick allowing some of the texture in the hair to be visible.
4. From the ponytail, twist tightly into a high knot pinning as you get to the base and allowing the ends of the ponytail to poke out. This is to give the appearance of a do it yourself homemade look.
5. Finally secure the finished style with quick dry 18 instant finishing spray.
Visit Redken.com for additional product details.
Please note, Redken products can only be guaranteed authentic when purchased from a salon.