All Posts Tagged With: "Cutler/Redken Salon"
For her sophisticate-on-seaside-holiday collection, Cynthia Rowley took her 'show on the road' yesterday, June 16th, 2010, in New York City, bringing the 'presentation to the people' garnering big buzz and excitement by tourists and fashionistas. To compliment her collection of denim and chiffon patchwork, bold geometric prints, and bright metallic fabrics, Cynthia turned to Rodney Cutler of Cutler/Redken salon, for a remarkable hairstyle to complement each of the looks on the 9 models.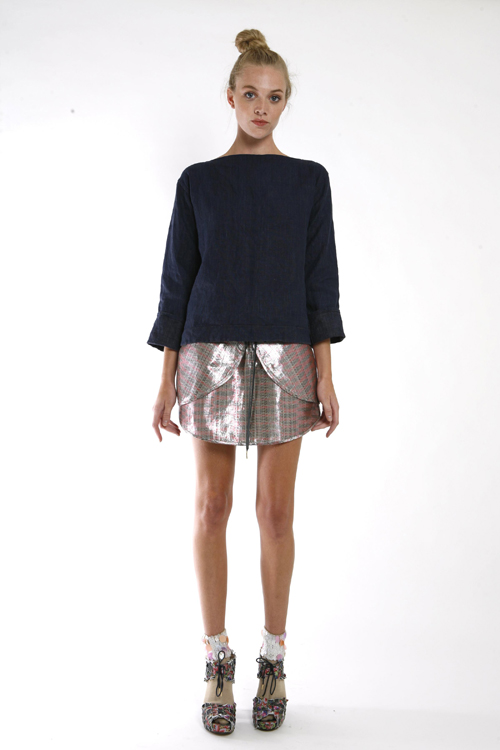 Cutler fashioned a trendy texturized top knot, loose enough to look like she woke up at her suite and styled her hair up to lounge at the pool. Even if you're not lounging poolside or frolicking in the sand, this style is suitable for the office or a night on the town. Here is a step-by-step to achieve on your own!
Summer Hair: Just in time for Summer protect your hair and scalp from the sun with the NEW Redken Color Extend Sun Solar Screen SPF 12, $16. I live in very sunny Scottsdale Arizona and I use Color Extend Sun Solar Screen often. It smells amazing and keeps my blonde highlights fresh and my hair super soft.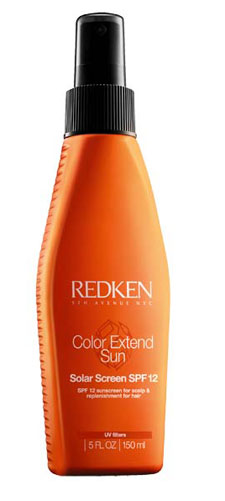 "Color Extend Sun Solar Screen SPF 12 is particularly recommended for stylists and consumers with side/middle/fringe parts, thinning hair, receding hairlines, or light-colored hair, and are looking for a multi-tasking product to protect their hair and scalp from UV damage while helping to protect and replenish the hair," states Rodney Cutler, Redken Brand Ambassador and owner of Cutler/Redken Salon. "It is highly recommended to use the protective treatment at the beach or by the pool and for people who work outdoors and/or who play outdoor sports."
Available from March 2010 at Redken.com for salons
Also from the Redken Color Extend Sun Haircare: Marta loves the Color Extend Sun Sparkling Shield leave-in smoother for sun-exposed hair which is formulated with mango oil. WATCH here:
WATCH: Hair Extensions Tutorial by Jenny Balding stylist at the Cutler/Redken Salon in New York City. Host: Kelli Acciardo at Seventeen.com. Find out how easy it is to switch up your hairstyle at home!