All Posts Tagged With: "thinning hair"
Love and hair are essentially the same – they both can be temperamental but when you get it right, you want it to stay. Whether you're going to #netflixandchill or hitting the town with your main hang this Valentine's Day the last thing you want is basic hair or a basic formula. Thanks to the strong hair, aficionados at Keranique, their cutting edge, strength building formulas make hair panic is a thing of the past!
When you haven't gotten your roots done or washed your hair. Keranique Tint & Texture Color Density Treatment.
NEW Redken intra force for color treated thinning hair-hair care collection. I recently went really blonde and that weakened my hair a bit so I've decided to try the new intra force shampoo & conditioner by Redken and I really like it. At first I thought it would feel and smell a bit like medicine or strong and won't feel like a normal shampoo.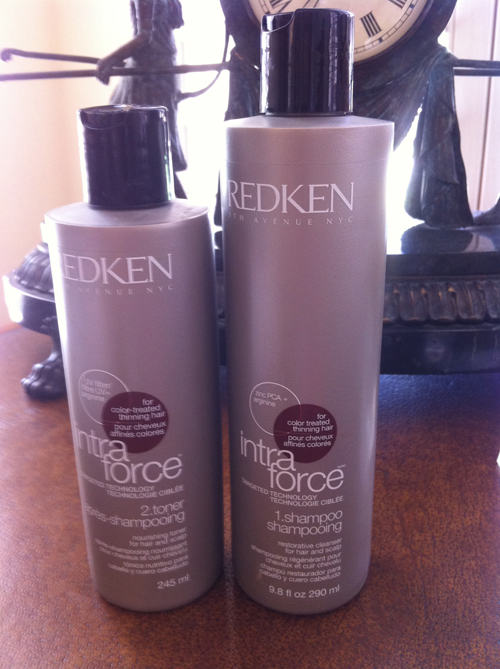 Redken intra force for color treated thinning hair shampoo and toner. Redken intra force also includes:1 & 2 Scalp Treatment, 1 & 2 Micro Boost, Hair Advance, and Hair Densifier.
To my surprise Redken intra force shampoos nicely and the toner which is practically a conditioner made my hair soft and manageable. In fact the shampoo has a bit of minty fresh tingly feeling on the hair and scalp and it's very soothing.
Suffering from thinning hair? NIOXIN the leader in professional scalp treatment has a 3-part hair & scalp systems (8 in total) to bring back the full hair you long for (pun intended).
"There are several lifestyle triggers that can contribute to thin looking hair, no matter how old you are," says dermatologist Dr. Valerie Callander. "Chemical treatments and daily styling can also lead to hair breakage and thin looking hair. If you want thicker, fuller looking hair, visit NIOXIN salon and speak with your stylist for expert advice you can use."
Summer Hair: Just in time for Summer protect your hair and scalp from the sun with the NEW Redken Color Extend Sun Solar Screen SPF 12, $16. I live in very sunny Scottsdale Arizona and I use Color Extend Sun Solar Screen often. It smells amazing and keeps my blonde highlights fresh and my hair super soft.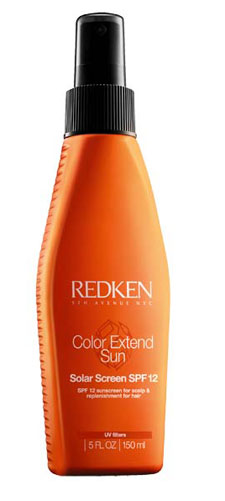 "Color Extend Sun Solar Screen SPF 12 is particularly recommended for stylists and consumers with side/middle/fringe parts, thinning hair, receding hairlines, or light-colored hair, and are looking for a multi-tasking product to protect their hair and scalp from UV damage while helping to protect and replenish the hair," states Rodney Cutler, Redken Brand Ambassador and owner of Cutler/Redken Salon. "It is highly recommended to use the protective treatment at the beach or by the pool and for people who work outdoors and/or who play outdoor sports."
Available from March 2010 at Redken.com for salons
Also from the Redken Color Extend Sun Haircare: Marta loves the Color Extend Sun Sparkling Shield leave-in smoother for sun-exposed hair which is formulated with mango oil. WATCH here:
Jonathan Product is launching in April 2010 the INFINITE VOLUME collection including Shampoo, Conditioner and Thickening Foam.

L to R: Jonathan Product INFINITE VOLUME Shampoo ($20), Jonathan Product INFINITE VOLUME Conditioner ($22), Jonathan Product INFINITE VOLUME Thickening Foam ($24)