All Posts Tagged With: "Scottsdale Arizona"
Happy Friday loves:) Here's a sneak peek to my life in Scottsdale Arizona ha! It is so beautiful and sunny here today which makes my life so much happier. Not a bad place to be working in Real Estate and blogging, and for family. Growing up in New York City I never thought I would fall in love with any other place. But for me, and to my surprise, Scottsdale Arizona was a love from first visit. It is my home now. Anyways, wishing you all a wonderful weekend. Whatever works. X Marta Walsh.

Marta Walsh in Cactus Acres Scottsdale Arizona
What I wear: Jeans by Hollister. Shoes ALDO. Jacket by Armani Exchange. T-Shirt by GAP. Belt by J Crew. Hair color by Red Door Spas at Biltmore Fashion Square Phoenix (ask fro David).
Last Thursday, April 21st, 2011, I was invited to drybar VIP opening party at Scottsdale Quarter in Scottsdale Arizona. Now, there was a lot of hoopla going on about a 'possible appearance' at that same venue of the rumored Bravo's NEW Real Housewives of Scottsdale. But, sorry Scottsdale, I was the only Scottsdale Housewives there, and no, I'm not married to a former Phoenix Athlete. Yes, and no video cameras either.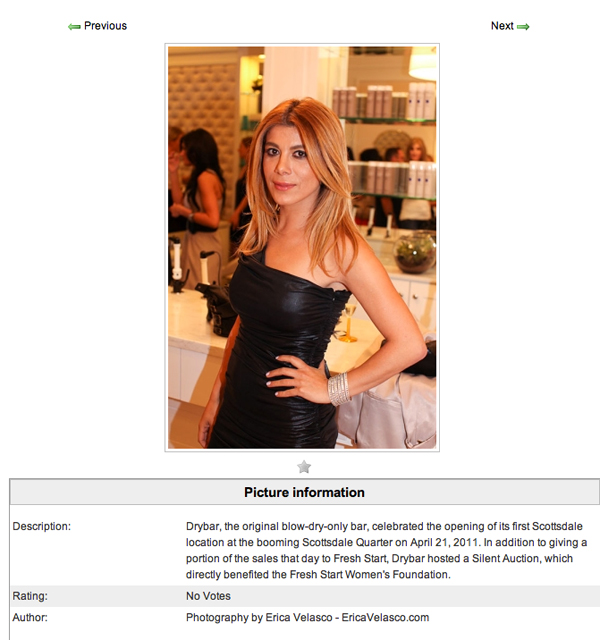 Marta Walsh at drybar VIP opening part via Arizona Foothills Magazine
Nonetheless, I had an amazing time at the drybar VIP party which was well done & organized. Fancy & yummy appetizers & h'orderves like chilled gazpacho shooters and Champagne were served. And I didn't refuse to be photographed for Arizona Foothills Magazine. Why not. I was dressed up with my black BEBE dress and was ready to show off:)
I had the most fabulous night last week for the Sex And The City 2 premiere party. The movie opened here in Scottsdale Arizona on Thursday May 27th, 2010. Sex And The City 2 was better and funnier than the first one. The movie was so funny and good, even if it stood my itself and you've never heard or watched anything Sexy And The City before it would be very watchable and entertaining. Needless to say, my 3 girlfriends who joined me that night and never laughed so much.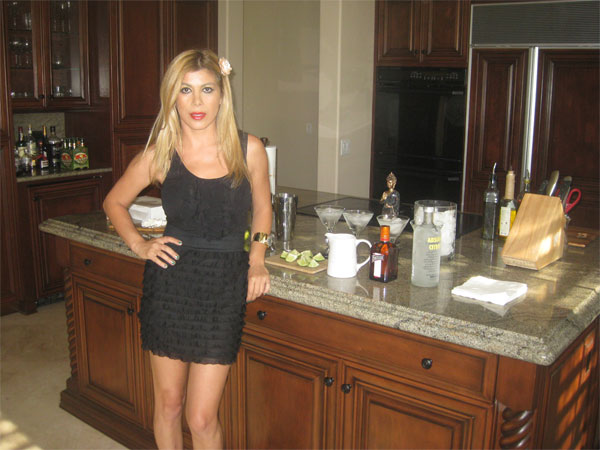 Marta Walsh (that's me) in my kitchen preparing (and half posing) all I need for my Cosmopolitan Martinis for my girlfriends.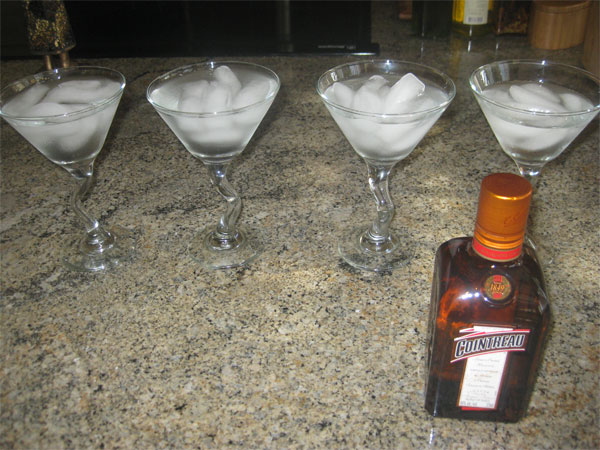 These Libbey martini glasses are just so elegant Love love love xo
Summer Hair: Just in time for Summer protect your hair and scalp from the sun with the NEW Redken Color Extend Sun Solar Screen SPF 12, $16. I live in very sunny Scottsdale Arizona and I use Color Extend Sun Solar Screen often. It smells amazing and keeps my blonde highlights fresh and my hair super soft.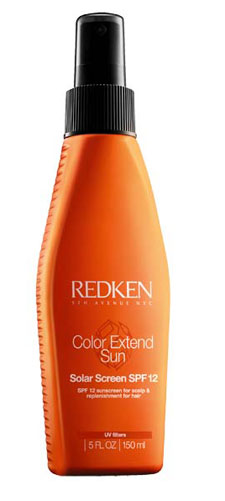 "Color Extend Sun Solar Screen SPF 12 is particularly recommended for stylists and consumers with side/middle/fringe parts, thinning hair, receding hairlines, or light-colored hair, and are looking for a multi-tasking product to protect their hair and scalp from UV damage while helping to protect and replenish the hair," states Rodney Cutler, Redken Brand Ambassador and owner of Cutler/Redken Salon. "It is highly recommended to use the protective treatment at the beach or by the pool and for people who work outdoors and/or who play outdoor sports."
Available from March 2010 at Redken.com for salons
Also from the Redken Color Extend Sun Haircare: Marta loves the Color Extend Sun Sparkling Shield leave-in smoother for sun-exposed hair which is formulated with mango oil. WATCH here:
I'm a frequent visitor at Barneys New York at the Fashion Square Mall here in Scottsdale Arizona. Barneys has just opened in Scottsdale last summer. Being away from fashion capitals like New York City, Paris and London Barneys makes being 'fashion home sick' a lot easier. I had reservations at Fred's at Barneys New York which is in Barneys for dinner. Did you know about it? Food is SO good. The bread olive oil and Parmesan cheese appetizer was very delicious and well done. When restaurants do simple dishes to perfection you know you are off to a good start. It's an indication to a promising rest of the menu. Right before entering the restaurant I stumbled upon these by Jonathan Adler (see image below). I thought to share because these pieces are quite eclectic. Not for everyone naturally! LOL The black and white stripes remind me of the Beverly Hills Hotel in Los Angeles entrance ceiling. It has that old fashion classic look to it. Barneys New York, you never know what you will find. 🙂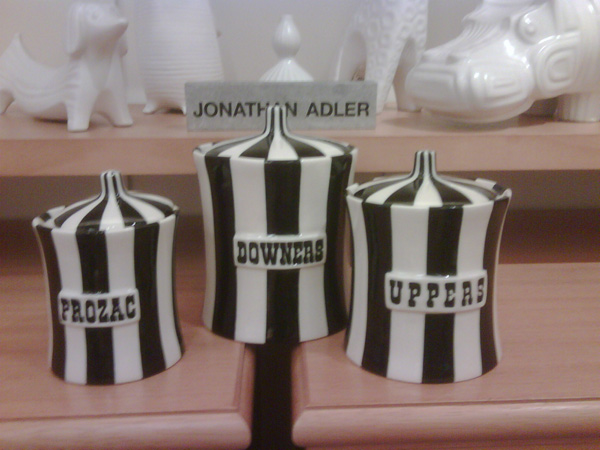 Introducing Prodigy Lip Gloss Collection for Spring by Hourglass Cosmetics!
I've discovered the Hourglass Cosmetics on my last visit to Barney's New York here in Scottsdale Arizona and fell in LOVE. Their lip gloss is super glossy, come in hot shades, and super glam!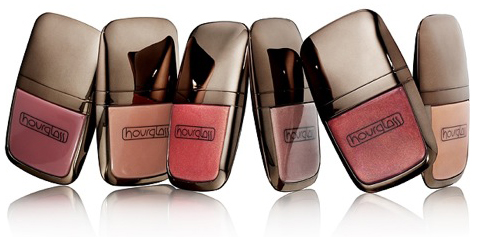 Prodigy by Hourglass Cosmetics is a line of lip glosses that come in the most adorable packaging – a flat "tube" that conveniently fits into a clutch or back pocket. So cute and practical! Available in a range of stunning shades, Prodigy is truly the perfect "it" accessory this spring. The Best Part: "Tube" features a metalized outer shell to conveniently fit into the palm of the hand or slip into a back pocket or clutch. Silky and non-tacky texture provides high shine and comfort. Enhanced with Vitamin E to hydrate and protect the lips from becoming chapped and dry.
Offers superior water-resistant color. Paraben-, sulfate-, phthalate, and fragrance-free. Available in Eden, Hypnotic, Legend, Opium, Pulse and Surreal.
Retails at Sephora.com on 2/18/2010