All Posts Tagged With: "Barneys New York"
Hosted by Barneys New York Fashion Director Amanda Brooks, makeup artist, visionary and founder of NARS Cosmetics, François Nars, visited Los Angeles this weekend to continue celebrating the launch of his newest book Makeup Your Mind: Express Yourself!

L to T: François Nars and Barneys New York Fashion Director Amanda Brooks
I'm a frequent visitor at Barneys New York at the Fashion Square Mall here in Scottsdale Arizona. Barneys has just opened in Scottsdale last summer. Being away from fashion capitals like New York City, Paris and London Barneys makes being 'fashion home sick' a lot easier. I had reservations at Fred's at Barneys New York which is in Barneys for dinner. Did you know about it? Food is SO good. The bread olive oil and Parmesan cheese appetizer was very delicious and well done. When restaurants do simple dishes to perfection you know you are off to a good start. It's an indication to a promising rest of the menu. Right before entering the restaurant I stumbled upon these by Jonathan Adler (see image below). I thought to share because these pieces are quite eclectic. Not for everyone naturally! LOL The black and white stripes remind me of the Beverly Hills Hotel in Los Angeles entrance ceiling. It has that old fashion classic look to it. Barneys New York, you never know what you will find. 🙂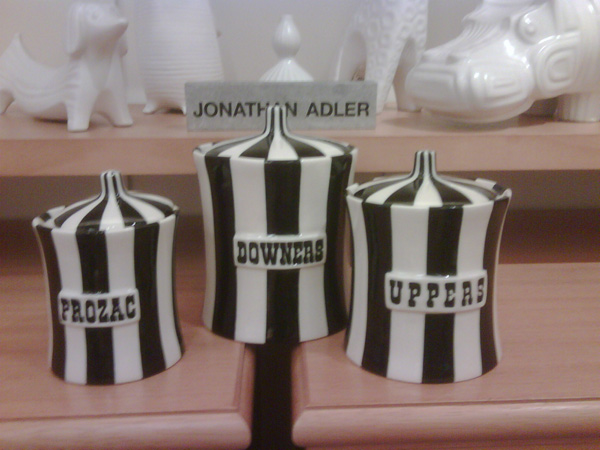 Introducing Prodigy Lip Gloss Collection for Spring by Hourglass Cosmetics!
I've discovered the Hourglass Cosmetics on my last visit to Barney's New York here in Scottsdale Arizona and fell in LOVE. Their lip gloss is super glossy, come in hot shades, and super glam!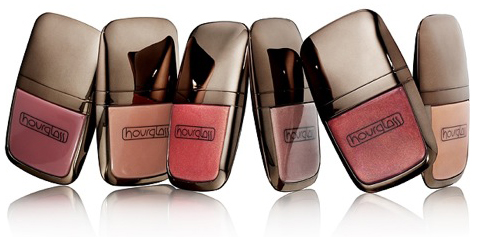 Prodigy by Hourglass Cosmetics is a line of lip glosses that come in the most adorable packaging – a flat "tube" that conveniently fits into a clutch or back pocket. So cute and practical! Available in a range of stunning shades, Prodigy is truly the perfect "it" accessory this spring. The Best Part: "Tube" features a metalized outer shell to conveniently fit into the palm of the hand or slip into a back pocket or clutch. Silky and non-tacky texture provides high shine and comfort. Enhanced with Vitamin E to hydrate and protect the lips from becoming chapped and dry.
Offers superior water-resistant color. Paraben-, sulfate-, phthalate, and fragrance-free. Available in Eden, Hypnotic, Legend, Opium, Pulse and Surreal.
Retails at Sephora.com on 2/18/2010
In celebration of NARS' 15th Anniversary, François Nars will make a special personal appearance at Barneys New York to sign copies of his new limited-edition book 15X15. Barneys Creative Director, Simon Doonan, who will be hosting the signing, wrote the clever forward to this book.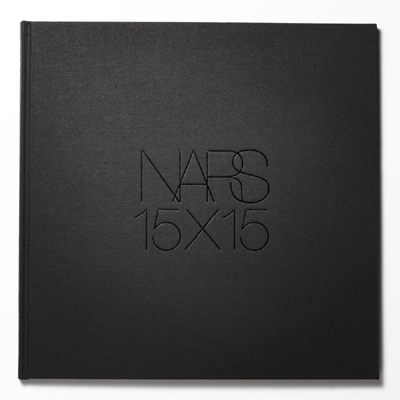 15X15 features a collection of 15 celebrity portraits, each inspired by a NARS product shade and based on an iconic reference chosen by François Nars, who personally did the makeup and photographed each portrait. Fifty 15X15 books will be available at this signing with 100% of the sales being distributed equally among the 15 charities chosen by the participating celebrities. The 15 celebrity portraits will also be displayed throughout the Barneys cosmetic floor during the signing.
Elle Editor-in Chief Roberta Myers, Elle Beauty Director Emily Dougherty, and Barneys New York invite you to unveil the mystery of perfume!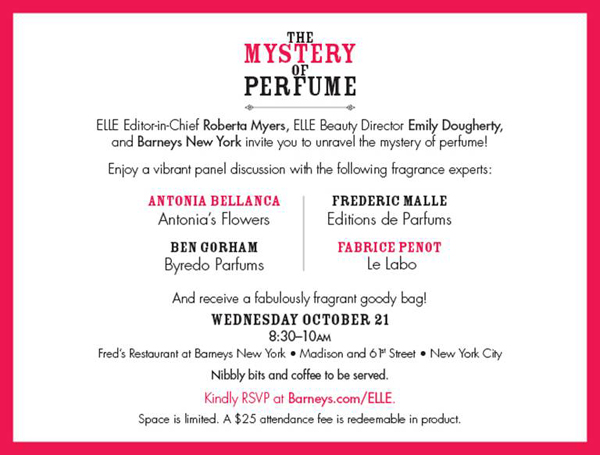 Click image above to enlarge!
In celebration of the NARS counter opening at the new Barneys New York location in Chicago, François Nars, Founder and Creative Director of NARS Cosmetics, will be making a special personal appearance – signing copies of his books X-Ray and Makeup Your Mind.
Barneys New York was the first store to carry NARS in 1994, 15 years ago, when François debuted his collection with just twelve lipsticks! X-Ray (1999), the wildly successful photography book and collector's item, Makeup Your Mind (2001), the ultimate instructional makeup manual featuring the world's most recognizable models, and the limited-edition NARS Loves Chicago Set containing an assortment of four classic products resurrected from the archives by François Nars specifically for the women of Chicago, will be available for sale at the NARS counter during this time.