All Posts Tagged With: "Scottsdale"
Couple of weeks ago I had the luxury meeting Chris Salgardo who is currently president of the Kiehl's Since 1851 brand in the United States for the launch of his must-read book MANMADE at the Kiehl's store in Fashion Square, Scottsdale Arizona. My love for Kiehl's skincare has began almost 20 years in New York City where I grew up. I remember their store on 3rd Avenue in the East Village packed with people waiting in line to just get in the store. So meeting Chris was quite special to me. His achievements and personal style are very inspirational. Manmade The Essential Skincare & Grooming Reference for Every Man book is the first grooming and skin-care guide created with a 21st-century man in mind. Check it out:-)
As we are approaching the holiday season and New Year we also think of some New Year's resolution and goals. How about some body improvement and rejuvenation. For all the new moms who went through pregnancy this year there are options! It's not secret that once you are a mom things just don't look quite the same as before. I know there are some super lucky girls out there who just bounce back (freak of nature) most of us just left with a new us. It takes time to adjust to the physical change mentally. What are we talking about? Well the flat and tight tummy we used to have is now somewhat soft and a bit saggy. And then we gain extra fat, every woman is different, but I hear it all the time,  it's either abdomen, thighs, or buttocks. This is why  "Mommy Makeovers" are becoming popular.
As a beauty blogger I often asked for tips about what plastic surgeon in Scottsdale I know and whose who, especially, when they just move to town. I recently stumbled upon Dr. Joseph Berardi a board-certified Scottsdale Plastic Surgeon at the Berardi Aesthetics And Plastic Surgery website where you can read about what options you can have when considering a Mommy Makeover. Just in case you are wondering it might include the following:
Liposuction
One of the most common procedures included in a mommy makeover is liposuction; a minimally invasive, only small incisions are required to access and remove unwanted body fat. This procedure allows you to easily contour your abdomen, thighs and buttocks after childbirth. Exercise will improve your results, but there is no need to wait months to get your body back. It only takes a few days to recover from liposuction although some bruising or swelling may last a bit longer.
Breast Procedures
Your breasts undergo changes during pregnancy. Once you have had a child, you may find that your breasts start to sag. Your breasts may end up larger or smaller than they were pre-pregnancy. Another common procedure for mommy makeovers is to correct all of these issues, which can be done easily with breast augmentation, reduction or lift procedures. Recovery after breast augmentation procedures is quick. You should be back to full speed in about just a few weeks.
Tummy Tucks
During pregnancy, your skin and muscles stretch and change. It can sometimes seem impossible to get your tummy back after childbirth. Older mothers are even more prone to a sagging belly and abdomen that refuses to return to a pre-pregnancy state. A tummy tuck can address belly sagging and help you eliminate stretch marks and any extra skin due to stretching. Recovery time for this type of procedure takes a few weeks, but the results are well worth it.
Skin Rejuvenation
Laser skin resurfacing, fillers and Botox can help you get your glow and youthful appearance back. The stresses of parenthood do not have to show on your face. Laser skin resurfacing can achieve noticeable improvement to your skins texture and appearance.
It's time for you to feel as good or better after pregnancy as you did before. Mommy Makeovers are serious plastic surgery and should only be performed by a board certified plastic surgeon. Scottsdale Plastic Surgeon, Dr. Joseph Berardi is extremely experienced in all phased of the Mommy Makeover.
About Dr. Joseph Berardi
Board certified by the American Board of Plastic Surgery, Dr. Joseph Berardi received his undergraduate degree from Northern Arizona University, graduating magna cum laude, and his medical degree from the University of Arizona. He then completed his general and plastic surgery residency at the University of Texas Medical Branch before returning to Scottsdale to launch his own practice in aesthetic and reconstructive surgery. Dr. Berardi was awarded "Best Plastic Surgeon" by Arizona Foothills magazine.
Schedule A Consultation With Dr. Berardi
Over the years, Dr. Berardi has earned a reputation as one of the best plastic surgery providers by offering patients beautiful aesthetic results and unparalleled patient care. If you have been considering cosmetic surgery, visit the surgeon who will put your needs and safety first. Contact Dr. Berardi's practice at 480-397-0711 to schedule a consultation.
Address:
8900 East Bahia Drive, Suite 110
Scottsdale, Arizona 85260
Wishing you all an amazing and happy New Year, Cheers to new and beautiful beginnings and makeovers!
SCOTTSDALE, Ariz. (November 27, 2012) Botox and filler injections rank as the top non-surgical cosmetic procedure in the nation and the demand for Botox and fillers has triggered a rise in illegal injectables being imported to the United States. In Arizona, dozens of injection facilities have come into question after discounted Botox popped up on deal sites like Groupon and Living Social.
BOTOX ON GROUPON?
One of the things I love most is when my two worlds, or businesses, Beauty & Fashion Publishing and Real Estate collide in a a beauty event locally here in gorgeous Scottsdale, Arizona. On Thursday, January 12th, 2012, I was at an event held at the stunning W Hotel on Camelback Rd meeting the founders of rising French skincare brand Caudalie. Mathilde and Bertrand Thomas founded the brand based on a bi product of her parents Bordeaux vineyard, the humble grape seed.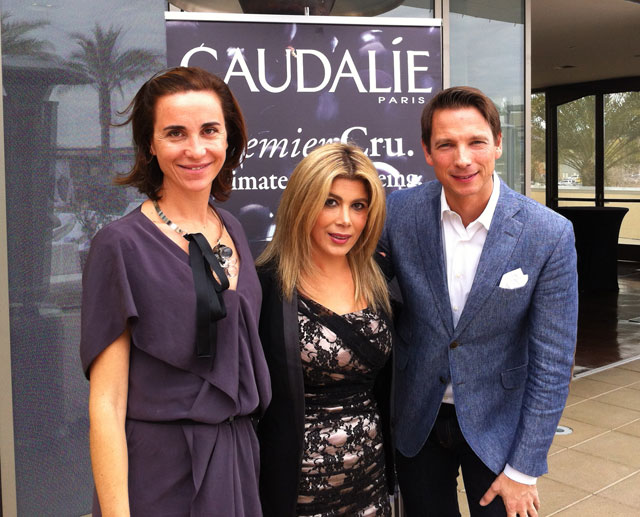 Marta Walsh Meets The Founders of Caudalie Mathilde and Bertrand Thomas In Scottsdale
Packed with polyphenols and anti-oxidants grape seeds can help the skin with anti-aging. Caudalie in addition to having the skincare products has some o the worlds finest spa's. With a spa in the Plaza hotel in NYC. I told the owners they should definitely bring one to Scottsdale, which is a spa town without rival. Read Full Story In: www.martawalsh.com
Marta Walsh Paradise Valley & Scottsdale REALTOR
Hello loves:) The fabulous Caudalie team is going to be out in Scottsdale AZ, Marta Walsh's hometown yours truly, next week on Thursday January 12th, 2012, 12:00 PM-1:30 PM, at the W Hotel Scottsdale located at 7277 at E Camelback RD, and you are invited!  To RSVP email mmartinet@caudalie-usa.com.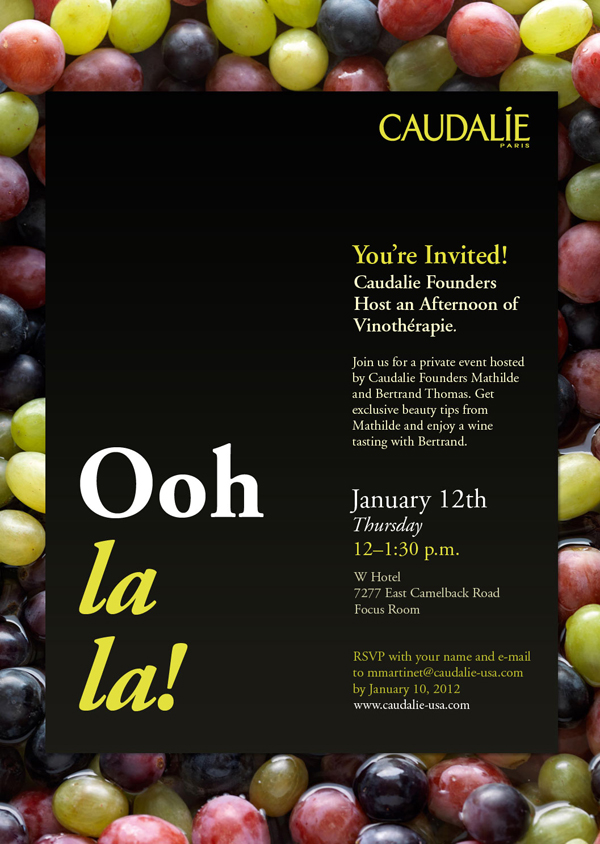 GIVEAWAY
Caudalie Founders Mathilde and Bertrand Thomas will also be hosting an exclusive wine & beauty event, featuring a tasting of wines from the Caudalie vineyard in Bordeaux and French Beauty Secrets from Mathilde. GIVEAWAY: To celebrate this event in Scottsdale I'm giving away to 1 lucky winner two of Caudlie's most-popular products: Caudalie Beauty Elixir 100 ml bottle and Caudalie Vinoperfect Day Perfecting Fluid with SPF 15 both suitable for all skin types. WATCH my vlog here:
How to enter to win Caudalie giveaway
Simply watch my video and comment below what was my Caudalie giveaway code is..and why you are excited to try these products. GOOD LUCK!
Mathilde Thomas Founder of Caudalie Interviews With Marta Walsh
Happy Thanksgiving from Scottsdale AZ, TM's headquarters. ha! Have a good one loves 🙂 x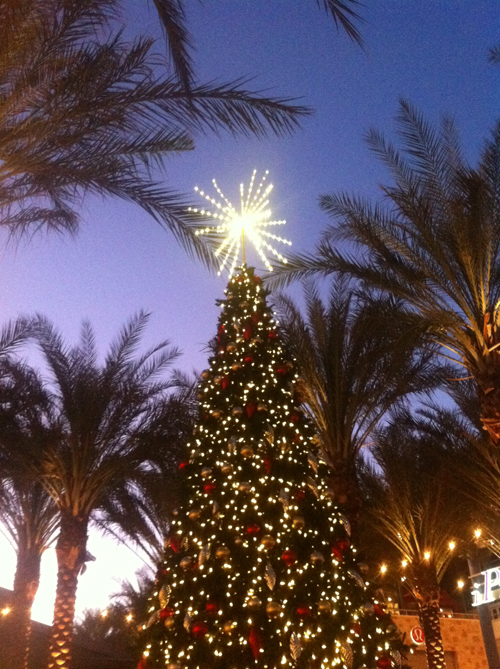 Scottsdale Quarter, Scottsdale Arizona Photo by Marta Walsh
Last week I was invited to meet with Kate Somerville the skincare mogul and Hollywood'd best kept secret at the Neiman Marcus Scottsdale in Fashion Square Mall. I must say Kate is such a sweetheart and very cool in real life. I also got to interview her and you can watch it in this video:
In this interview Kate Somerville talks about the beginnings of Kate Somerville skincare line and the very famous boutique in Melrose Place, CA. Gives advice to all the entrepreneurs out there (it might be you?:). Introduces the new product additions to Kate Somerville skincare line, such as…
This week I stopped by one of my favorite shopping and dining destinations in Scottsdale Arizona, Scottsdale Quarter and saw a big billboard announcing the arrival of Sephora store in that location. This makes Scottsdale Quarter so much more perfect. Can't wait:)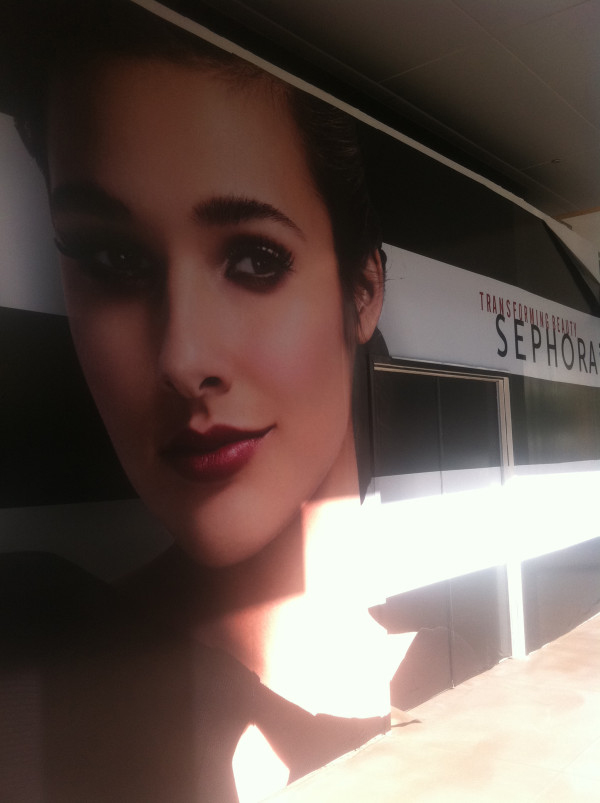 Sephora At Scottsdale Quarter scheduled to open in January 2012. Photo by Marta Walsh.
Last Thursday, April 21st, 2011, I was invited to drybar VIP opening party at Scottsdale Quarter in Scottsdale Arizona. Now, there was a lot of hoopla going on about a 'possible appearance' at that same venue of the rumored Bravo's NEW Real Housewives of Scottsdale. But, sorry Scottsdale, I was the only Scottsdale Housewives there, and no, I'm not married to a former Phoenix Athlete. Yes, and no video cameras either.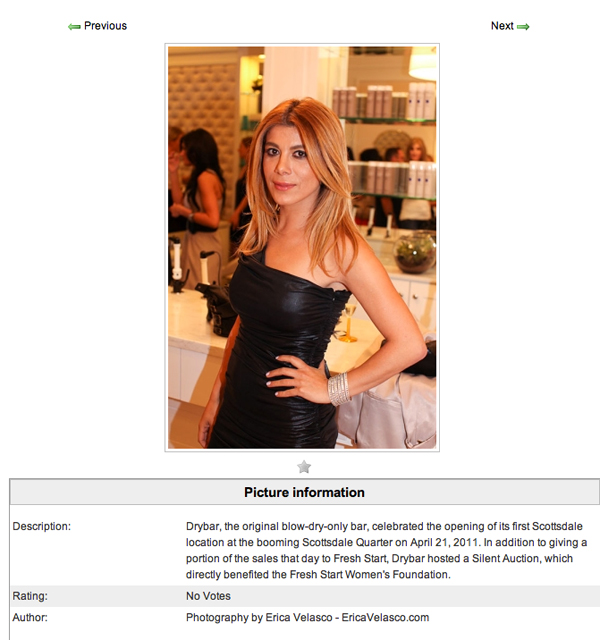 Marta Walsh at drybar VIP opening part via Arizona Foothills Magazine
Nonetheless, I had an amazing time at the drybar VIP party which was well done & organized. Fancy & yummy appetizers & h'orderves like chilled gazpacho shooters and Champagne were served. And I didn't refuse to be photographed for Arizona Foothills Magazine. Why not. I was dressed up with my black BEBE dress and was ready to show off:)
I'm super impressed with the NEW Neutrogena Rapid Wrinkle Repair anti-aging skincare collection which was launched in March 2011. The difference is in its Accelerated Retinol SA which is formulated with Stabilized Retinol and glucose complex that help minimize the irritation often caused by other Retinol products to make it possible/comfortable to use daily. According to Neutrogena the NEW Neutrogena Rapid Wrinkle Repair skincare collection has been clinically proven to improve overall skin texture in one week and help diminish the look of deep wrinkles after four weeks. Other ingredients include Hyluronic Acid.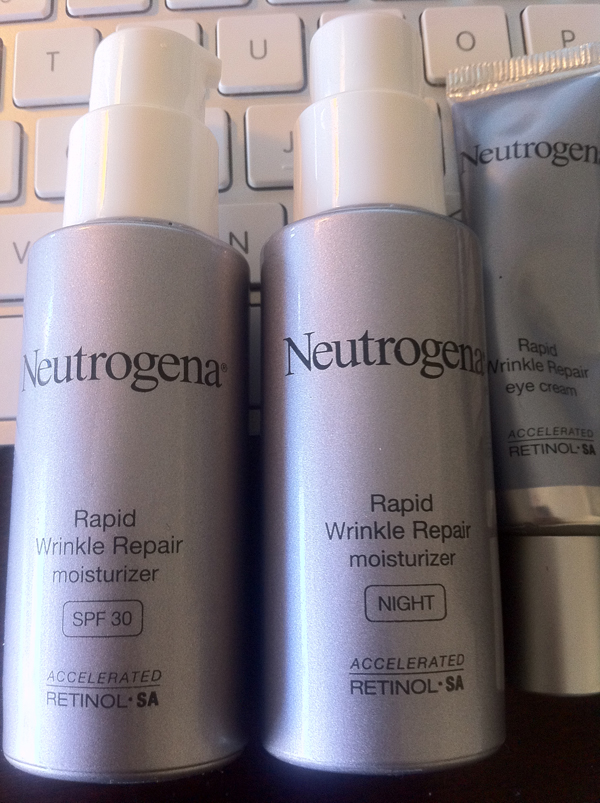 I've tried Neutrogena Rapid Wrinkle Repair (I love it & I will continue to use) and aside from its skicare benefits described above I noticed that the collection which includs: Neutrogena Rapid Wrinkle Repair Moisturizer SPF 30, eye cream, and moisturizer NIGHT, are all very hydrating, have a clean scent, and easily absorbed.