All Posts Tagged With: "New York City"
THIS WEEK | Jamie Kern Lima, Co-Founder and CEO of IT Cosmetics, calls for change and rallies industry leaders to rethink the images of beauty they put out to the world, while being honored today by Cosmetic Executive Women (CEW) with the prestigious Achiever Award at the Hilton Midtown in New York City.
Early this week I left Scottsdale & Paradise Valley Arizona for 2 days in my original hometown New York City. The trip was related to my blog TM aka TalkingMakeup.com.  My background is quite a long story. I was born in Former Soviet Georgia then at age 4 months my parents immigrated to Israel where I grew up till I was 18 hence my Israeli accent.
Dream Hotel NYC
It's funny because sometimes when I tell people I was born in Georgia they say now I hear your Russian accent LOL. It's not a Russian accent it's Israeli. The point I'm trying to make is that since 18 I spent most of my life living and working in New York City.
Last week I had an amazing opportunity to meet Salma Hayek during lunch in New York City at the Mandarin Oriental Hotel and chat all about her new superstar cosmetics line for CVS Pharmacy: Nuance Salma Hayek.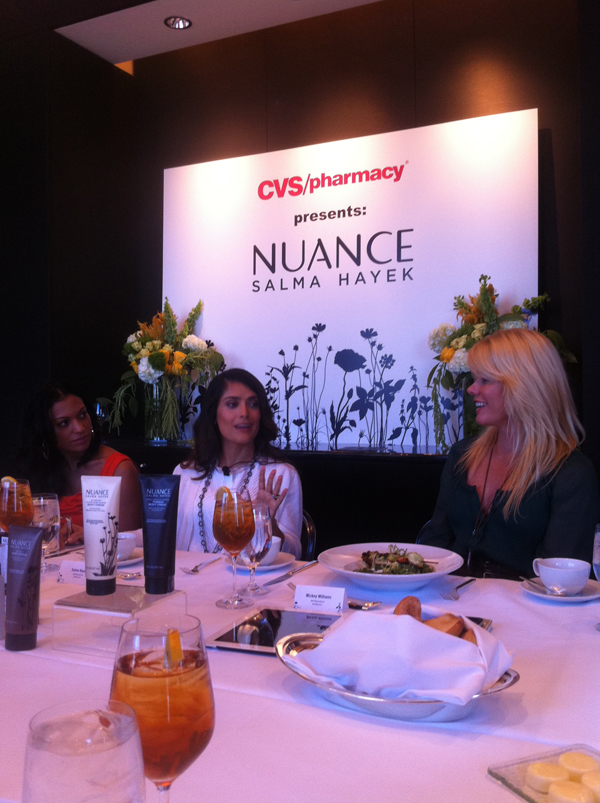 Although Salma Hayek admitted to being tired & jet-lagged she looked absolutely beautiful at lunch. At age 45 Salma is truly one of the best looking natural beauties I've seen.
It's not easy to come up with one good product not alone a whole cohesive cosmetics line. I'm glad to see that Hayek is using her uber celebrity power to create products that actually work and mean a lot to her as oppose to just put her name on anything like some other celebs do (and I'm not naming any names).
Vera Wang Lovestruck ad campaign. A modern day love story set in downtown New York City, the Lovestruck ad campaign features Leighton Meester, star of Gossip Girl, in a couture Vera Wang gown. She leans over a fire escape, awaiting the arrival of her Romeo, who races towards her with a bouquet of flowers for their Lovestruck moment.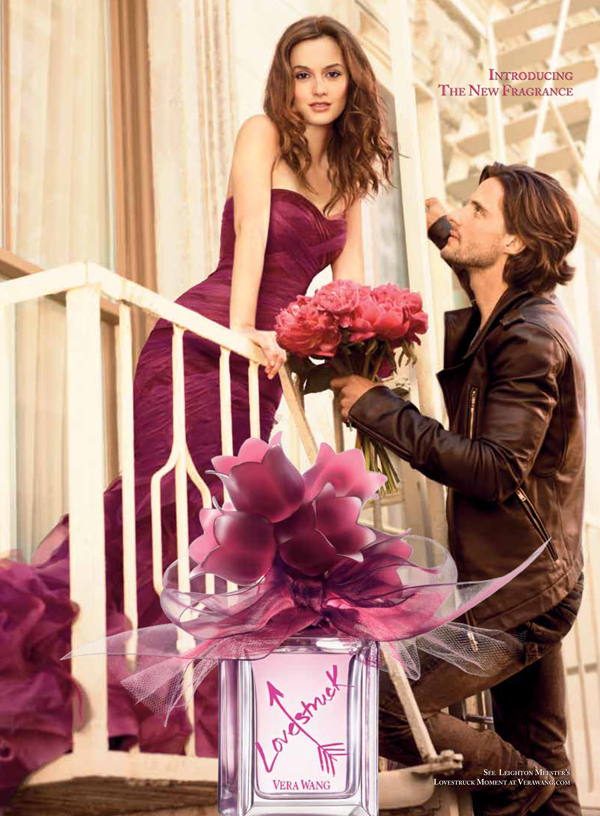 Leighton Meester's New Ad Campaign for Vera Wang Lovestruck perfume
Creative Director: Trey Laird
Amid all the anticipation surrounding how Kate Middleton will wear her hair on her big day with the Royal Wedding right around the corner, we wanted to share with you inspiring styles from Fall/Winter 2011 Bridal Fashion Week in New York City last week.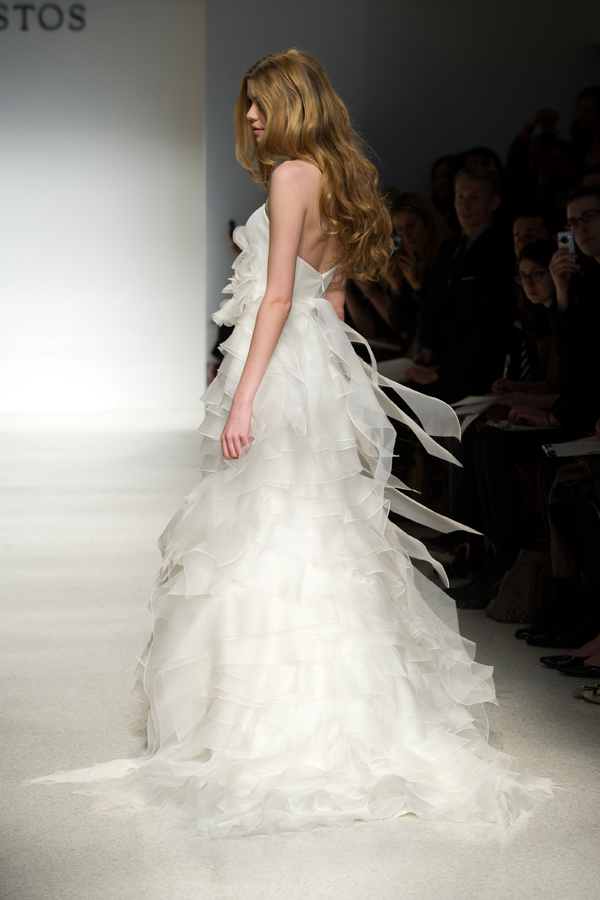 End-of-Day Waves – seen at Christos
Play on Curls Fresh Waves for a New Generation on the Fall/Winter 2011 Bridal Runways. The Fall/Winter 2011 Bridal Fashion Week hairstyles took a fresh approach to embrace a modern, youthful bride. Redken Session Stylist Giovanni Giuntoli created the distinct looks at the Christos, Kenneth Pool, and Amsale collections, taking each in its own direction.
Fergie makes a special appearance to celebrate the Spring 2011 shoe collection of Fergie Footwear at Macy's Herald Square on April 21, 2011 in New York City. The red shoes Fergie is wearing in the photo is also from her own collection. Available at www.FergieShoes.com. Do you love?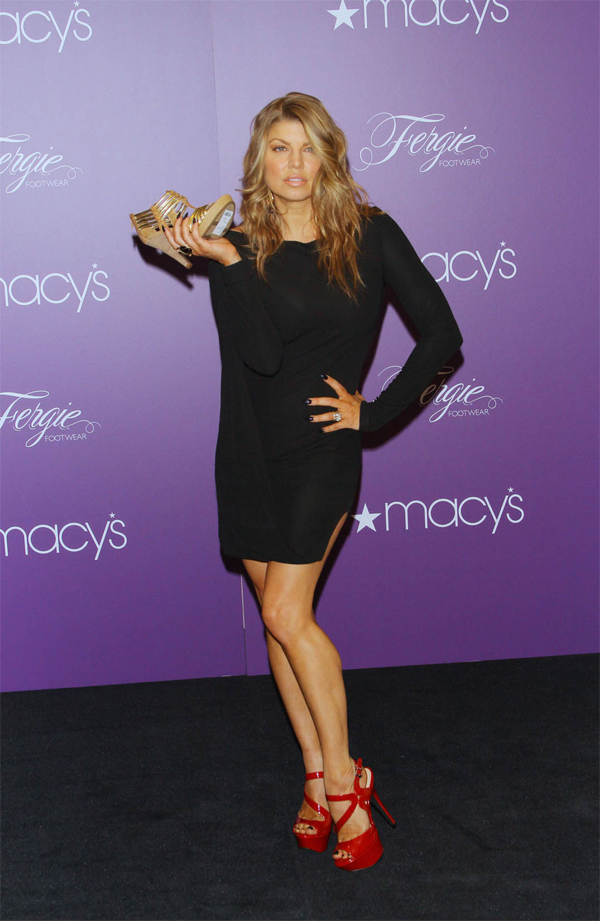 I'm super impressed with the NEW Neutrogena Rapid Wrinkle Repair anti-aging skincare collection which was launched in March 2011. The difference is in its Accelerated Retinol SA which is formulated with Stabilized Retinol and glucose complex that help minimize the irritation often caused by other Retinol products to make it possible/comfortable to use daily. According to Neutrogena the NEW Neutrogena Rapid Wrinkle Repair skincare collection has been clinically proven to improve overall skin texture in one week and help diminish the look of deep wrinkles after four weeks. Other ingredients include Hyluronic Acid.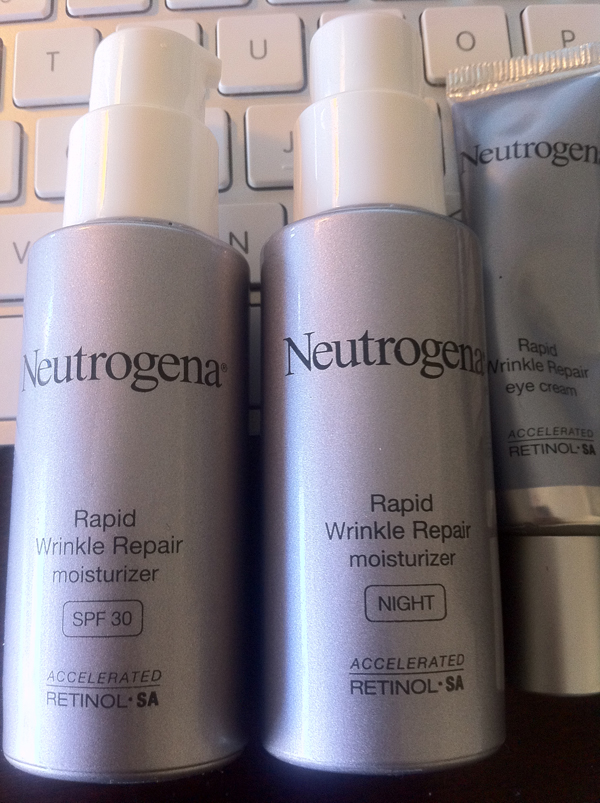 I've tried Neutrogena Rapid Wrinkle Repair (I love it & I will continue to use) and aside from its skicare benefits described above I noticed that the collection which includs: Neutrogena Rapid Wrinkle Repair Moisturizer SPF 30, eye cream, and moisturizer NIGHT, are all very hydrating, have a clean scent, and easily absorbed.
Hello loves:) After an amazing two days in New York City for the Neutrogena Rapid Wrinkle Repair anti-aging skincare collection product launch at the Mondrian SOHO I'm back home to Scottsdale Arizona. Needless to say, I have so much beauty and fashion blogging to catch up with, real estate, and laundry:) One thing is nice, I'm feeling my hair today, sure why not? Here's a sneak peek of me at my open house xo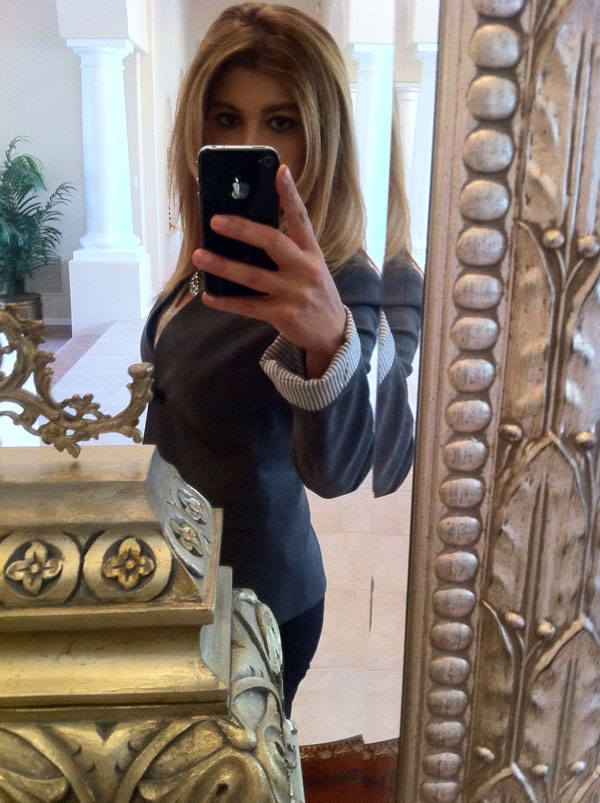 Marta Walsh back in Scottsdale Arizona x
I had the honor to attend the reopening cocktail party of Elizabeth Arden red door spas in Scottsdale's Biltmore  Fashion Park last week, December 1st, 2010. The new red door spa in Scottsdale brings New York City chic to my (our) Scottsdale. The spa is beautifully designed with a very inviting ambiance as soon as you walk in. The ever beautiful Catherine Zeta Jones for the Elizabeth Arden ad campaign images also help.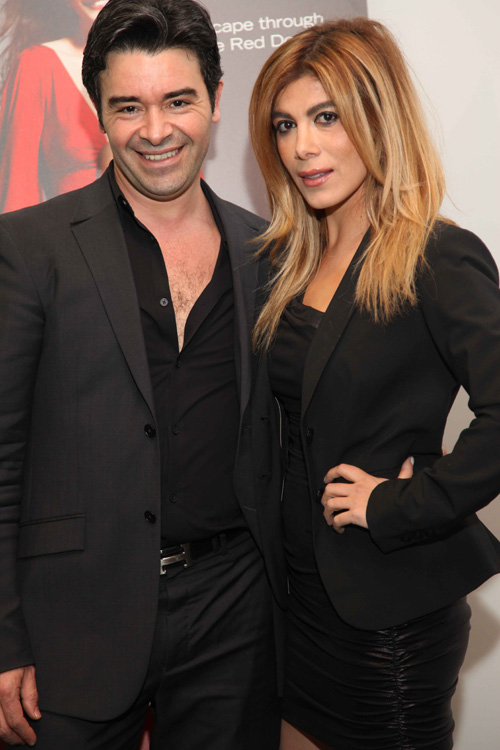 L to R: Zahir Ziani National Creative Director at Red Door Spas Elizabeth Arden and TalkingMakeup.com founder Marta Walsh
Photo Credit: Darrylee Cohen at www.perfectpartypictures.com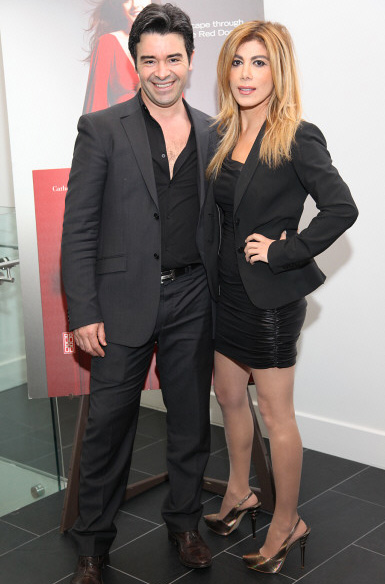 L to R: Zahir Ziani and Marta Walsh
Photo credit: Darrylee Cohen
Listen up blonds, are you in for a free concert and some pampering? The John Frieda team is out to prove that blondes really do have more fun with the Sheer Blonde Entourage, a series of events and perks available for blondes. The blonde VIP program begins on March 18th, 2010, in New York City at the Highline Ballroom with a private performance by Grammy-nominated singer-songwriter and blonde icon Natasha Bedingfield, whose third album drops this spring.

Natasha Bedingfield
The elite event lets you blonds experience the benefits of being blonde with the royal treatment, from makeovers at hair stations to complimentary food and beverages—all set to the music of Natasha Bedingfield.
If you are in the NY area on the 18th join the Sheer Blonde Entourage for a free concert and some pampering.
Blonds throughout the country: the Sheer Blonde Entourage will be stopping by a city near you soon! Talking Makeup will keep you posted.
The concert is completely free for all who sign up at: www.forblondesonly.com