Amid all the anticipation surrounding how Kate Middleton will wear her hair on her big day with the Royal Wedding right around the corner, we wanted to share with you inspiring styles from Fall/Winter 2011 Bridal Fashion Week in New York City last week.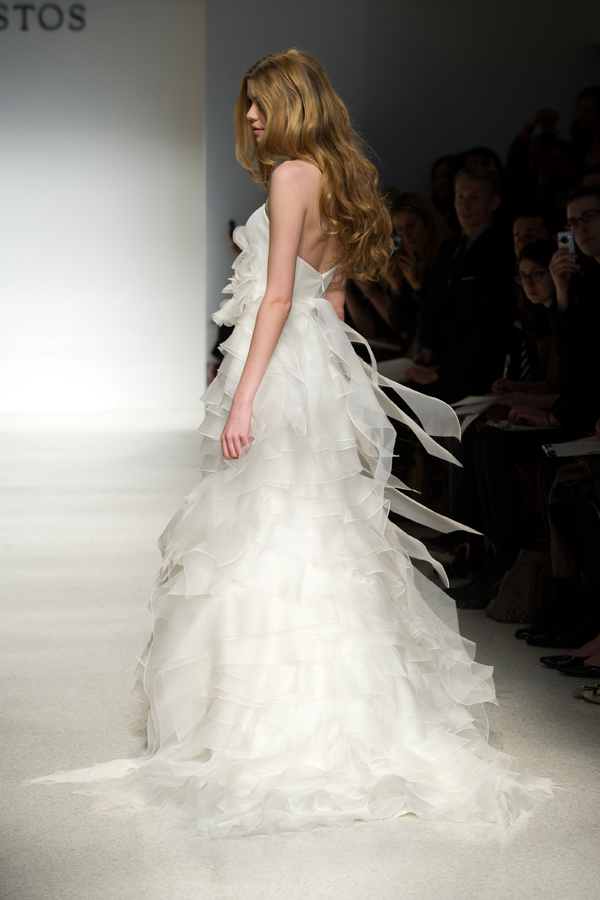 End-of-Day Waves – seen at Christos
Play on Curls Fresh Waves for a New Generation on the Fall/Winter 2011 Bridal Runways. The Fall/Winter 2011 Bridal Fashion Week hairstyles took a fresh approach to embrace a modern, youthful bride. Redken Session Stylist Giovanni Giuntoli created the distinct looks at the Christos, Kenneth Pool, and Amsale collections, taking each in its own direction.
End-of-Day Waves – seen at Christos
"This season the traditionally preppy Christos look evolved for the next generation, and the hair embraces this edgier attitude," Giuntoli said. "The look is down, when it is typically up, resulting in a youthful, casual after-wedding look that's flattering and flirty."
To achieve the look, prep hair to add texture and extra hold with Redken wool shake 08 gel-slush texturizer and then layer on spray starch 15 versatile ironing spray. Part the hair wherever it best reflects the face shape, whether it be left, right or center. Set the curls with a 1-inch curling iron and pin in place until dry. Let the curls out and pull until you have soft waves, finishing the style with fashion work 12 versatile working spray to achieve a silky matte finish. "These waves are not tight, they're fresh. We're trying to get away from the corkscrew," Giuntoli explained.
Cutting Edge Pleat –seen at Kenneth Pool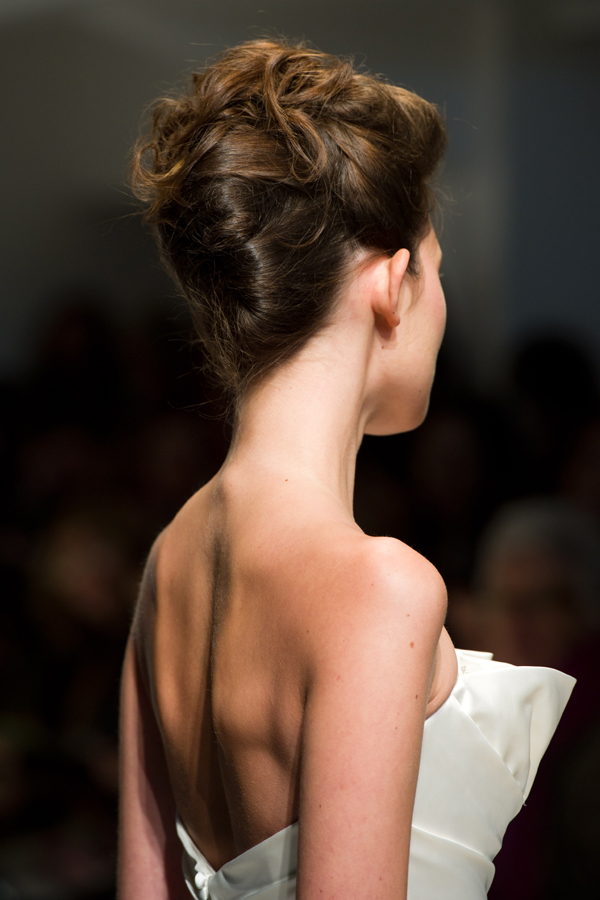 "This up-do reflects the high-end Kenneth Pool look, with a luxury finish to the hair. This line is more avant-garde, more high-fashion, and so we created a striking, contemporary up-do that pushes the envelope," Giuntoli said.
To create this look, prep the hair by blow-drying with aerate 08 bodifying cream-mousse, applying at the roots and through the ends for all-over body and texture. Then fold all of the hair except for the front section two inches from the crown into a pleat. Curl small sections of the front two inches with a one-inch barrel and pin each up in place atop the head. "The curls add a softer silhouette for height and a light, airy texture that you can almost see through." Giuntoli said. For added shine and hold, finish the look with pure force 16 non-aerosol fixing spray.
Statement Pony – seen at Amsale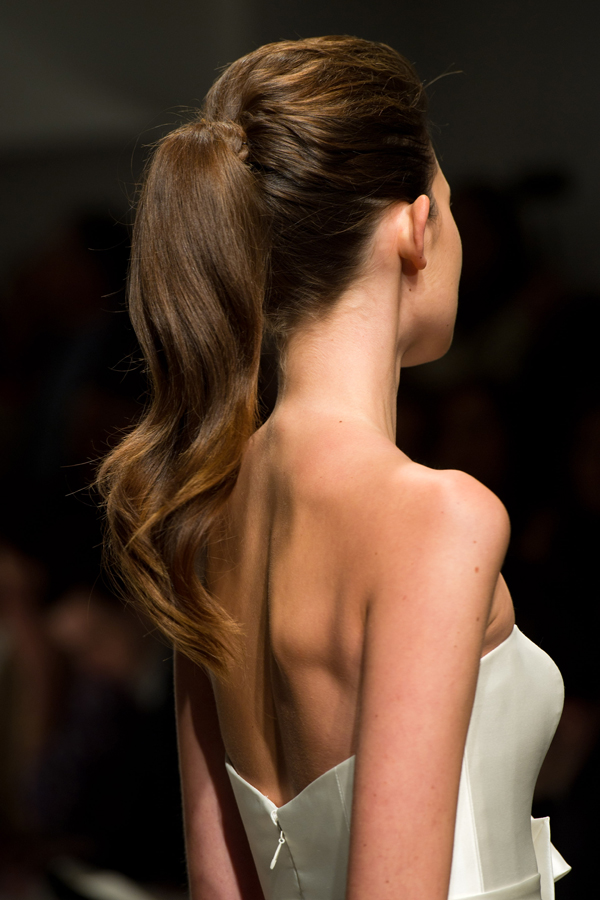 "This season of Amsale reflects another evolution and a new approach, with a natural, youthful ponytail with soft with volume at the crown for added glamour," Giuntoli said.
Obtain this look by first sectioning off the hair at the crown, misting with forceful 23 super strength finishing spray and then back brushing for height. "Play with the shape and height at the crown to keep it tailored to your face shape," Giuntoli explained. Next gather the hair into a pony and wrap a one-inch section around the elastic. Leave a natural wave in the pony tail and mist with shine flash 02 glistening mist for a glossy polish.
These fresh takes on waves reflected an edgier, younger bride and can guide you as you search to achieve the perfect look you need on the big day. When choosing your look, Giuntoli advises that you remember that your wedding day is all about you and it may take a few trials to find the right fit. Work with your Redken stylist to create a look that reflects your own personality and makes you feel your absolute best.