All Posts Tagged With: "Kate Middleton"
The Duchess of Cambridge's nose edges out Angelina's Lips and Kim's Booty for Most Requested Plastic Surgery Procedures. SCOTTSDALE, Ariz. (February 12, 2013) – Forget Angelina Jolie's lips, kick Kim Kardashian's butt to the curb, and wave bye-bye to Pamela Anderson's bulging busoms. It has been confirmed the Kate Middleton's nose is the most highly prized body part in both the US and the UK. According to the UK's Daily Mail newspaper, the number of women requesting noses like Kate's has tripled since 2011. And in Arizona, hordes of women are heading to plastic surgeon's offices requesting the stately snout of The Duchess of Cambridge, Kate Middleton.
Scottsdale-based plastic surgeon Dr. Daniel Shapiro of Shapiro Plastic Surgery and Skin Klinic says…
[May 24, 2011] Catherine aka Kate Middleton wears the REISS "SHOLA" dress to greet Barack and Michelle Obama at Buckingham Palace on their three day visit to London. REISS "SHOLA" DRESS dress retails for $340 and is available at REISS boutiques worldwide.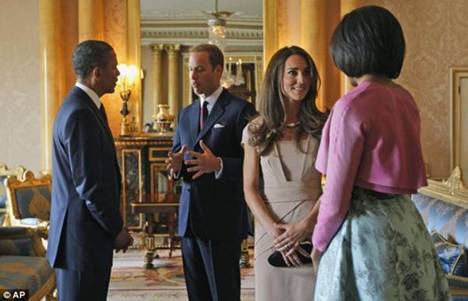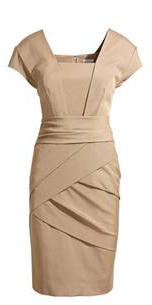 Kate Middleton also notably wore REISS, the sophisticated British fashion and accessories brand, for her official engagement portrait with Prince William. REISS is celebrating its 40th anniversary this year.
I never thought that I would be getting hair style inspiration from a Princess. Sounds cliche but Kate Middleton happens to have a beautiful hair and the matching hair style. What I love about Kate's hair style is that it's really not too much of a hair style. Very long layers and not too many sharp edges makes this hair style very practical to even the fussiest and busiest women. The longer the hair is, like Kate's, the easier it is to maintain.
Think about it, when your hair has long layers you don't have to spend extra time blow drying these stubborn short bangs that get messed up through out the day (did I mention give the hair spray a break), hair  just falls down with ease. Needless to say, Kate's hair color looks in exceptional condition. I recently saw an old photo of  Kate as a young girl and her hair was lighter, dark blonde perhaps. So IF she currently colors her hair to bit of a darker brown shade it's quite inspirational to me to have such sleek and elegant color treated hair. The truth is loves, I believe with just a little TLC to our hair and the right hair care products, Princess or not, we all have a chance!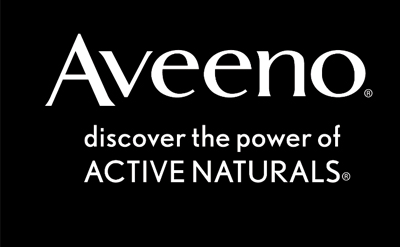 The AVEENO® LIVING COLORTM Hair Care Collection helps to preserve beautiful, vibrant color for up to 40 washes with the help of ACTIVE NATURALS® ingredient Lupine Botanicals. The line includes shampoos and conditioners formulated specifically for fine and medium-thick hair, and a shine glaze to lock in color vibrancy with each use. For more information, visit http://www.aveeno.com/hair-care/living-color
"Disclosure: Compensation was provided by AVEENO® LIVING COLORTM via Glam Media"
"The opinions expressed herein are those of the author and are not indicative of the opinions or positions of AVEENO® LIVING COLORTM"
We got the word that Richard Ward Hair & Metrospa, a L'Oréal Professional salon that uses Kérastase in the hair spa area, has been Kate Middleton's favorite salon for 8 years. It was here where the magic happened and her half up/half down style was created. Kate's bridal look, which was styled by James Pryce, with support by Richard Ward, is dubbed the "Demi Chignon" – an up-do style which combines a classic bridal look with a regal, couture finish.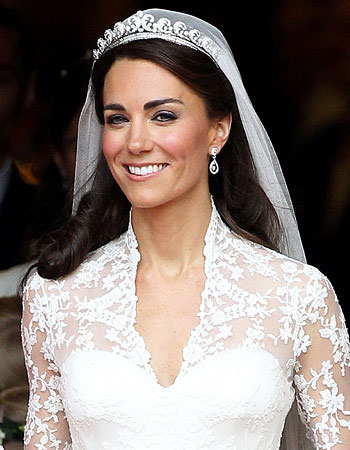 The focus of this style was Kate Middleton's gorgeous tiara, which was set just back from the hairline. Hair was swept away from Kate's face while height was created at the crown area. Romantic waves were positioned back from her shoulders to allow the detail of her wedding gown to be shown.
The much anticipated Royal Wedding of Prince William and Kate Middleton is only hours away. Is this a clue to what perfume Kate Middleton & Price Williams might be wearing or is this just their royal Gift by Clive Christian?…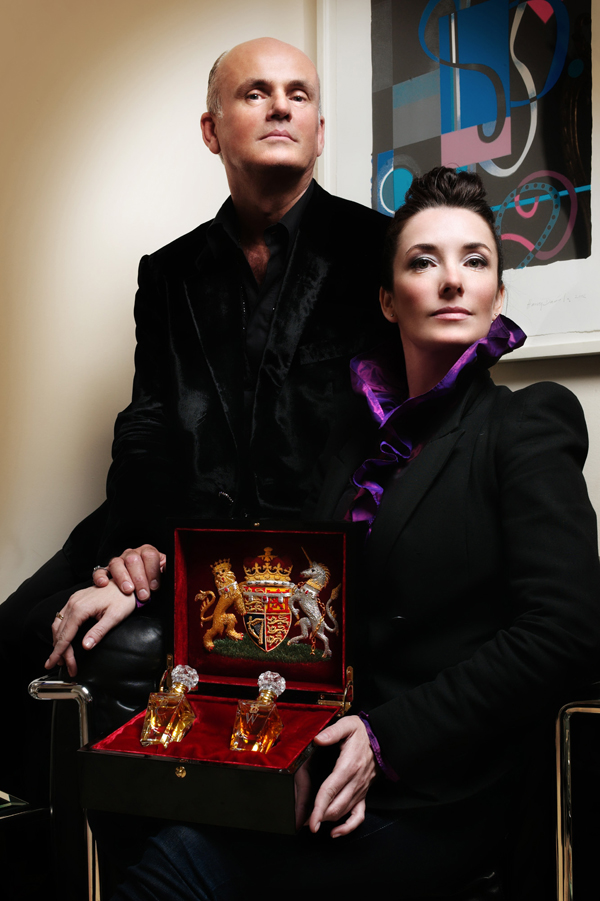 According Clive Christian: "As you may know, in 1999, British luxury designer Clive Christian revived one of the oldest perfumeries in Britain (the Crown Perfumery) which was honored by Queen Victoria in 1872 when she granted the company the image of her crown as an enduring symbol of British excellence (it's the only perfume in existence with Queen Victoria's "stamp of approval").
Amid all the anticipation surrounding how Kate Middleton will wear her hair on her big day with the Royal Wedding right around the corner, we wanted to share with you inspiring styles from Fall/Winter 2011 Bridal Fashion Week in New York City last week.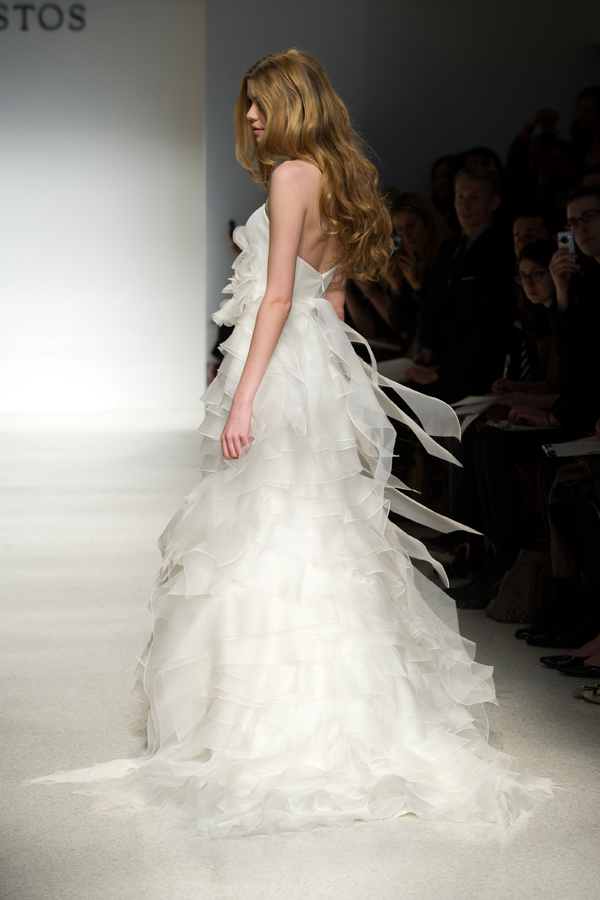 End-of-Day Waves – seen at Christos
Play on Curls Fresh Waves for a New Generation on the Fall/Winter 2011 Bridal Runways. The Fall/Winter 2011 Bridal Fashion Week hairstyles took a fresh approach to embrace a modern, youthful bride. Redken Session Stylist Giovanni Giuntoli created the distinct looks at the Christos, Kenneth Pool, and Amsale collections, taking each in its own direction.
As the Royal Wedding approaches, Kate Middleton continues to set trends on a daily basis with her classic and seemingly effortless beauty. NYC salon owner and stylist Valery Joseph (www.ValeryJoseph.com), giving a how-to for Kate's hairstyle during a recent outing with Prince William.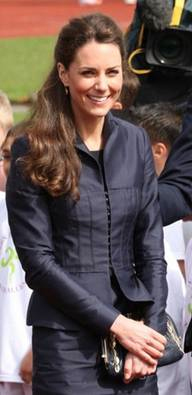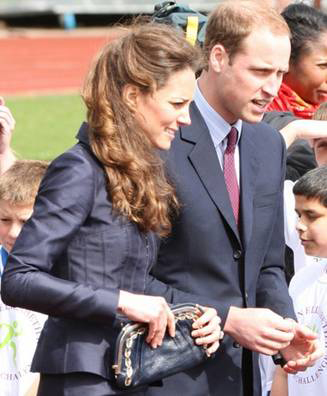 Kate Middleton's Hairstyle:
1. Starting with wet hair, apply mousse or a setting cream and dry the hair 75% of the way. Then section the hair and finish blow drying with a round brush, creating lift at the root of the hair.
This photo of Prince William & Kate Middleton's engagement cheered me up today, one good reason why life can be beautiful. Here's a sneak peek to one of Prince William & Kate Middleton's Engagement photos. Kate Middleton's dress by Reiss.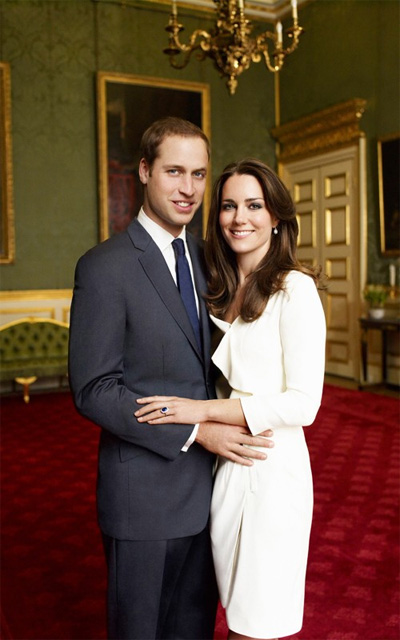 KATE MIDDLETON CHOOSES REISS FOR OFFICIAL ENGAGEMENT PHOTOS
'Kate has been a customer of Reiss for some time now and we are absolutely delighted that she chose to wear one of our dresses for such a wonderful occasion. We wish both Prince William and Kate Middleton all the best for the future.' David Reiss, Managing Director and Founder, Reiss.
Kate Middleton's style. Get Kate Middleton's newly engaged look with the aptly named Monarchy Ring from Accessorize. With a beautiful sapphire-hued gemstone, it makes the perfect royal style statement guaranteed to turn heads. The Monarchy Ring is $22 in stores and online at accessorize.com this month, with free shipping to the US.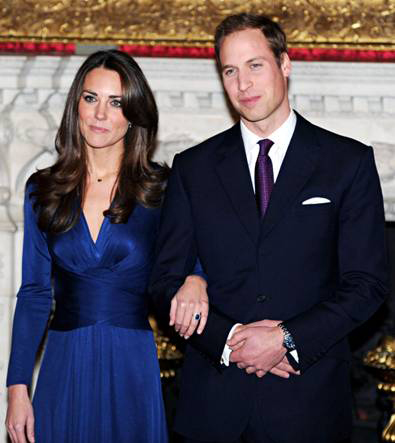 The newly engages Kate Middleton and Prince Williams of Untied Kingdom