We got the word that Richard Ward Hair & Metrospa, a L'Oréal Professional salon that uses Kérastase in the hair spa area, has been Kate Middleton's favorite salon for 8 years. It was here where the magic happened and her half up/half down style was created. Kate's bridal look, which was styled by James Pryce, with support by Richard Ward, is dubbed the "Demi Chignon" – an up-do style which combines a classic bridal look with a regal, couture finish.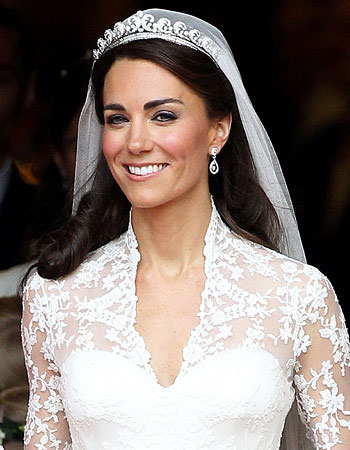 The focus of this style was Kate Middleton's gorgeous tiara, which was set just back from the hairline. Hair was swept away from Kate's face while height was created at the crown area. Romantic waves were positioned back from her shoulders to allow the detail of her wedding gown to be shown.
Most importantly, her gorgeous chestnut hair continued to look shiny due to her Kérastase Rituals, an in salon treatment range that can do anything from tame hair and define curls to add volume and strength. For everyday looks and to prep for the big day, Kate continues to use Kérastase shampoo and conditioner for dry hair.