All Posts Tagged With: "Vera Wang"
Introducing the latest edition to the Vera Wang fragrance collection – Vera Wang, Princess Night, on counters this month, January 2012.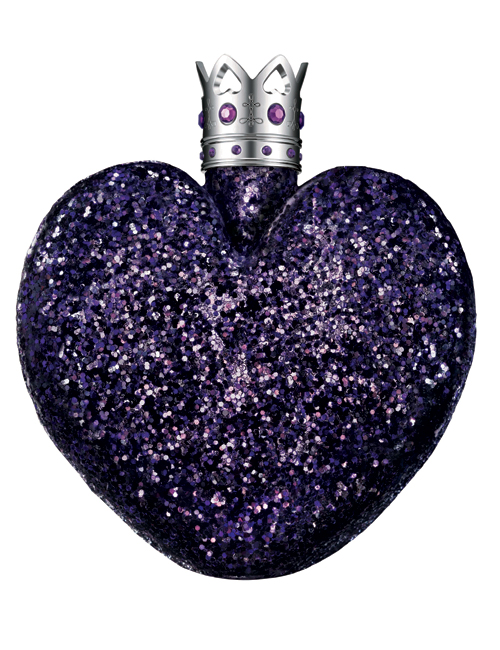 New from Coty Prestige Vera Wang Princess Night
Actress Leighton Meester and iconic fashion designer Vera Wang appeared in Harrods yesterday, June 9th, 2011, to launch the designer's new fragrance, Lovestruck, which will launch in the US in September. Over two hundred fans queued to see the star, who is also featured in the ad campaign.

Leighton Meester introduces Vera Wang's new fragrance Lovestruck, at world famous department store Harrods.
Vera Wang said, "Leighton's beauty, talent and spirit will inspire all the young women that I hope will enjoy wearing this passionate, new young fragrance. She is the perfect heroine for my tale of romance."
"A busy few days with Leighton Meester–lighting the Emprie State Building, attending a dinner to benefit the world's largest bone marrow donor center (DKMS), and launching the new Vera Wang fragrance, Lovestruck. Leighton shines on the Red Carpet in this tobacco, washed silk, one shoulder Vera Wang dress with draped shoulder." via the Vera Wang Blog

Leighton Meester In Vera Wang. Do you love?
Vera Wang Lovestruck ad campaign. A modern day love story set in downtown New York City, the Lovestruck ad campaign features Leighton Meester, star of Gossip Girl, in a couture Vera Wang gown. She leans over a fire escape, awaiting the arrival of her Romeo, who races towards her with a bouquet of flowers for their Lovestruck moment.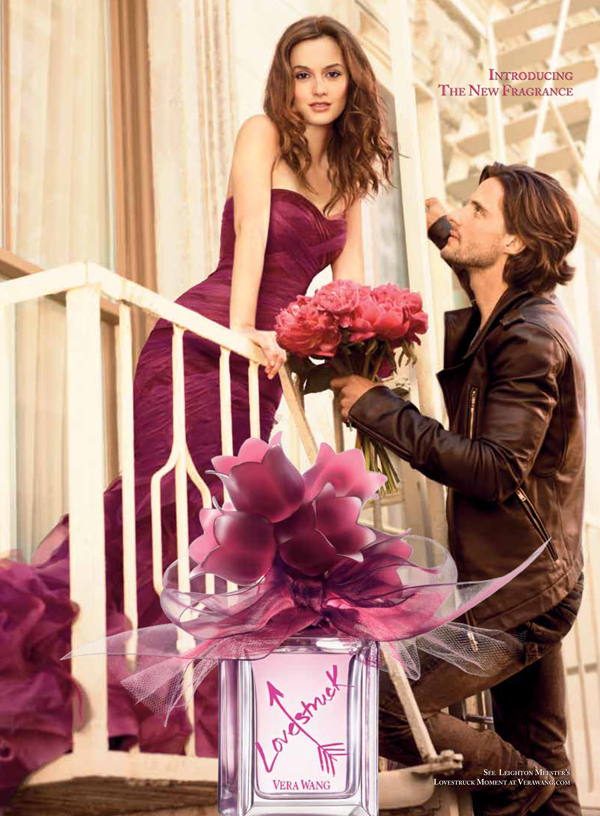 Leighton Meester's New Ad Campaign for Vera Wang Lovestruck perfume
Creative Director: Trey Laird
At 10:30 a.m. this morning, April 28, 2011, Leighton Meester, face of the newest Coty fragrance from Vera Wang, was scheduled to light the Empire State Building red and white in a special ceremony in honor of tonight's 5th Annual DKMS Gala and the Coty-DKMS Linked Against Leukemia partnership, which is celebrating it's 20th anniversary.
Vera Wang FW 2011. Hair by Moroccanoil.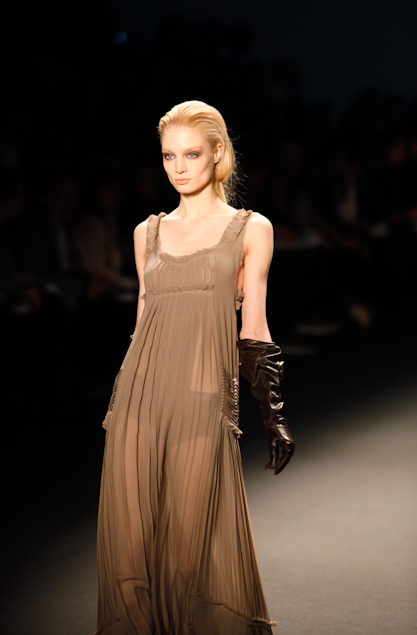 New York Fashion Week SS 2011. Designer: Vera Wang. Makeup by Lucia Pieroni, Color Creator of Clé de Peau Beauté.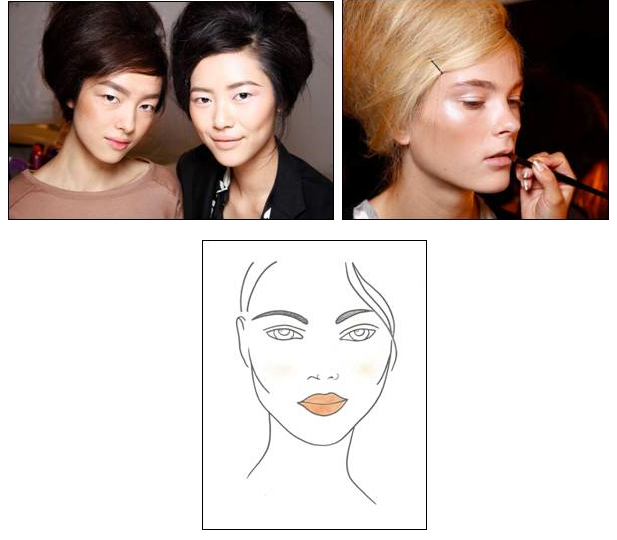 The Makeup Look, Inspiration & How to:
The makeup look for the Spring 2011 Vera Wang Collection was inspired by the glamorous and candlelit nuances found in the movie In The Mood For Love. The goal was to create a soft, romantic look that made a breathtaking impact. "The key to this ethereal look is the play on light and reflection and the striking radiance that results from both," says Lucia. "There is minimal color involved, but the overall metallic effect makes this look both wearable and highly fashionable at the same time."
This weekend America's little princess Chelsea Clinton got married to Marc Mezvinsky in Rhinebeck, New York on Saturday evening July 31, 2010. First let me begin with "Can you believe it"? I remember Chelsea a little girl so clearly and amazed at how fast time flies. Now let's talk style. I absolutely love Chelsea's strapless Vera Wang gown with a wide jewel-encrusted band. The groom, groomsmen and father-of-the-bride looked classic with their tuxes by Christopher Bailey of Burberry. Congratulation Chelsea Clinton!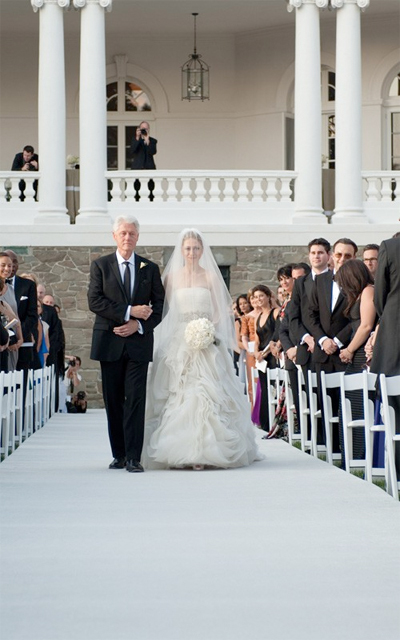 L to R: America's former President Bill Clinton and daughter Chelsea at her wedding day
Vera Wang Princess Born to Rule NEW fragrance: Rule your scent and channel royalty with the new Vera Wang Princess. Radiant and whimsical, this sheer, fruity floral scent embodies the modern day princess. Vera Wang teamed up with Zoe Kravitz to create this edgy delicate fragrance, which perfectly embodies Zoe's individuality and one of a kind spirit.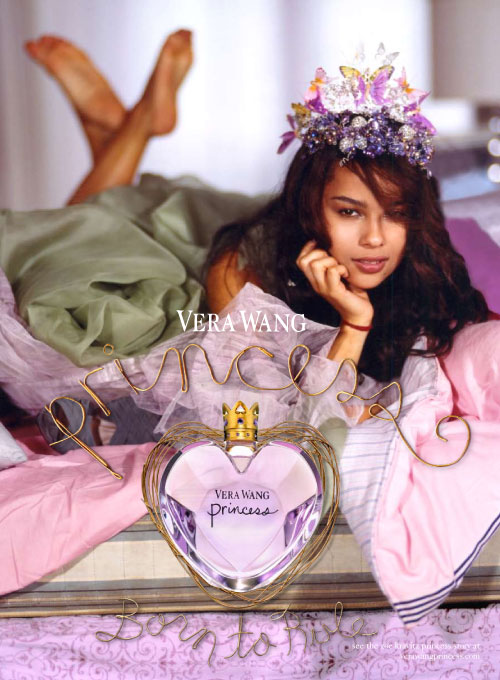 Top Notes: Lady Apples , Water Lily, Golden Apricot and Mandarin Meringue
Heart Notes: Pink Guava, Tahitian Tiare Flower, Wild Tuberose and Dark Chocolate
Base Notes: Vanilla and Amber Woods
Mariska Hargitay gets Talking Makeup's Best Dressed Award for her look at Oscars 2010. Perfection! Marisa Hargitay's gown was by Vera Wang. Marisa wore a navy blue silk faille strapless gown with draped empire bodice and raw cut flounced skirt to the 82nd Annual Academy Awards on March 8, 2010. Do you love?