All Posts Tagged With: "W Hotel Scottsdale"
One of the things I love most is when my two worlds, or businesses, Beauty & Fashion Publishing and Real Estate collide in a a beauty event locally here in gorgeous Scottsdale, Arizona. On Thursday, January 12th, 2012, I was at an event held at the stunning W Hotel on Camelback Rd meeting the founders of rising French skincare brand Caudalie. Mathilde and Bertrand Thomas founded the brand based on a bi product of her parents Bordeaux vineyard, the humble grape seed.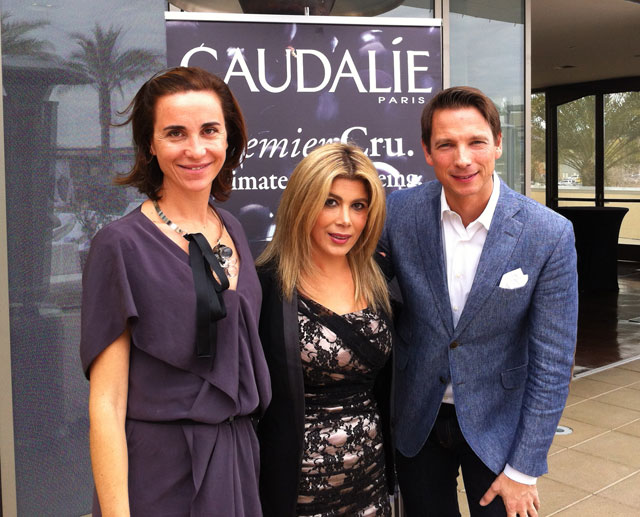 Marta Walsh Meets The Founders of Caudalie Mathilde and Bertrand Thomas In Scottsdale
Packed with polyphenols and anti-oxidants grape seeds can help the skin with anti-aging. Caudalie in addition to having the skincare products has some o the worlds finest spa's. With a spa in the Plaza hotel in NYC. I told the owners they should definitely bring one to Scottsdale, which is a spa town without rival. Read Full Story In: www.martawalsh.com
Marta Walsh Paradise Valley & Scottsdale REALTOR
Hello loves:) The fabulous Caudalie team is going to be out in Scottsdale AZ, Marta Walsh's hometown yours truly, next week on Thursday January 12th, 2012, 12:00 PM-1:30 PM, at the W Hotel Scottsdale located at 7277 at E Camelback RD, and you are invited!  To RSVP email mmartinet@caudalie-usa.com.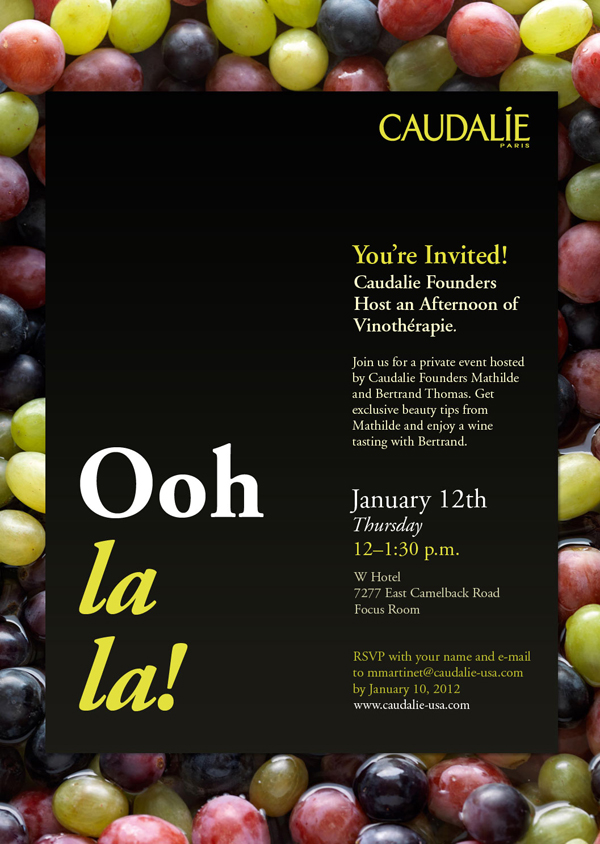 GIVEAWAY
Caudalie Founders Mathilde and Bertrand Thomas will also be hosting an exclusive wine & beauty event, featuring a tasting of wines from the Caudalie vineyard in Bordeaux and French Beauty Secrets from Mathilde. GIVEAWAY: To celebrate this event in Scottsdale I'm giving away to 1 lucky winner two of Caudlie's most-popular products: Caudalie Beauty Elixir 100 ml bottle and Caudalie Vinoperfect Day Perfecting Fluid with SPF 15 both suitable for all skin types. WATCH my vlog here:
How to enter to win Caudalie giveaway
Simply watch my video and comment below what was my Caudalie giveaway code is..and why you are excited to try these products. GOOD LUCK!
Mathilde Thomas Founder of Caudalie Interviews With Marta Walsh
This week my skin had a disco party LOL. Starting with my very satisfying fillers at Dr Bracci's office in New York City aka Verve Medical Cosmetics where now I look 7 years younger all the way to a Triple Oxygen Treatment at the bliss Spa (which BTW is their most popular facial) at the W Hotel Scottsdale Arizona. "What did I do to deserve this?" is all I can say. Let's go back to bliss. Talking about a sweet escape, my face was cleansed, exfoliated, hydrated, oxygenated, my legs massaged, hands/arms massaged, upper back massaged, scalp massage, you get the story. A complete heaven or should I say: bliss.

bliss Spa At The W Hotel Scottsdale photo by Marta Walsh