All Posts Tagged With: "real estate"
One of the things I love most is when my two worlds, or businesses, Beauty & Fashion Publishing and Real Estate collide in a a beauty event locally here in gorgeous Scottsdale, Arizona. On Thursday, January 12th, 2012, I was at an event held at the stunning W Hotel on Camelback Rd meeting the founders of rising French skincare brand Caudalie. Mathilde and Bertrand Thomas founded the brand based on a bi product of her parents Bordeaux vineyard, the humble grape seed.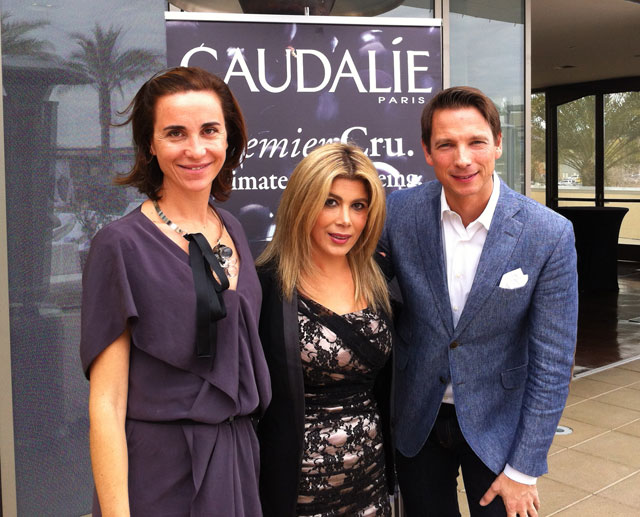 Marta Walsh Meets The Founders of Caudalie Mathilde and Bertrand Thomas In Scottsdale
Packed with polyphenols and anti-oxidants grape seeds can help the skin with anti-aging. Caudalie in addition to having the skincare products has some o the worlds finest spa's. With a spa in the Plaza hotel in NYC. I told the owners they should definitely bring one to Scottsdale, which is a spa town without rival. Read Full Story In: www.martawalsh.com
Marta Walsh Paradise Valley & Scottsdale REALTOR
As you probably already know my name is Marta Walsh I'm a Scottsdale & Paradise Valley Arizona Luxury REALTOR. Aside from beauty and fashion Real Estate is my other passion. I'm a big fan of HGTV's Selling New York show and watch it religiously.  You can read all about my real state adventures on www.martawalsh.com but meanwhile here's a cool sighting of my favorite stars. On September 22nd, Divamoms.com hosted a party for Selling New York's Kleier family to celebrate their new book, Hot Property at Soigne K. Guest's mingled with the Kleier sisters, enjoyed the new fall fashion from Soigne K and received Henna tattoos.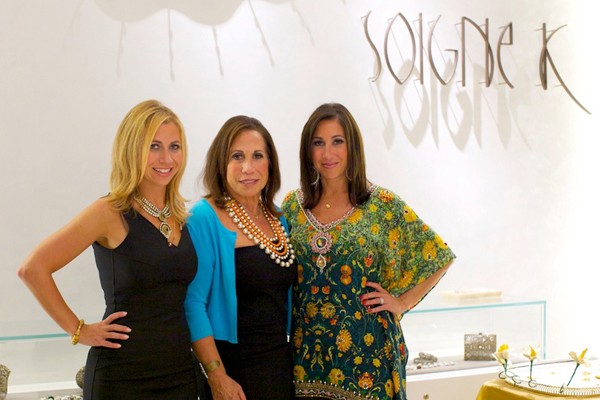 Selling New York's Kleier family
See more pics of the Kleier family…
I'm super excited for my interview with Inman.com a top Real Estate online publication where I got to talk all about fashion & beauty blogging and Real Estate. The article in titled "Beauty is in the eye of the blogger" and is written by Mary Umberger. Here's a sneak peek!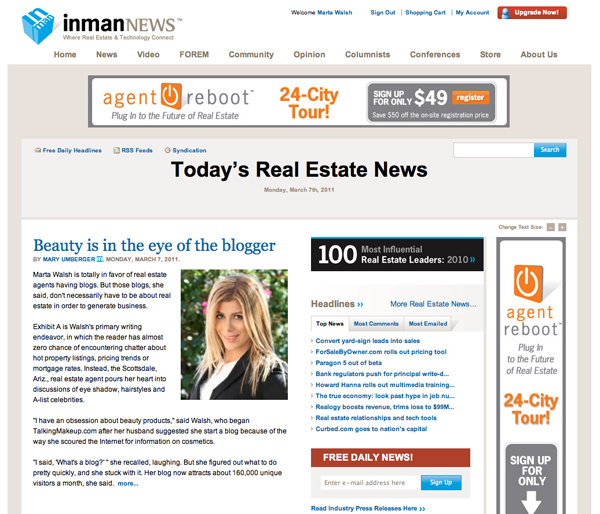 Marta Walsh Interviews With Inman.com
"I have an obsession about beauty products," said Walsh, who began TalkingMakeup.com after her husband suggested she start a blog because of the way she scoured the Internet for information on cosmetics. "I said, 'What's a blog?' " she recalled, laughing. But she figured out what to do pretty quickly, and she stuck with it. Her blog now attracts about 160,000 unique visitors a month, she said.
I'm excited share with you a sneak peek to an interview with me which was published originally in BeautyInterviews.com. Here it is.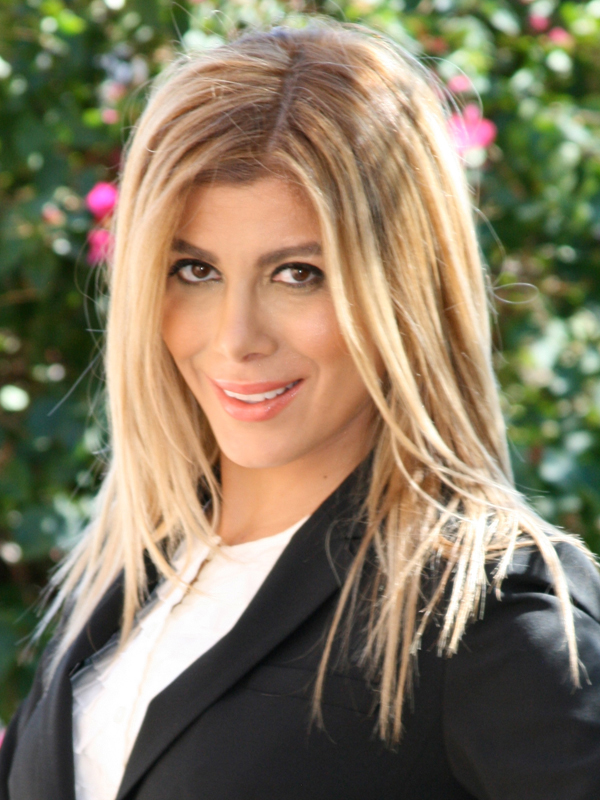 Marta Walsh a North Scottsdale REALTOR and also the founder of US' top fashion & beauty blog www.talkingmakeup.com
Beauty Interviews: Why did you decide to become a fashion and beauty blogger?
Marta Walsh: It was a pure example of do what you love in life and the rest will follow. Ever since I remember myself I loved fashion and beauty and writing about it never felt so good.
I wrote this for my Real Estate site www.martawalsh.com. As a North Scottsdale Luxury REALTOR I love writing in my blog about my neighborhood and about anything new in the world of real estate.
I was reading The Top 15 Mistakes Bloggers Make by Amitabh Shukla and I decided to make my own version of the list but in reference to Real Estate and Realtor blogs.
Here's the list.
1. Not updating enough. There is nothing worse than seeing a link to a blog and want to find out about what a person is doing and thinking only to find out they last updated 6 weeks ago. If you are going to call it a blog, that should be a regular web log anything less is not a blog.
Hello loves! I just made my first real estate vlog. It's an introduction video for my North Scottsdale Real Estate website: www.martawalsh.com. Not sure if you knew but I've recently expanded my business venture and mini empire into real estate. I'm now a licensed REALTOR with the prestigious Russ Lyon Sotheby's International Realty and my focus is luxury real estate. WATCH & hope you love 🙂

In this video: Marta Walsh REALTOR at Russ Lyon Sotheby's International Realty in North Scottsdale Arizona.
I'm super excited because after all my hard work going to Real Estate School and passing the Real Estate sales license exam I've joined Russ Lyon Sotheby's International Realty in North Scottsdale the Pinnacle Peek Branch. Russ Lyon was my first choice to work for because they have an unparalleled reputation and a dominant presence in the North Scottsdale Luxury Real Estate market. And it's where I want to be! I'm now working on my new site www.martawalsh.com and it's coming along nicely. Hope you love!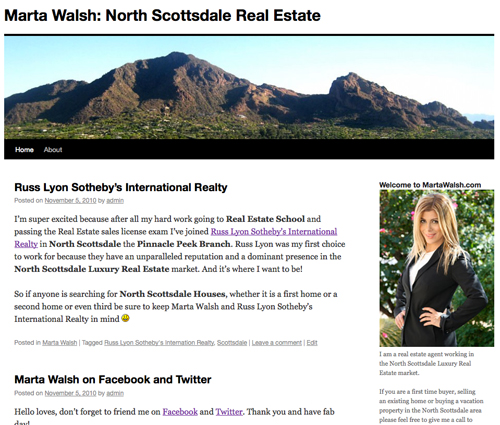 North Scottsdale Real Estate: Marta Walsh's New Site
So now I am a real estate agent working in the North Scottsdale Luxury Real Estate market. If you are a first time buyer, selling an existing home or buying a second home or a vacation property in the North Scottsdale area please feel free to give me a call to discuss your options.
Full contact details are available at: www.martawalsh.com