All Posts Tagged With: "north scottsdale"
Super excited to make it to REYNOLDS 2.2 2010 Hot Girls list. Thank you Robert Reynolds we love you. Here's a sneak peak!

Marta Walsh REYNOLDS 2.2 2010 Hot Girls. Marta Walsh founder of US's top Fashion and Beauty Blog www.talkingmakeup.com and North Scottsdale REALTOR with Russ Lyon Sotheby's International Realty. Photo credit: Adam Bouska.
REYNOLDS 2.2 has put together the top 10 list of HOT GIRLS featured on REYNOLDS 2.2 in 2010. This list has been created for these girls getting the most views by the viewers being all of you out there in cyber world from around the world. These girls are not only hot for their looks alone but because they are career minded girls on the come up doing big things! So allow me to present them in the following order starting off first with the bonus HOT GIRL!
BONUS HOT GIRL – MARTA WALSH
Hello Loves! Read a press release about Marta Walsh joining Russ Lyon Sotheby's International Realty in North Scottsdale Arizona. Pretty cool!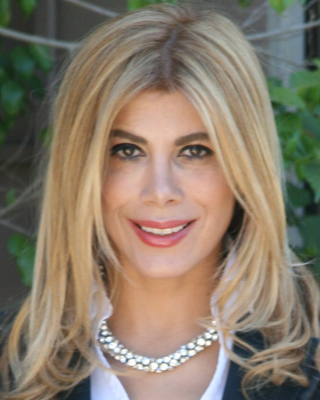 Marta Walsh North Scottsdale Real Estate REALTOR
SCOTTSDALE, Arizona (November 11, 2010) – Marta Walsh one of the top fashion and beauty bloggers in North America has recently joined Russ Lyon Sotheby's International Realty as a Real Estate Sales Agent.
Based out of the Pinnacle Peak Office Marta will be charged with helping both home buyers and sellers to meet their Real Estate goals.
On accepting the position Marta Walsh explained "It's a very exciting time for the Real Estate market with more people than ever turning to the Internet for information before making any decisions about buying or selling their house. I feel I have a unique position as a blogger and social media expert to connect with families who need the help of a REALTOR. I have always enjoyed meeting new people and look forward to helping my clients and to becoming a trusted name in the North Scottsdale Real Estate market." Read full article at www.martawalsh.com
I'm super excited because after all my hard work going to Real Estate School and passing the Real Estate sales license exam I've joined Russ Lyon Sotheby's International Realty in North Scottsdale the Pinnacle Peek Branch. Russ Lyon was my first choice to work for because they have an unparalleled reputation and a dominant presence in the North Scottsdale Luxury Real Estate market. And it's where I want to be! I'm now working on my new site www.martawalsh.com and it's coming along nicely. Hope you love!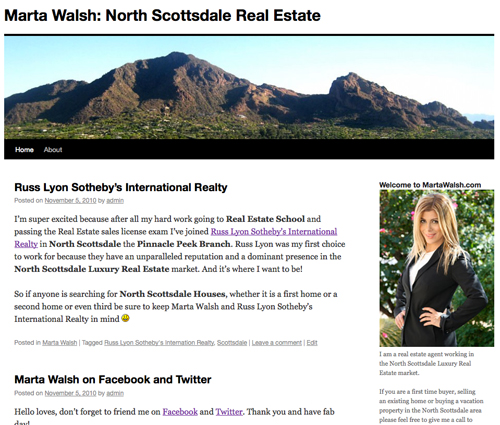 North Scottsdale Real Estate: Marta Walsh's New Site
So now I am a real estate agent working in the North Scottsdale Luxury Real Estate market. If you are a first time buyer, selling an existing home or buying a second home or a vacation property in the North Scottsdale area please feel free to give me a call to discuss your options.
Full contact details are available at: www.martawalsh.com