All Posts Tagged With: "Hair Treatment"
Love and hair are essentially the same – they both can be temperamental but when you get it right, you want it to stay. Whether you're going to #netflixandchill or hitting the town with your main hang this Valentine's Day the last thing you want is basic hair or a basic formula. Thanks to the strong hair, aficionados at Keranique, their cutting edge, strength building formulas make hair panic is a thing of the past!
When you haven't gotten your roots done or washed your hair. Keranique Tint & Texture Color Density Treatment.
On my recent trip to LA I had the great honor to meet celebrity colorist Denis De Souza at Andy Lecompte Salon. At the beginning of this year I did a post about Rachel Bilson and her new hair color created by De Souza which attracted a huge following from Talking Makeup's readers. As a very inquisitive beauty editor with a good eye for spotting legendary talent this very handsome Brazilian born artist caught my attention.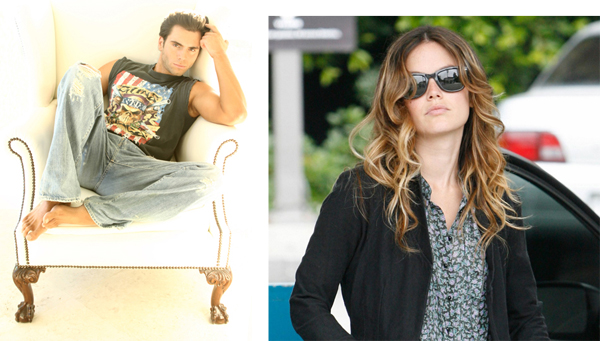 L to R: Celebrity colorist Denis De Souza, actress Rachel Bilson sporting the Brazilan Beach Hair Color done by talented Denis De Souza at Andy Lecompte Salon in LA
And of course my new discovery made me all 'fired up' for an interview. See, characters like De Souza inspire be because they take their art into a new level, they are innovators, or as I call it: they are a 'Style Genius'. I'm a sucker to new ideas and inventions and De Souza did just that. He invented a hair coloring method called: The Brazilian Beach Hair Color as seen on Rachel Bilson. Nylon Magazine has recently made an article titled: "who's your hair icon?", and miss Bilson was one of the mentions. Now, Denis De Souza is a new star born.
The new Redken Real Control Overnight Treat is scheduled to launch in November 2008 and it's good news for you if you have dry and chemically damaged hair.
Redken Real control Overnight Treat is a rejuvenating lotion absorbed instantly and designed for dense, dry, chemically damaged hair (colored, highlighted, permed or relaxed) looking to condition, and help repair damaged hair during sleep. Redken Real control Overnight Treat is lightweight and absorbs instantly and doesn't transfer to pillow or sheets.
"While many hair masks claim to provide hair with intense results, the Real Control Overnight Treat takes the idea of a hair mask a step further,"says Kaz Amor, Redken haircare consultant and owner of Warren Tricomi LA. "By using the Overnight Treat during sleep, hair results in maximum softness and control. Women will be instantly amazed at the results this product can bring!"
More good things about Redken Real control Overnight Treat: I've tried and it made my hair super soft. It doesn't feel oily or heavy on my hair, even though it is a heavy duty hair treatment. It's a keeper.