On my recent trip to LA I had the great honor to meet celebrity colorist Denis De Souza at Andy Lecompte Salon. At the beginning of this year I did a post about Rachel Bilson and her new hair color created by De Souza which attracted a huge following from Talking Makeup's readers. As a very inquisitive beauty editor with a good eye for spotting legendary talent this very handsome Brazilian born artist caught my attention.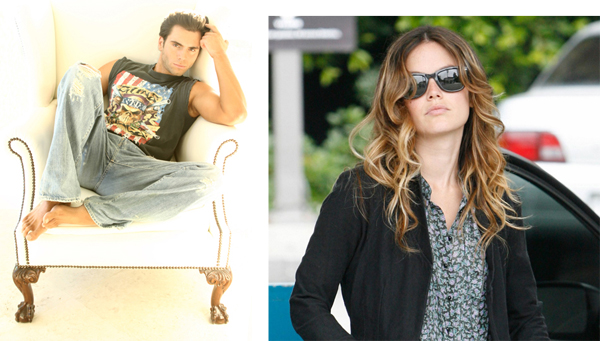 L to R: Celebrity colorist Denis De Souza, actress Rachel Bilson sporting the Brazilan Beach Hair Color done by talented Denis De Souza at Andy Lecompte Salon in LA
And of course my new discovery made me all 'fired up' for an interview. See, characters like De Souza inspire be because they take their art into a new level, they are innovators, or as I call it: they are a 'Style Genius'. I'm a sucker to new ideas and inventions and De Souza did just that. He invented a hair coloring method called: The Brazilian Beach Hair Color as seen on Rachel Bilson. Nylon Magazine has recently made an article titled: "who's your hair icon?", and miss Bilson was one of the mentions. Now, Denis De Souza is a new star born.
I met Denis De Souza on a beautiful sunny morning in LA at Andy Lecompte Salon which is strategically located in the heart of West Hollywood. I could just imagine tracing the steps of celebrities flocking to the salon (Rachel Bilson perhaps?:) "What do you think about my hair" I asked Denis. He thought it was good but could be better. "Let's make you a Brazilian Beach Blond" he insisted with a very charming smile and Marta Walsh was in heaven. I was trying to get that effortless sun-kissed blond yet not too harsh look for a long time now. It was nice to finally find a colorist that understands what I want.
I'm a natural brunette who over the years got very addicted to blond highlights. After meeting Denis De Souza I've learned that I don't ever want to cross the line from being a 'Brazilian Beach Blond' (now my newly found term) to a bleached blond. Denis managed to lighten my ends intensely and get the top of my hair darker and perfectly infused into my blond highlights so the 'where the roots start from line' completely blurs. The Brazilian Blond Hair Color is a much more natural look for me and also saves money from constantly visiting the salon for a root touch up.
As I sit here and blog today, I'm one happy girl with the perfect hair color. I'm a Leo and that means a lot to me. Thank you Denis!!! And now let's go back to my interview.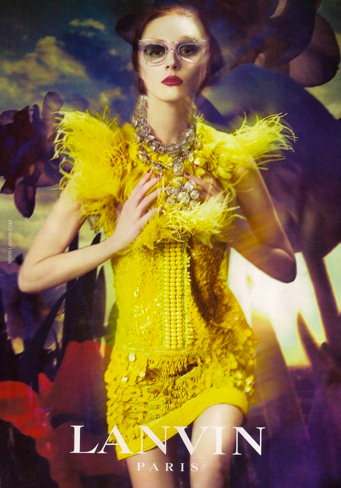 From Denis De Souza's portfolio a LANVIN ad
In this interview Denis De Souza talks to Marta Walsh about his first memories of loving hair styling. Memorable breaks in his career such as coloring Olga Sherer for a Lanvin ad campaign. His favorite celebrity hair color past and present. Why he would love to work on Mischa Barton's hair. Personal style. And, future plans.
Marta Walsh: Where do you call home?
Denis De Souza: I'm from Sao Paulo, Brazil, but I've been in LA for about 10 years and I absolutely love it here and that's why LA is where I call home!
MW: What was your first memory of you interested in hair styling?
DDS: Funny enough when I was a kid I used to love playing with my friends dolls' hair and from then on I always love to touch people's hair. It was totally meant to be when I look at the signs from the past.
MW: What were some of your biggest breaks as a top hair colorist? At what point did you begin to feel you're up to something?
DDS: WOW, what an interesting question because I've never thought of me this way, but I think my first big brake was when I was chosen to color the hair of Olga Sherer for a gorgeous Lanvin Ad campaign. After that I was invited to do the color for big hair product campaigns like John Frieda, Aveeno , Tresemme ( where I met my beloved client Rachel Bilson ) just to name a few.
MW: You are well known for doing Brazilian Beach Hair Color. What is it and where did you come up with it?
DDS: Well, whenever I'm in Brazil I look at woman's hair color and a lot of them have gorgeous hair that is just naturally hi-lighted from the sun and the beach. I decided years ago I wanted to recreate that look here and I can totally say that I've mastered it. Most of my clients want this look because it's more natural , the hair is lighter on the bottom and it blends in really well on the top which makes the re-growth a lot easier to handle since you can barely see a line of demarcation. It works for all hair colors and my clients go without seeing me for up to 3 months and they love the fact their hair color is way less maintenance.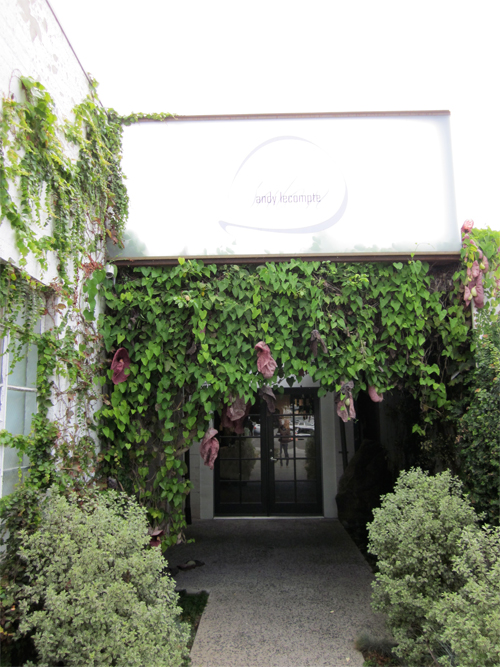 Andy Lecompte Salon in West Hollywood (…and Marta Walsh in the reflection:)
MW: You did Rachel Bilson's hair color at the Andy LeCompte Salon in West Hollywood recently. What hair color shades and technique did you use?
DDS: She is the perfect example of what the " Brazilian Beach Hair Color " is like. She's still a beautiful brunette but with hi-lights that doesn't look offensive and too done. The brighter tips make her whole complexion pop.
MW: What are some of your favorite celebrity hair colors past and present? And what are some the hottest hair color trends?
DDS: like many other colorists I believe Marilyn Monroe was the jump start of the hair coloring business. Marilyn's hair and looks are just timeless and I appreciate that. Madonna has always been an inspiration to me not only for her music that I LOVE but also because she understands the art to transform herself and she has been every single color of the spectrum. Now, I'm not very into hair trends because when it comes to hair color " the trend " doesn't work for most people and I believe in enhancing peoples hair color, making them feel great about themselves at all seasons rather then following a trend.
MW: Which celebrity do you imagine or dream to color their hair the most?
DDS: I would be lying if i didn't say Madonna. She is my ultimate favorite of all times. But funny enough I'd love to put my hands on people that lately their color just doesn't look right on them for example Mischa Barton. I believe she has so much potential to look great but her hair coloring options lately just doesn't work for her at all!!
MW: What is your philosophy about hair and what do you think beauty is all about?
DDS: My ultimate philosophy is to enhance people's hair color making it look better rather then changing it drastically. I also treat peoples hair with what I call " Keratin Rejuvenation Treatment " that makes your hair feel and look like virgin hair again (especially over processed hair types ). Basically my philosophy is to make the hair look its best but feel its best as well. Beauty to me comes from loving and respecting yourself and when you treat yourself that way it shows in a positive attitude and the whole world sees it!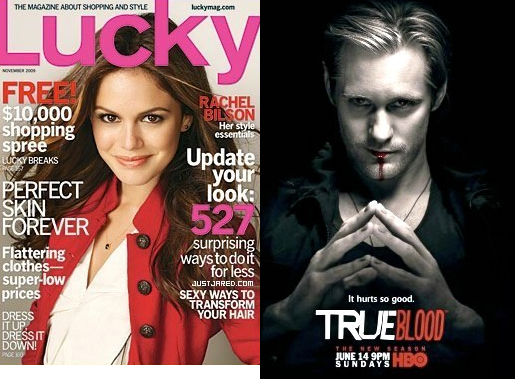 More from Denis De Souza's Portfolio. L to R: Rachel Bilson on the cover of Lucky November 2009 and True Blood poster
MW: What inspires you?
DDS: Many things inspire me. Anything artistic inspires me. I love fashion and a lot of my inspiration comes from seeing fashion shows, ad campaigns and editorials flipping through fashion magazines from all over the world and so many other things, even horrible hair color inspires me because I want to correct it and make it look its best again.
MW: What was the first movie you've watched on a date?
DDS: I can't remember the first one but I do remember one from many years ago which I believe it was one of the very first ones since I was so young. It was a total chick flix " She's All That" and I remember because I love the song kiss me! it was in London and the guy happens to be one of my best friends now and every time I hear that song I remember meeting a real true friend!
MW: How would you describe your personal style?
DDS: I'm usually more casual but I love to spice things up with accessories, and cool shoes. Sunglasses in LA are very important and I own a great collection, and jackets specially when I'm in NY, hats, necklaces, and my hair style keeps changing too.
MW: What's next for Denis De Souza?
DDS: Good question, I've been working as a colorist in LA for about 7 years now, absolutely love LA and where I currently work ( Andy Lecompte salon) everybody there is so talented and inspirational. But I was recently invited to work in NY as well. Laurent the owner of Prive Salon at the Soho Grand Hotel asked me to be part of his team and I'm taking the challenge. I'm based in LA but I will be in NYC for a week every 5-6 weeks because being bi-coastal is my ultimate dream and I want to conciliate the movie/TV industry I work with in LA with the fashion industry in NY. I would like to mix the best of both worlds!!! I'll be in NYC for the first time to work August 24-30, 2010, and my schedule in both salons along with my portfolio and bio can be found at www.denisdesouza.com
Denis De Souza to Marta Walsh: "Thank you so so so much!!! I had the best time answering your questions…" Marta Walsh to Denis De Souza: "I'm honored".