All Posts Tagged With: "Denis De Souza"
LOS ANGELES (February 25, 2014) – World-renowned hair care brand, Joico, has partnered with Brazilian colorist and "King of Color," Denis de Souza, to bring his passion and international eye for color and luxe techniques to the brand. Devoted to his celebrity clientele, De Souza became known as the innovator of the ultra-natural coloring technique resulting in effortlessly exotic, sun-strewn strands. De Souza's custom looks, as seen on Kate Mara, Olivia Wilde, Zoe Saldana, Mila Kunis, Rachel Bilson, Nicole Richie, and Lucy Hale among others, will continue to set trends that remain on the forefront of hair, alongside Joico.
De Souza's passion for hair color and preservation, coupled with his ability to cultivate creative techniques align seamlessly with Joico's philosophy and line of innovative products. His exquisite talent has gained him incredible bicoastal work experience at some of West Hollywood and New York's top salons, including Andy Le Compte and Serge Normant. As a loyalist of Joico for years, De Souza is eager to take his adoration of the brand to the next level with this colorful collaboration.
"I've been using Joico products ever since I can remember, which is a true testament to the brand's ability to remain timeless and relevant," comments De Souza. "I couldn't be more inspired by the brands passion and innovative methods of exploring hair color, which is why this partnership signifies a new high for my career."
Developing stunning natural looks that require minimal maintenance is a signature of De Souza, and his talent for understanding unique styles and techniques is unparalleled. De Souza's first appearance on behalf of the brand will be for this year's 86th Annual Academy Awards. Count on De Souza to let you know who might turn heads Oscar weekend and also offer trend forecasting on Hollyscoop on "My TV 13" – check for local listings.
"Working with visionaries like Denis de Souza, keep us motivated to continue to innovate, transform and of course, turn heads," said Valerie Robinett, Director of Public Relations for Joico. "But even more, Denis will be instrumental in developing new innovations tailored for today's colorist, around the latest trends people want from their professionals. We have a strong vision for Joico's partnership with Denis so we'll be working to bring his talent and artistry to all professionals and salons. And to every, client the latest in haircolor fashion, from red-carpets and catwalks -right into every chair- straight from hairdresser to client."
For over 35 years, Joico has continued to advance in hair care products and styles as an award-winning brand, and this partnership precedes the announcement of first-ever brand developments to unfold throughout 2014.
Joico, Senior Vice President and General Manager, Sara Jones, resounds, "We're thrilled to be partnering with Denis at such an exciting time. Our growth in color is showing no signs of stopping. He's been a loyal Vero K-PAK Color user for many years and we're so happy to have him on board to officially represent the brand."
For additional information on Joico products, brand news and offerings visit www.Joico.com (via: Joico).
Jessica Alba has gone Ombre. Do you love? I'm not sure who invented the term Ombre. It all started out about 2 years ago at the Andy Locompte salon in West Hollywood when I got a Brazilian Beach Blonde by the very talented hair colorist Denis De Souza , I still beilve it's where it started. It was actress  Rachel Bilson who was first spotted with it. I'm not sure when it turned from Brazilian Beach Blonde into Ombre. And I'm also very curios is Denis is the one who did Jessica's hair color…umm
Ombre hair color trend. I seriously believe that Denis De Souza of the Andy Lecompte Salon in West Hollywood LA invented it. The first celebrity to be seen with this highly desirable Obre effect or what I like to call Brazilian Blonde was Rachel Bilson (which was done by Denis also). The rest is hair history.
Rachel Bilson's famous Ombre highlights done originally by Denis De Souza and copied since by many:)
OMBRE
Rachel Bilson Gets New Highlights at the Andy Lecompte Salon
In NYC & Loving Rachel Bilson's Haircolor: Get The Look with Denis De Souza At The Prive Salon SOHO Grand Hotel NYC!
Are you all about Rachel Bilson's haircolor? Wonder who did Rachel Bilson's fabulous highlights? Well, the secret is out! His name is Denis De Souza and he is the style genius who created Rachel Bilson's fabulous haircolor. Normally you'll find Denis at the Andy Lecompte Salon in LA, however, the talented Mr De Souza is in NYC TODAY, August 24, 2010, at the at the Prive Salon SOHO Grand Hotel, and until August 28!! So what ya waiting for lovers?:) BTW, I did my haircolor with Denis before and I can reassure you that he is super professional and made me feel like a movie star! I adore Denis.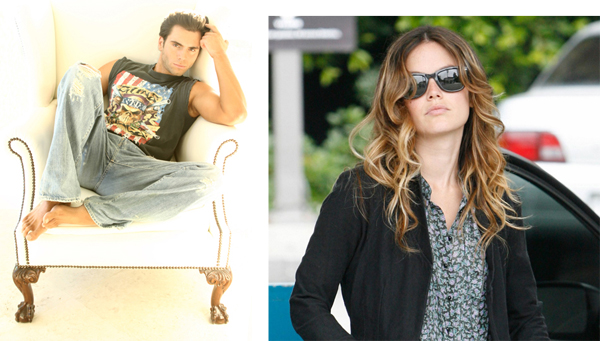 L to R: L to R: Celebrity colorist Denis De Souza, actress Rachel Bilson sporting the Brazilan Beach Hair Color done by talented Denis De Souza
To make an appointment with Denis De Souza At The Prive Salon SOHO Grand Hotel NYC please call (212) 274-8888. Address: 310 W Broadway, New York, NY 10013.
Rachel Bilson Gets New Highlights at the Andy Lecompte Salon
On my recent trip to LA I had the great honor to meet celebrity colorist Denis De Souza at Andy Lecompte Salon. At the beginning of this year I did a post about Rachel Bilson and her new hair color created by De Souza which attracted a huge following from Talking Makeup's readers. As a very inquisitive beauty editor with a good eye for spotting legendary talent this very handsome Brazilian born artist caught my attention.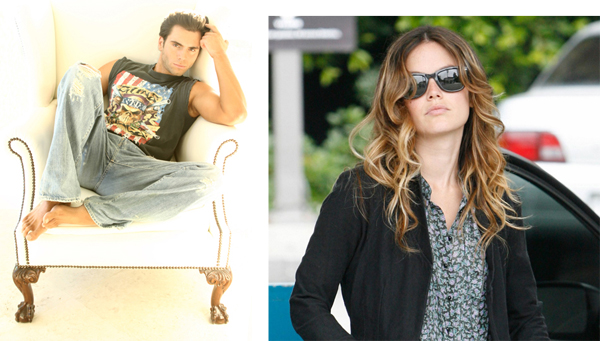 L to R: Celebrity colorist Denis De Souza, actress Rachel Bilson sporting the Brazilan Beach Hair Color done by talented Denis De Souza at Andy Lecompte Salon in LA
And of course my new discovery made me all 'fired up' for an interview. See, characters like De Souza inspire be because they take their art into a new level, they are innovators, or as I call it: they are a 'Style Genius'. I'm a sucker to new ideas and inventions and De Souza did just that. He invented a hair coloring method called: The Brazilian Beach Hair Color as seen on Rachel Bilson. Nylon Magazine has recently made an article titled: "who's your hair icon?", and miss Bilson was one of the mentions. Now, Denis De Souza is a new star born.