All Posts Tagged With: "Joico"
LOS ANGELES (February 25, 2014) – World-renowned hair care brand, Joico, has partnered with Brazilian colorist and "King of Color," Denis de Souza, to bring his passion and international eye for color and luxe techniques to the brand. Devoted to his celebrity clientele, De Souza became known as the innovator of the ultra-natural coloring technique resulting in effortlessly exotic, sun-strewn strands. De Souza's custom looks, as seen on Kate Mara, Olivia Wilde, Zoe Saldana, Mila Kunis, Rachel Bilson, Nicole Richie, and Lucy Hale among others, will continue to set trends that remain on the forefront of hair, alongside Joico.
De Souza's passion for hair color and preservation, coupled with his ability to cultivate creative techniques align seamlessly with Joico's philosophy and line of innovative products. His exquisite talent has gained him incredible bicoastal work experience at some of West Hollywood and New York's top salons, including Andy Le Compte and Serge Normant. As a loyalist of Joico for years, De Souza is eager to take his adoration of the brand to the next level with this colorful collaboration.
"I've been using Joico products ever since I can remember, which is a true testament to the brand's ability to remain timeless and relevant," comments De Souza. "I couldn't be more inspired by the brands passion and innovative methods of exploring hair color, which is why this partnership signifies a new high for my career."
Developing stunning natural looks that require minimal maintenance is a signature of De Souza, and his talent for understanding unique styles and techniques is unparalleled. De Souza's first appearance on behalf of the brand will be for this year's 86th Annual Academy Awards. Count on De Souza to let you know who might turn heads Oscar weekend and also offer trend forecasting on Hollyscoop on "My TV 13" – check for local listings.
"Working with visionaries like Denis de Souza, keep us motivated to continue to innovate, transform and of course, turn heads," said Valerie Robinett, Director of Public Relations for Joico. "But even more, Denis will be instrumental in developing new innovations tailored for today's colorist, around the latest trends people want from their professionals. We have a strong vision for Joico's partnership with Denis so we'll be working to bring his talent and artistry to all professionals and salons. And to every, client the latest in haircolor fashion, from red-carpets and catwalks -right into every chair- straight from hairdresser to client."
For over 35 years, Joico has continued to advance in hair care products and styles as an award-winning brand, and this partnership precedes the announcement of first-ever brand developments to unfold throughout 2014.
Joico, Senior Vice President and General Manager, Sara Jones, resounds, "We're thrilled to be partnering with Denis at such an exciting time. Our growth in color is showing no signs of stopping. He's been a loyal Vero K-PAK Color user for many years and we're so happy to have him on board to officially represent the brand."
For additional information on Joico products, brand news and offerings visit www.Joico.com (via: Joico).
Joico Celebrity Coloris George Papanikolas transforms Lindsay Lohan's brunette hair to glimmering gold aka blonde.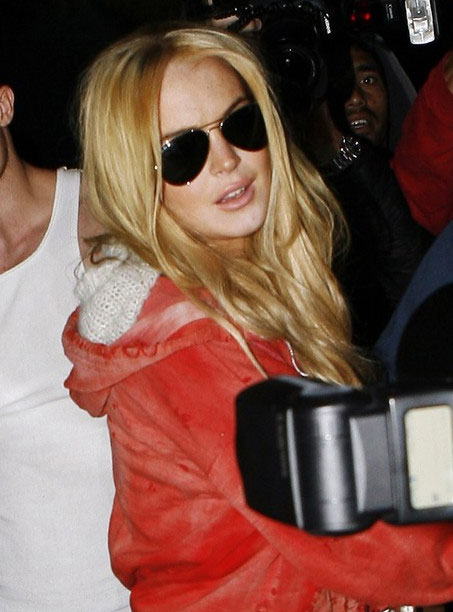 Here's how Lindsay Lohan gone from brunette to blonde: George Papanikolas and his colleagues at Beverly Hills' Andy LeCompte Salon teamed up to transform actress Lindsay Lohan from dark to light—a process that took close to 10 hours! Lohan, a natural redhead, showed the color pro photos of the golden, strawberry blonde hue that she had in mind, which he agreed would be ideal for her eye color and complexion. Because she already had dye on her deep brunette locks, the first step was to carefully strip out as much of the dark color as possible with color remover.
Feeling burned? End solar distress with Joico's K-Pak Sun Therapy System.
The sizzle of sun exposure effects your hair just as much as it does your skin, with severe dehydration and damage. Joico's K-Pak Sun Therapy, has the perfect solution. This revolutionary, three-step system actually repairs and reconstructs solar damage as it revitalized moisture-stripped locks.
The technology: Using skin care technology developed in the Shiseido laboratories, the Joico K-Pak Sun Therapy contains an exclusive hydroxy Sun Complex, which literally fills the "holes" in the hair cuticle that the sun burns into hair. It also incorporates: Quadramine Complex, K-Pak Protection System, and K-Pak Keratin Silicon Complex. Other ingredients include: aloe vera, K-Pak's signature botanicals, and a unique trio of sun blockers: Covabsorb EW.
The K-Pak Sun Therapy works before, during, and after sun exposure, and includes the following products: Step One: K-Pak Sun Therapy Nourishing Shampoo. Step Two: Treatment Masque. Step Three: Protective Sun Milk.
Summer Promotion-Gift With Purchase: From May until stock lasts: FREE flip flops with any two purchases from the K-PAK range. 
Joico Golden Shimmer Gradual Self Tanner is a sensational 24 carat all over golden glow from Joico's sizzling new gradual self tanner Joico SKIN LUXE Golden Shimmer. This must-have luxurious creamy self-tanning lotion, smooths gently over body for a super realistic shimmery sun-kissed glow all year round.
Joico's alliance with skincare guru's Shiseido, Joico have blended modern technology with the finest ingredients to create this light in texture, ultra moisturizing self tanner that delivers a delectable, radiant honey tone shimmer with a delicious aroma and not a single streak in sight.
Ingredients include: Nourishing coconut oil, olive oil, safflower oil, aloe vera.
How To Use: Apply evenly in sweeping movements onto the face, arms, legs, shoulders, and any part of the body you dare to bare. Wash hands after use, allow to dry completely before dressing, and re-apply, as needed.
Available: The Joico Skin Luxe is available at fine salons nationwide throughout the summer. For more information about Joico, or locate a salon near you, please call 01282 683100.