Joico Celebrity Coloris George Papanikolas transforms Lindsay Lohan's brunette hair to glimmering gold aka blonde.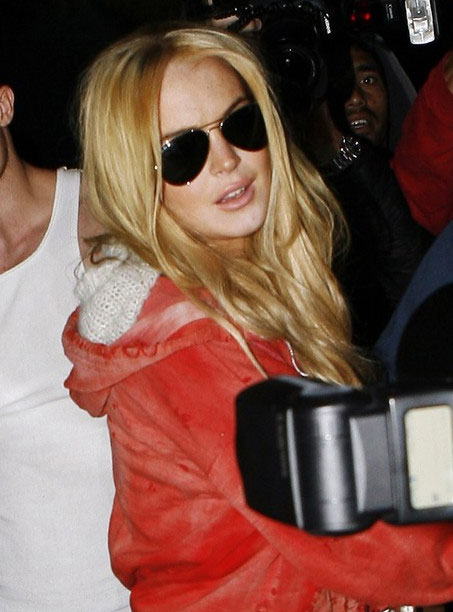 Here's how Lindsay Lohan gone from brunette to blonde: George Papanikolas and his colleagues at Beverly Hills' Andy LeCompte Salon teamed up to transform actress Lindsay Lohan from dark to light—a process that took close to 10 hours! Lohan, a natural redhead, showed the color pro photos of the golden, strawberry blonde hue that she had in mind, which he agreed would be ideal for her eye color and complexion. Because she already had dye on her deep brunette locks, the first step was to carefully strip out as much of the dark color as possible with color remover.
Then George chose low ammonia Joico Vero K-PAK Chrome demi-permanent color to tone the hair—using a pale, neutral light blonde on the midlengths and ends and a neutral medium blonde at the scalp to achieve a trendy, "rooty" effect. He finished with his signature, balayage highlight technique, strategically hand-painting Vero K-PAK Crème Lightener to select strands for a glowing, golden, sun-kissed look.
"Normally I wouldn't recommend such a radical color change in one day," comments Papanikolas, "but when a celebrity insists, you do your best to give her what she wants. Plus, I know that Joico color contains K-PAK Quadramine Complex, which reconstructs while the color processes, and that makes a huge difference. And of course, before Lindsay left the salon, I recommended weekly K-PAK conditioning treatments to keep her hair as strong and healthy as possible. K-PAK isn't just for stars—I recommend it to all of my color clients!"
Joico, a division of Zotos, Inc., has been dedicated to the Art of Healthy Hair since 1975. All Joico hair care, styling, haircolor and texture products fuse the latest breakthroughs in hair care science with inspirations from the worlds of art and fashion, to offer unparalleled quality and performance.