All Posts Tagged With: "Jonathan Product"
The newest addition to the Jonathan Green Rootine Line. Jonathan Product introduces Green Rootine DRY SHAMPOO Brush On Hair Powder in Black. Joining the top-selling Dry Shampoo Brush On Hair Powder in Light and Dark, this new shade is perfect for dark brown and black hair. The portable, brush-on applicator makes applying the quick-absorbing powder simple and convenient. Now, refreshing the hair and scalp (sans water!) is effortless.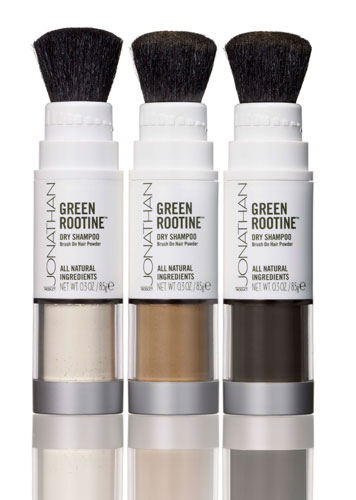 Jonathan Product is launching in April 2010 the INFINITE VOLUME collection including Shampoo, Conditioner and Thickening Foam.

L to R: Jonathan Product INFINITE VOLUME Shampoo ($20), Jonathan Product INFINITE VOLUME Conditioner ($22), Jonathan Product INFINITE VOLUME Thickening Foam ($24)
Jonathan Product Condition Leave In Gloss Cream is excellent for the days you want to take a break from blow drying or curling but still want your hair to be soft and manageable.  Jonathan Product Condition Leave In Gloss Cream is not greasy, and won't weight your days/  All you get soft and smooth hair, and it works!
How does Jonathan Product Condition Leave In Gloss Cream works? Ingredients such as basil essential water work as an intensive natural moisturizers to tame split ends, smooth fly-always, and add shine.  This leave in conditioner by Jonathan Product also contains antioxidant-rich botanicals, thermal and UV filters to protect your hair from damage and help prevent color from fading.  How to use: apply to freshly washed hair to tame split ends, smooth fly-aways, and add gloss.  Jonathan Antin is the creator of Jonathan Product haircare.  Jonathan  Antin is Robin Antin's brother the creator of The Pussycat Dolls.  Cost: $22.
Try Shampoo Add Moisture Moisturizing Shampoo by Jonathan Product, it's great.  If you are looking for a clean yet gentle shampoo then Jonathan Product Shampoo Add Moisture Moisturizing Shampoo is perfect for you.  Jonathan formulated this shampoo with an extremely gentle sugar foam that is rich and creamy. Unlike other shampoo's it is sulfate-free and won't strip your hair.  Jonathan's shampoo is concentrated so a little bit goes a long way.  Make sure to wet your hair with warm water to open your hair cuticles before applying to make the sugar foam work effectively.  Cost:  $20.  Finish for condition with Jonathan Condition Add Moisture Moisturizing Conditioner, $22 for 8.4 oz. 
Other great ingredients in Jonathan Product's shampoo are:  Hawaiian white ginger, papaya, rosemary/sage essential water, and sweet almond protein helps to improve the appearance of dry, damaged hair.  An antioxidant-rich botanical blend and UV filters nourish hair from damage and help prevent color from fading. You can use this shampoo even if your hair is over-processed hair.  And it is 100 percent vegan.
Jonathan Product is all about passion and perfection.  If you haven't tried Jonathan Product yet, then you are missing a lot of good hair days.  Jonathan is becoming a super-hairdresser in the hair dressing world.  We all first got to know Jonathan, almost personally, in his hit TV reality show on Bravo called:  Blow Out.  Blow out followed Jonathan in his journey of becoming a famous hairdresser.  From opening his salon in Beverly Hills all the way to creating his own hair care product line, and becoming the hairdresser to the stars! 
The special thing about Jonathan Product is that all his products are made with purified, deionized water, and are sodium and laurel sulfate-free , 100 percent vegan, which help you to achieve the salon perfect look.  New and Hot at Jonathan Product is the Finish Control High Shine Flexible Hairspray.   The incredible hairspray is used on all of Jonathan's celebrity clients, from the red carpet to the runway.  Finish Control creates long lasting hold and high shine.  It blocks out humidity, tames frizz, and flay-aways. 
Finish Control is made with special ingredients such as:  Cucumber and Rose essential water to nourish your hair,  Sweet Almond Protein to boost brilliance and repairs weakened hair, Panthenol Vitamin Complex to add luster and moisture, natural botanic blend that contains potent antioxidants to protect your hair, Thermal and UV filters to fight against color fading and damage from heat styling.  Also found in Finish Control is Zero-Flake polymer to provide strong brush-able hold.
Cost:  $30 for 10 oz.