It's been a long but fun beautiful year here at Talking Makeup. I've tried many beauty products and fell in love 100 plus times. Here is the list of my favorite hair products for 2009! I really hope you all enjoy "The List" and love them as much as I do:)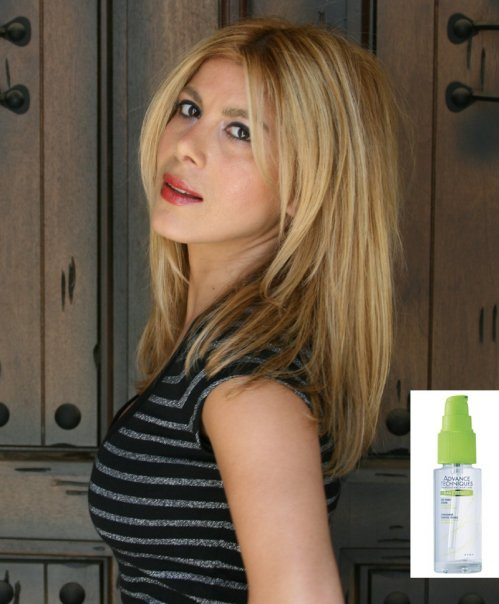 Marta Walsh is having a great hair day thanks to Avon Advanced Techniques Dry Ends Serum:)
Shampoo & Conditioner
For Blonde Hair:
1. Pantene highlighting expressions
2. John Frieda Collection sheer blonde
3. Redken Blonde Glam
Frizzy hair, dry hair, color treated hair:
1. Pantene Smooth Vitality
2. Pureology supersmooth and Pureology hydrate
3. Living proof no frizz
4. Paul Labrecque Repair
5. Moroccanoil moisture repair
6. L'Oreal Professionnel Paris vitamino color
7. Pantene Pro V Restoratives Frizz Control
8. L'Oreal EverPure Moisture
9. Leonor Greyl nourishing shampoo for long and dry hair
Dry Shampoo
Oscar Blandi pronto
Thin hair in need for volume:
Redken Body Full
Healthy scalp and normal hair:
John Frieda Collection root awakening
Deep Hair Conditioner and Hair Mask
1. Kiehl's Sunflower Color Preserving Deep Recovery Pak
2. Pantene Pro V Restoratives Time Renewal Replenishing Mask
3.  L'Oreal Professionnel Paris vitamino color Masque-Gelee
4. Moroccanoil Intense Hydrating Mask
5. Leonor Greyl Paris softening mask for frizzy hair

Marta Walsh is experiencing great hair day today thanks to L'Oréal Professionnel Série Expert Vitamino Color Shampoo and Conditioner:)
Hair Styling Products
Blow Drying and Heat Protectors
1. Redken hot sets 22 thermal setting mist (total classic, been used over and over backstage at the tens during New York Fashion Week)
2. Living proof straight making styling cream (keeps my hair super straight and tamed for days)
3. Advanced Techniques Dry End Serum by Avon (the BEST hair serum because it never seems to weight down my hair not matter how much I apply. Quite magical!)
4. John Frieda Frizz-Ease Hair Serum Thermal Protection (A classic. The John Frieda hair serum revolutionized my beauty life forever!)
5. Moroccanoil Hydrating Styling Cream (quenches dry hair after shower and smell delicious!)
6. Kerastase Nutritive oleo-relax (tames very rebellious hair in an instant)
7. Redken satin wear 02 ultimate blow-drying lotion (makes frizzy hair give up!)
8. Leonor Greyl Eclat Natural styling cream for dry hair
9. Paul Labrecque Straight Style anti frizz smoothing balm
Curling Volume and Root Lifting
1. Redken aerate 08 bodifying cream-mousse (was the "it" hair stying choice for hair stylists backstage at many of the shows during New Fashion Week Spring 2010. This isn't your grandmother's mousse! It is far more superior and does all: gives you volume, tames frizz, feels like a cream but has great hold. Magic!)
2. John Frieda Luxurious Volume Bountiful Body Mousse (great for all your root lifting and updos)
3. John Frieda Frizz-Ease Take Charge Style-Managing Mousse
4.  Redken Body Full instant bodyfier
5. ShearForce by Allen Edwards Thickening Spray Mist (created my the man who invented The Farrah for Farrah Fawcett you know it's good!)
Finishing Hair Products
Shine
1. Redken Real Control Mineral Elixir
2. Moroccanoil Glimmer Shine Spray
3. Redken Blonde Glam crystal flash
4. Aveda Light Elements smoothing fluid
5. Ojon Hair Revitalizing Mist
Hairspray
1. Bumble and Bumble Bb Classic Hairspay laque
2. Redken quick dry 18
3. L'Oreal Studio Fix Ultimate Spray Finishing Hairspray Extreme Hold
Hair Styling Tools
Blow Dryer
1875W SuperSolano Professional Hairdryer
Styling Iron
1. FHI Heat Platform SE
2. Go styling iron by FHI Heat
About the Author
I am one of the top fashion and beauty bloggers in the world also a Luxury Paradise Valley and Scottsdale REALTOR with Russ Lyon Sotheby's International Realty.