All Posts Tagged With: "dry hair"
Every now and again my hair seems to feel dry, distressed, and overworked and in need for some help. It happens to the best of us. This morning I used Redken extreme shampoo and NEW Redken extreme strength bulder plus fortifying mask, and anti-snap leave-in treatment for distressed hair. These hair care products made my hair feel like silk. Wow. It's not an oily treatment which sometimes I find to weigh down my hair. It's an intense protein and ceramide treatment. Not greasy at all just silky.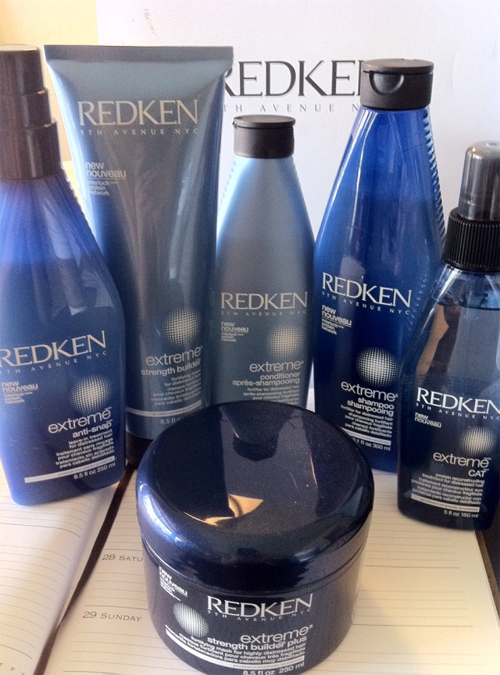 Redken extreme Hair care Line
Did you know that: " Redken was the first brand to introduce protein into professional haicare in the 60's..and now, Redken unvails a new generation of protein science with the dual-patnted Fotfying Complex and Interlock Protein Network, enebling penetration of the hair shaft more than ever before"-Dr. David Cannell, Redken's R&D expert.
It's been a long but fun beautiful year here at Talking Makeup. I've tried many beauty products and fell in love 100 plus times. Here is the list of my favorite hair products for 2009! I really hope you all enjoy "The List" and love them as much as I do:)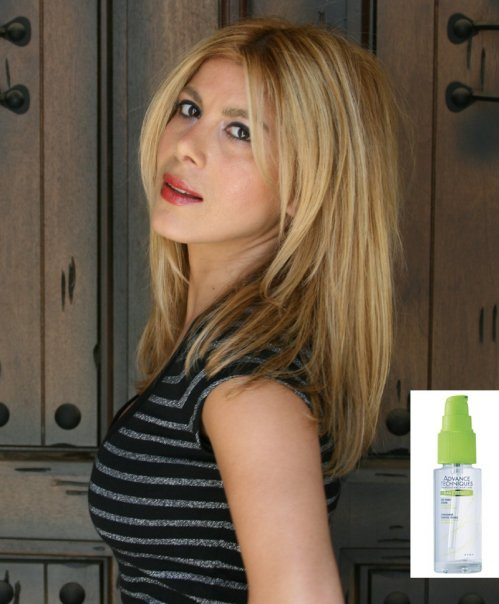 Marta Walsh is having a great hair day thanks to Avon Advanced Techniques Dry Ends Serum:)
Shampoo & Conditioner
For Blonde Hair:
1. Pantene highlighting expressions
2. John Frieda Collection sheer blonde
3. Redken Blonde Glam
Frizzy hair, dry hair, color treated hair:
1. Pantene Smooth Vitality
2. Pureology supersmooth and Pureology hydrate
3. Living proof no frizz
4. Paul Labrecque Repair
5. Moroccanoil moisture repair
6. L'Oreal Professionnel Paris vitamino color
7. Pantene Pro V Restoratives Frizz Control
8. L'Oreal EverPure Moisture
9. Leonor Greyl nourishing shampoo for long and dry hair
Food Inspired Beauty: GOT MILK? – It's like treating your hair to a glass of milk, an ageless beauty aide for its nourishing and conditioning properties. Wella System Professional Hydro Milk instantly conditions hair and makes it noticeably smoother and more supple. This multi-faceted daily leave-in treatment actively protects against dry-out as it detangles, nourishes and conditions hair without creating buildup.

Watch Marta's vlog talking about her favorite haircare products for the winter. Marta is giving winter hair tips and she is all about Pantene Pro-V Restoratives Time Renewal Shampoo Conditioner and Mask.
Products mentioned in Marta's vlog:
Pantene Pro-V Restoratives Time Renewal Shampoo
Pantene Pro-V Restoratives Time Renewal Conditioner
Pantene Pro-V Restoratives Time Replenishing Mask
Visit  www.pantene.com for additional product details.
*Products in Marta's video blog for today were provided by Pantene.
Talking Makeup has just found out that Miley Cyrus has been using the following Leonor Greyl haircare products daily.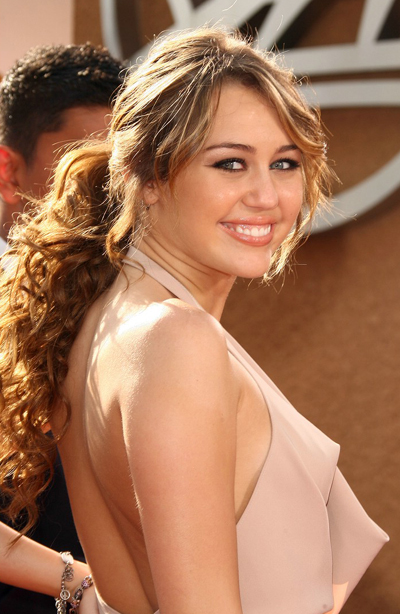 Mousse au Lotus Volumatrice ($36): Volumizing Styling Mousse Formulated without silicone or alcohol, this divinely scented product will detangle, style and protect hair in all weather with discretion and performance.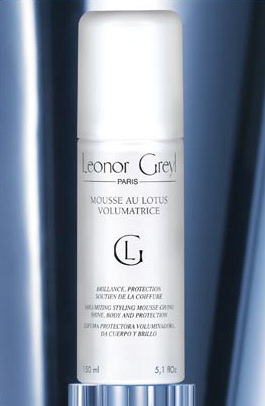 This weekend I've decided to let my hairdresser blow dry my hair because lately my hair is just not behaving! Do you all know the feeling? My hair just didn't get straight and silky even after spending a whole precious hour in my very busy mom's life. LOL. My hair finally looks fabulous and I can easily get used to this lifestyle. Till then I need to learn how to perfect my blow drying techniques and maybe try new hair products that work well with my hair. While at Sachi salon in Scottsdale I got obsessed with the L'Oréal Professionnel NEW Série Expert Liss Ultime collection. I want it! Once I try it I will share my thoughts. Meanwhile here is a little bit about the line.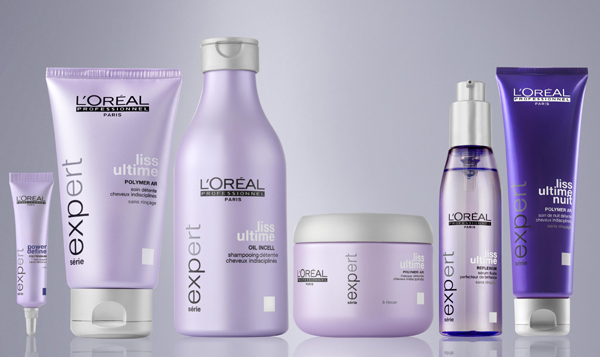 L'Oréal Professionnel NEW Série Expert Liss Ultime: We all know how stressful dry, frizzy, unmanageable and rebellious hair can be. Beyond the obvious styling issues, factors such as genetics, the environment and climate, as well as day-to-day weather changes, are all to blame. L'Oréal Professionnel Série Expert has built upon the success and technology of Liss Extreme and re-launched the line as Série Expert Liss Ultime, a collection made especially to treat coarse hair and result in softer, more manageable tresses.
I love L'Oréal Professionnel Série Expert everything! It works amazing on my frizz prone dry hair! This is why I'm excited about their latest addition: L'Oréal Professionnel NEW Série Expert Force Vector targeted reinforcement to strengthen fragile, weak hair. Force Vector is uniquely formulated with Glycocell technology to provide intense and cumulative reinforcement to hair without weighing it down.

Fall will soon be turning into winter- wreaking total havoc on your hair! Did you know that in order to keep hair healthy during the winter months, you should begin preparation now?
"The winter months tend to dry out hair, causing lots of static and frizz," says Jackie Stevens, expert stylist at Gatsby Salon (www.GatsbySalon.com ) in Green Brook, NJ. "Static is the result of lack of moisture in the hair fiber- so once static becomes apparent deep conditioners should be applied to the ends of hair in an attempt to re-nourish the hair fiber as quickly as possible. This will ensure your hair stays healthy during the cold winter weather."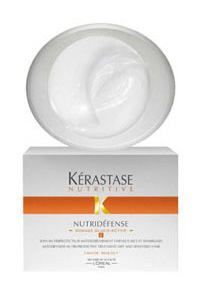 Kerastase NUTRIDÉFENSE is an excellent conditioning treatment that replenishes and saturates the hair with a lightweight softness while offering anti-dryness protection to counter the effects of harsh external elements.
I'm a sucker for soft hair and frizz-free hair. I just dicovered Mineral Elixir Dazzling Smoothing Oil by Redken which I spray on after I blow dry my hair straight to keep my hair glossy and silky. I also like to use it on days I don't wash my hair to fresh up my hairdo. And, it smells amazing! Redken knows their stuff!:)

The description from Redken's website: 
Mineral Elixir Dazzling Smoothing: A glistening shine spray that provides very light conditioning and control with intense frizz-fighting power.
Replenishes and restores dense, dry, sensitized hair with dazzling shine. Ultra-smoothing mist delivers shea butter and ceramid to lock in moisture, help block humidity, smooth split ends, and provide intense frizz-fighting power. Hair is smooth and glistening with lustrous shine.
Andy Lecompte Takes Leonor Greyl Products on Tour with Madonna!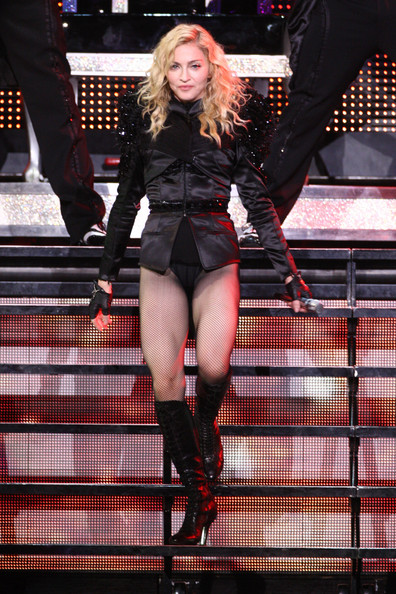 Madonna Sticky and Sweet Tour 2009..
Image via behindthehype.com
Celebrity hair stylist Andy Lecompte took the following Leonor Greyl products with him to use on Madonna during her current tour:
 Eclat Naturel styling cream for dry hair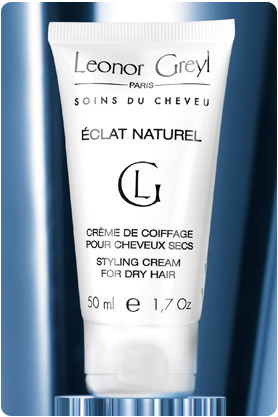 Laque Souple gentle hold setting spray