All Posts Tagged With: "Pantene Pro-V"
Beauty News: P&G announced on Thursday, August 12th, 2010, that it is planning to launch sustainable packaging made from Brazilian sugarcane on several of its leading beauty brands. The announcement was made by Gisele Bundchen, Pantene endorser in Brazil, at an event that morning in her home country.

Gisele Bundchen for Pantene Pro-V in Sao Paulo
Here's Ed Shirley, Vice-Chairman of P&G Beauty and Grooming, with more details on this new sustainability effort:
Summer Hair Care: Have you seen the NEW Pantene collection? All new formula and new fragrance and Marta Walsh's is loving it. All work amazing on my hair, especially the new Pantene hair styling products. The Pantene line suitable for my wavy fizz prone hair type is their Medium-Thick Frizzy to Smooth collection. Make sure you pick the new Pantene formula best for your hair type!

L To R: Pantene Medium-Thick Hair Style Spray Heat Protection & Shine. Helps protect against heat damage while blow drying or using a styling iron. Pantene Medium-Thick Hair Style Creme Straighten & Smooth calms frizz for a satiny smooth look.
A little hair trivia for you my loves thanks to Pantene: 68% of women think their cell phone service is more reliable than their hair care. And what do YOU think?:)
Watch Marta's vlog talking about her favorite haircare products for the winter. Marta is giving winter hair tips and she is all about Pantene Pro-V Restoratives Time Renewal Shampoo Conditioner and Mask.
Products mentioned in Marta's vlog:
Pantene Pro-V Restoratives Time Renewal Shampoo
Pantene Pro-V Restoratives Time Renewal Conditioner
Pantene Pro-V Restoratives Time Replenishing Mask
Visit  www.pantene.com for additional product details.
*Products in Marta's video blog for today were provided by Pantene.
Tippi Shorter, Celebrity Stylist, styled Alicia Keys hair last night for the American Music Awards. Alicia dominated the stage, performing her and Jay-Z's smash hit "Empire State of Mind" while also rocking it solo with her new song "Try Sleeping With a Broken Heart."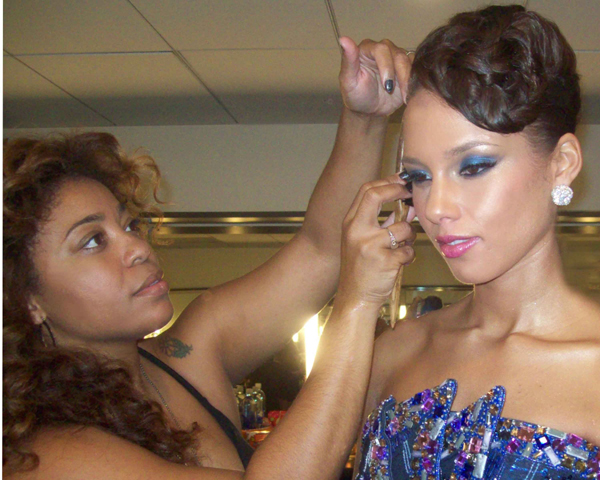 Here's how Tippi gave Alicia her red carpet hairdo:
Alicia recently got her hair colored a few shades lighter with Clairol, so Tippi started off by washing her hair with the Pantene Pro-V Color Revival Shampoo & Conditioner to keep her color looking healthy and vibrant for the camera.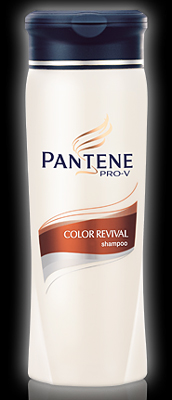 Talking Makeup would like to wish you all a very Happy Halloween and give you a special treat thanks to Walmart! What you get is a whole basked full of beauty products that are sold at your local Walmart *. You don't want to miss this one!!
How To Enter to WIN:
1. Go to Talking Makeup's YouTube channel and subscribe!!
2. Go to video page HERE and leave a comment!!
Products mentioned in Marta's video blog: 
Products:
Covergirl color lip
Covergirl lash blast volume blasting mascara
Covergirl eyeshadow trip in shimmering sands
Olay regenerist micro sculpting cream/amino peptide
Crest advanced seal white strips
Pantene pro-v moisture renewal shampoo damaged hair
Secret clinical strength deodorant
*The Walmart Beauty Products Giveaway courtesy of Walmart
Secret: Marta loves to shop in Walmart for beauty products! I know, some of you might be surprised. But I believe in life you need to mix and match. I like to mix expensive beauty products with some classic super affordable products.
Here are Marta's picks:
Cover Girl lash blast Volume Blasting Mascara: I hear this mascara by Cover Girl is a total super star and is securing its place as a classic. It made my lashes this morning long and full in just seconds.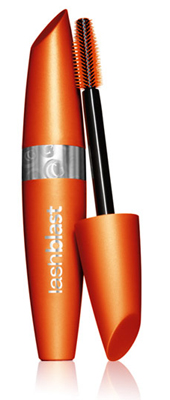 Kendra Wilkinson is best known for her role on the E! reality series The Girls Next Door as Hugh Hefner's third girlfriend after Holly Madison and Bridget Marquardt. Now Kendra is married to Philadelphia Eagles wide receiver, Hank Baskett, and is pregnant with their first child. She also got her own reality show: Kendra.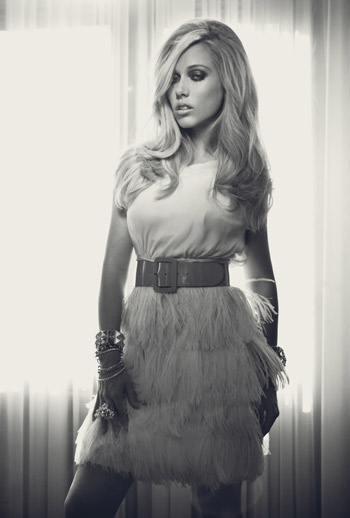 Photo Credit: Troy Jensen.
In this interview Kendra Wilkinson shares her beauty secrets with Marta Walsh.
I keep my hair beautiful thanks to… Herbal Essences Citrus Fruit Shampoo and Conditioner and Pantene Pro V
My favorite skincare products are… Cetaphil moisturizer and Dove body soap
I get my eyelashes looking long, full, and sexy using… Maybelline Lash Stylist
PANTENE PRO-V NATURE FUSION and PADMA LAKSHMI, host of Bravo's hit TV show Top Chef!
From nutrition and exercise to fashion and beauty, many women are seeking a more natural way of living. With this in mind, Pantene Pro-V created a collection of hair care products formulated with naturally derived ingredients that offer exception results for hair care, which is why the world's leading hair care brand is proud to announce the groundbreaking launch of Pantene Pro-V Nature Fusion. This collection provides the opportunity for people to discover a more natural approach to healthy hair care without sacrificing performance – at an affordable price!

Padma Lakshmi in the photo above from an exclusive behind-the-scene shot from her Pantene advertising shoot.
Pantene has unlocked the power of nature with Nature Fusion, infusing the once hidden beauty benefits of the Cassia plant into its formulas. Cassia is a naturally derived performance ingredient that helps transform hair to make it softer, shinier and stronger.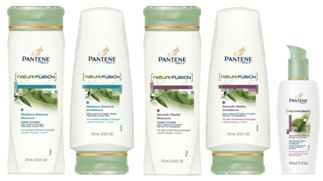 The new shampoos contain an advanced Cassia Complex that creates a protective shield to leave hair naturally radiant and stronger against damage. This unique discovery of the multiple beauty benefits of the Cassia plant provides women seeking healthy hair care outstanding performance through a more natural route.