Backstage at Giorgio Armani Spring/Summer 2011, iconic hairstylist Oribe smoothed models' hair into sleek updos and topped them with navy Tuareg style head wraps to complement the collection inspired by the night sky over the Sahara. "The models wore turbans for Giorgio Armani, and we wanted them to look beautiful, smooth and polished," says Oribe.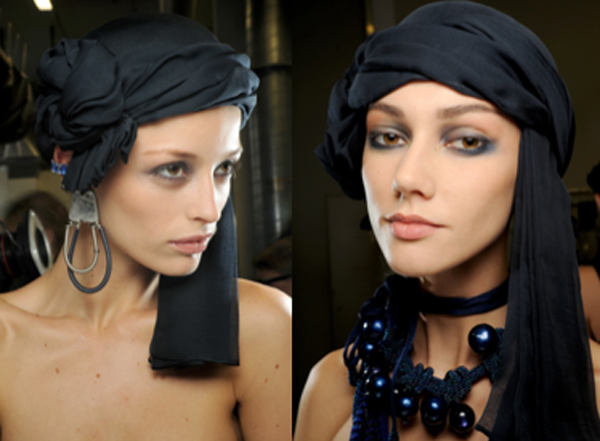 How To Get the Look:
1. Brush the hair in a circular motion around the head, distributing it evenly along the way in a neat wrap.
2. Use pins to secure the style, making sure the hair is smooth and held close to the scalp.
3. Mist Oribe Superfine Strong Hair Spray for a solid hold. If you're worried about stray ends, cover the style with a hairnet – but don't cover the hairline.

4. Wrap fabric around the head in a turban style, letting loose material on one end sweep forward over the shoulder.