Oribe shares with TM how to get Penelope Cruz's Stunning VOGUE Cover June 2011 hairstyle. Iconic hairstylist Oribe created care‐free beach hair to highlight Penelope Cruz's natural beauty and celebrate summer for the June 2011 cover of Vogue.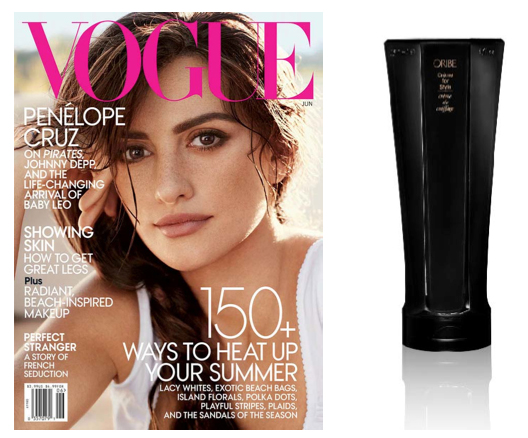 "I wanted her to have a cool, casual type of look," said Oribe. "The best part about this style is that there really are no rules – it's natural with a twist." Oribe found that his soon‐to‐be released beach spray was perfect to add separation, moisture and shine for relaxed yet elegant, simply styled locks. "It's just beautiful summer hair."
How to Get Penelope Cruz's hairdo:
1. Start off with wet or dry hair – whichever you prefer. Turn your head upside‐down, and give your hair a good misting with beach styling spray that will impart moisture, separation and shine.
2. Throw your hair back, and lightly spray on more beach spray, or apply a lightweight styling cream like my Crème for Style. Work through your hair with your hands to enhance natural texture.