All Posts Tagged With: "Chace Crawford"
Products to Help You Achieve Men's Celeb Hairstyles: As chronicled in yesterday's, May 5th, 2010, New York Time's Style Section – boy bangs, mop tops, and messy 'dos are all the rage. From a singing sensation and breathtaking vampire to a desirable doc and sexy socialite, these gentlemen have that effortless swagger of eternal youth. Whether they're caught on the red carpet, sipping a latte or on their way home late at night, how does their hair look so good so often?
Justin Bieber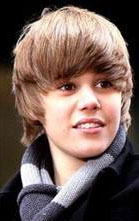 Justin Bieber has taken the world by storm with his chart-topping, catchy songs and boyish good looks. While "Bieber fever" is all over the place, this heart throb's locks have managed to stay in place and turn an old trend into the latest look.
The Children's Place Celebrity Designed Backpacks For Books for Kids Foundation: The Children's Place has teamed up with the Books for Kids Foundation to host a celebrity charity auction. The auction was kicked off at the Kid's Choice Awards last weekend. Celebrities such as Paula Abdul, Chace Crawford and David Archuleta, and Dwayne "the rock" Johnson custom designed The Children's Place messenger bags to be auctioned off benefitting Books for Kids. Since then have gotten names like Debra Messing, Sophia Bush, Hilarie Burton, anna Sophia robb, neil Patrick harris etc to do the same.

Paula Abdul
JOIN Celebrity Charity Auction Benefitting Books for Kids. The auction goes live April 14th and is up until the 24th stop by and get your own celebrity signed messenger bag!
Please visit www.ebay.com/thechildrensplace  to place your bid!

Chace Crawford

David Archuleta
Also, Watch Marta's video blog and find out how to enter a giveaway for a chance to win The Children's Place Standrad Messenger Bag and $100 Gift Card at The Children's Place and a cool kid's t-shirt!