All Posts Tagged With: "GQ"
Hitmaker Pharrell Williams and menswear's most talked-about designer, Mark McNairy, recently collaborated on what has become this season's most buzzed about label: Bee Line for Billionaire Boys Club.
In the August 2012 issue of GQ, the powerhouse duo chat with GQ's Mark Anthony Green about their unlikely pairing and discuss how they're changing the streetwear game forever. They also pose in some new items from their debut collection.
Scarlett Johansson was named GQ magazine's Babe of the Year. I totally agree except I had to double take to make sure it was indeed miss Johansson. Doesn't really look like her, especially in the second image. Nonetheless we love!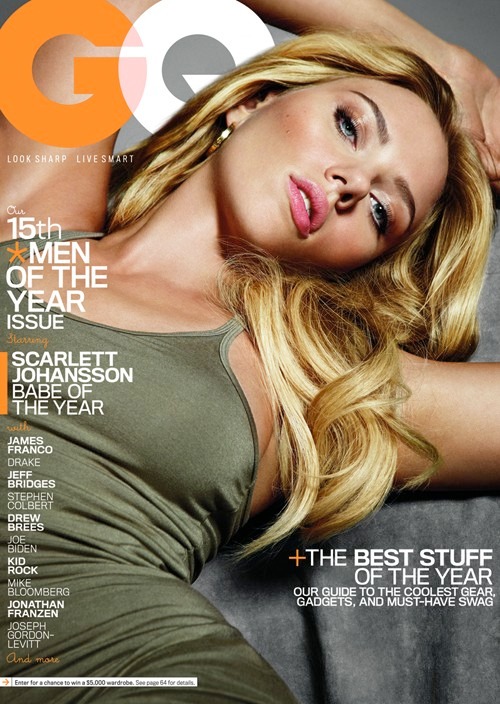 Express celebrated the launch of the brand's second men's fragrance, Honor, while commemorating our men in uniform during NYC's Fleet Week celebration during Memorial Day weekend.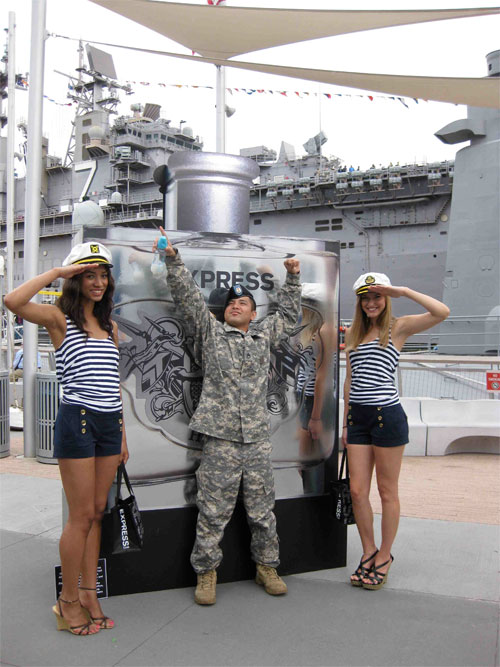 Girls dressed in Express sailor-inspired pieces at the Intrepid Pier on Saturday, May 29th, 2010, were handing out samples of Express Honor. A over-sized, 12 foot replica of the Express Honor bottle was stationed at the pier all day for the sailors and visitors to take photos with the nautically dressed Express girls. Express was taking photos of Fleet Week participants who may go on to be featured in an upcoming issue of GQ Magazine.
GQ launches the first monthly magazine reader application optimized exclusively for the iPad, a digital version of the April 2010 issue featuring Shia LaBeouf on the cover. GQ is the first Condé Nast magazine to be available on the iPad.
"This seems not only like an exciting moment in publishing but the first bright, backlit day of a new era, so GQ is proud to be right there at the launch of it," said Jim Nelson, editor-in-chief of GQ.
"What's important here is that we're using technology to complement our mission, not compete with it," said Michael Hainey, deputy editor of GQ, who oversaw the creation of the app. "With the iPad, readers can now purchase an entire issue of GQ—every word, every photograph, every ad that's in the print edition—in digital form. They can even buy back issues. We're giving fans of GQ the opportunity to read GQ wherever they want to—and buy that month's issue wherever they are. I'm very proud of what our team has accomplished and am excited about where we will go from here."
Calvin Klein Underwear and GQ have partnered up for an exclusive augmented reality (AR) advertising campaign across 12 countries. The AR component of the print campaign is exclusive to GQ and features the recently announced, diverse group of campaign models that includes American actors Kellan Lutz and Mehcad Brooks, Spanish tennis star Fernando Verdasco, and Japanese soccer star Hidetoshi Nakata and I can't stop watching them on xmarkyourspot.com It's hot! Most beautiful men in one ad, just too beautiful:)

Kellan Lutz for Calvin Klein Underwear
Twelve editions of GQ will run Calvin Klein Underwear's new and first-ever Augmented Reality (AR) advertising beginning with the April 2010 issues, it was announced today by the magazine. Calvin Klein Underwear will be one of the first fashion companies to run AR advertising. It is planned that the ads will appear exclusively in the April issue of the US GQ, on sale March 23, 2010, as well as April issues in China, Korea, Australia, Mexico, Taiwan, and India, and in May issues of GQ editions in France, Germany, Spain, Italy, and the UK.
WATCH Augmented Reality Demo:
In the February 2010 issue of GQ is naming the 25 Most Stylish Men in the World for 2010, and heading up the list is Johnny Depp. Also making the list: Robert Pattinson, David Beckham, Ed Westwick, Ryan Gosling, Jay-Z, Tom Brady, Anderson Cooper, LeBron James and more! The February issue of GQ hits news stands nationally on January 26 and is available on iTunes. GQ will be posting the complete list for people to vote on THE MOST stylish man, later today on GQ.com.
Read full article in GQ.com

Cover photo: Patrick DeMarchelier / GQ
This is another one of those :"…the only 'normal' photo I could find". Rihanna is featured in GQ Magazine January 2010 edition in quite revealing and pushing the envelope type of poses. To me, Rihanna looks like she's rebelling . It's complicated! The article and interview with Rihanna in GQ titles: Good Girl Gone Badass. Do you love?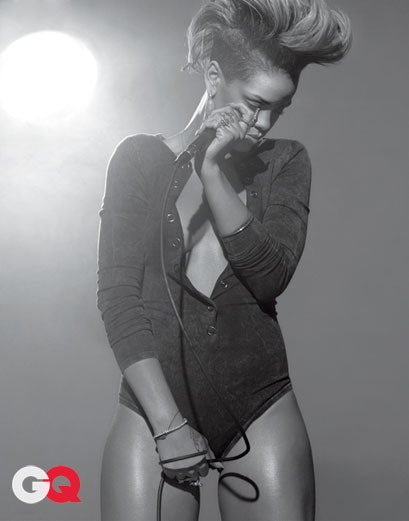 Actress Sienna Miller graces the  British GQ Magazine Cover September 2009. I quite like Sienna on this cover, she reminds me of Jane Fonda in the 1960's. I also love Sienna's hairstyle, part in the middle and soft waves. Sienna seems very comfortable and natural on this cover, maybe it's that fluffy chair, or maybe because it's was shot for British GQ, her homeland:)
More celebrity hair watch today!
Indie darling Zooey Deschanel stars in (500) Days of Summer, a romantic comedy, is featured in the latest GQ with hair by Danilo, Pantene stylist!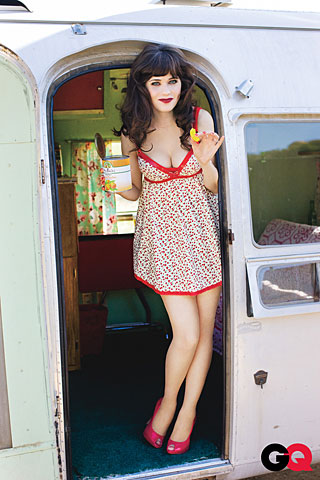 Via: men.style.com
Rihanna shaves her hair!  Also, singer Cassie shaved half of her hair back in April! Can this be a new hair trend? (what do you think?:)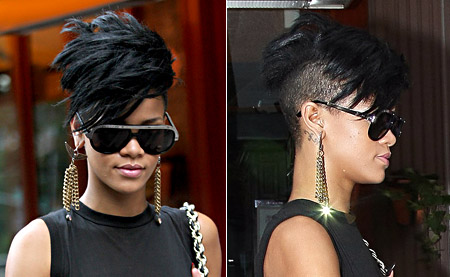 via: nydailynews.com Photo credit:FilmMagic;INFphoto