All Posts Tagged With: "advertising campaign"
The new advertising campaign for Dolce&Gabbana Underwear stars five of the most representative Italian football players. Antonio Di Natale, Vincenzo Iaquinta, Claudio Marchisio, Federico Marchetti and Domenico Criscito are the new faces and bodies of the Dolce&Gabbama Underwear advertising campaign. The players, photographed by Mariano Vivanco in a vintage style changing room, display healthy and athletic bodies sculpted through rigorous training sessions and discipline. Marta says: "It's hot right now:)"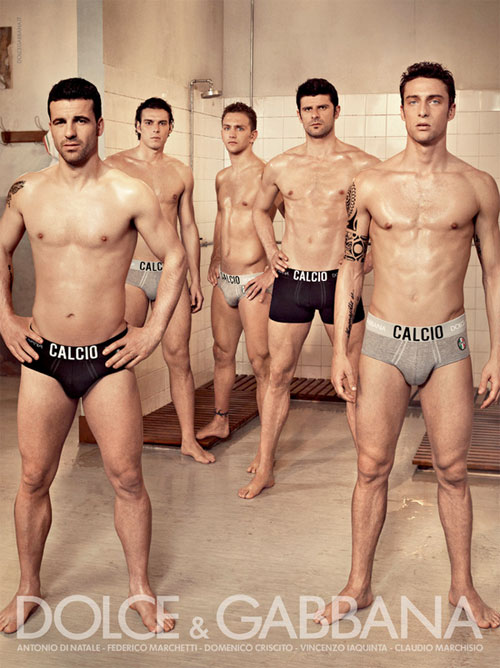 The protagonists
Antonio Di Natale is a forward player for Udinese football team. In 2009/2010 he became the top goal scorer ever in the team's history. He first wore the National team shirt at the age of 25 on November 20th 2002. On November 18th 2009, in occasion of his 30th game with the team, he wore the captain's band with the National team for the first time in the friendly match Italy- Sweden (1-0).
Calvin Klein Underwear and GQ have partnered up for an exclusive augmented reality (AR) advertising campaign across 12 countries. The AR component of the print campaign is exclusive to GQ and features the recently announced, diverse group of campaign models that includes American actors Kellan Lutz and Mehcad Brooks, Spanish tennis star Fernando Verdasco, and Japanese soccer star Hidetoshi Nakata and I can't stop watching them on xmarkyourspot.com It's hot! Most beautiful men in one ad, just too beautiful:)

Kellan Lutz for Calvin Klein Underwear
Twelve editions of GQ will run Calvin Klein Underwear's new and first-ever Augmented Reality (AR) advertising beginning with the April 2010 issues, it was announced today by the magazine. Calvin Klein Underwear will be one of the first fashion companies to run AR advertising. It is planned that the ads will appear exclusively in the April issue of the US GQ, on sale March 23, 2010, as well as April issues in China, Korea, Australia, Mexico, Taiwan, and India, and in May issues of GQ editions in France, Germany, Spain, Italy, and the UK.
WATCH Augmented Reality Demo:
Prada Parfums has launched a new advertising campaign for Prada Infusion d'Iris which features model Lara Stone, shot by famed photographer, Steven Meisel.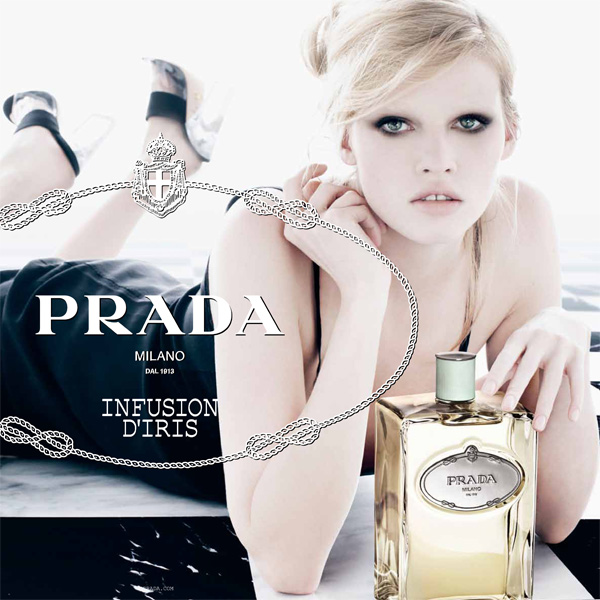 Prada Infusion d'Iris: Since its arrival in 2007, Infusion d'Iris has redefined the rules of contemporary perfumery through its delicately balanced mix of tradition and sensuality: an inspiring and joyful vision of what it means to be a woman today. Infusion d'Iris captured the attention of the market, opening up a new space within the Prada Parfums portfolio for fresher scents, within the context of Prada's vision of timeless heritage fused with uncompromising modernity. Now, Prada Parfums has launched a new advertizing campaign that brings these qualities into a fresh alignment.
CHANEL is proud to announce that Academy Award winning filmmaker Martin Scorsese will direct the broadcast advertising campaign for their new men's fragrance. French actor and rising international star, Gaspard Ulliel, is the face of the new line and will be featured in the ads. The new CHANEL men's fragrance will be launched worldwide in September 2010.