All Posts Tagged With: "Lara Stone"
Thursday night, May 17, 2012, the IFP (Independent Filmmaker Project), Calvin Klein Collection & euphoria Calvin Klein held their second annual event celebrating women in film at this year's 65th Cannes Film Festival.
The invitation-only event was held at at a private villa in Cannes and celebrated women who made a notable impact on film this year, including Diane Kruger, Naomi Watts, Ludivine Sagnier, Shailene Woodley, and Jessica Chastain who were joined by…
Summer Nails. Add a pop of colors to your nails this spring and summer with the hottest most fashionable shades from Deborah Lippmann!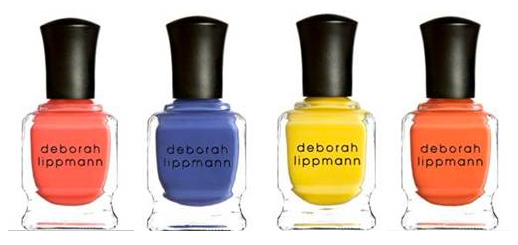 From Left to right: Girls Just Want To Have Fun, I Know What Boys Like, Yellow Brick Road, Lara's Theme
Lara Stone's Calvin Klein ads pulled in Australia for Being 'Suggestive of Rape and Violence'. The Advertising Standards Bureau in Australia has heard complaints from sexual assault workers that images in the Calvin Klein Jeans campaign starring Lara Stone and a slew of hot men connote gang rape. And they have decided that the images, which appear on a few billboards across the country, should be taken down. Thoughts? Read full article in style.com
Sneak peek photos from V MAGAZINE of top models Lara Stone, Javier de Miguel, Baptiste Giabiconi acting as the New York icon trio of the 70's: illustrator Antonio Lopez, art director Juan Ramos, and supermodel Jerry Hall shot by Chanel designer Karl Lagerfeld for the upcoming V67. Styling by Clare Richardson. V67, also known as "The New York Issue," does not hit newsstands until September 2nd, 2010.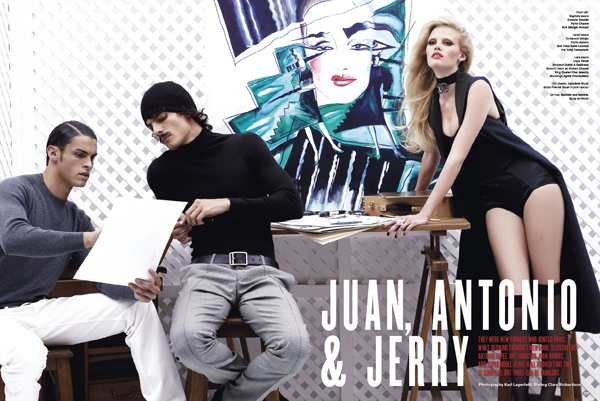 Modelinia.com scored an exclusive look at Lara Stone's latest editorial in the brand new September issue of W Magazine, which not only marks the always note-worthy fall fashion issue, but also Stefano Tonchi's first full issue.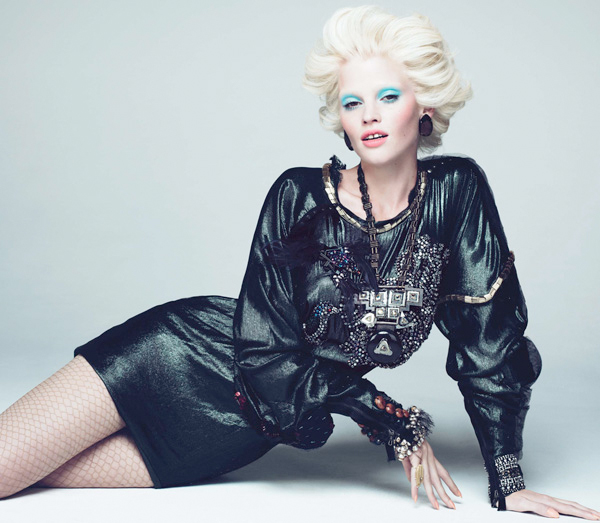 © Mert Alas and Marcus Piggott
According to Hilary Alexander's article in the telegraph.co.uk Lara Stone is the new face of Calvin Klein.

Lara Stone in new Calvin Klein fall/winter 2010 campaign, photographed by Mert Alas and Marcus Piggott Photo: MERT ALAS AND MARCUS PIGGOTT via the telegraph.co.uk
Here is an exert: Lara Stone, the beautiful Dutch model who married the British comedian, David Walliams, in May, has been named as the exclusive face of Calvin Klein. Ms Stone, a voluptuous blonde covergirl and international catwalk star, who is currently ranked the No.1 female fashion model in the world by the industry website, models.com, will be featured exclusively in the forthcoming global autumn advertising campaigns for the Calvin Klein main collection, ck Calvin Klein, and Calvin Klein Jeans.
Prada Parfums has launched a new advertising campaign for Prada Infusion d'Iris which features model Lara Stone, shot by famed photographer, Steven Meisel.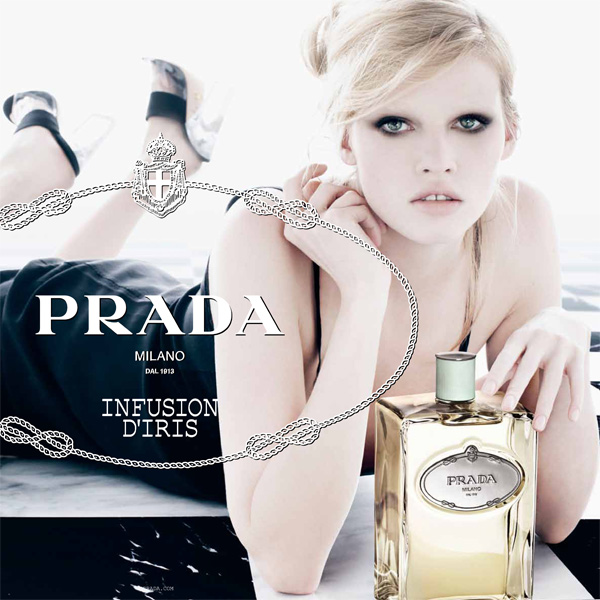 Prada Infusion d'Iris: Since its arrival in 2007, Infusion d'Iris has redefined the rules of contemporary perfumery through its delicately balanced mix of tradition and sensuality: an inspiring and joyful vision of what it means to be a woman today. Infusion d'Iris captured the attention of the market, opening up a new space within the Prada Parfums portfolio for fresher scents, within the context of Prada's vision of timeless heritage fused with uncompromising modernity. Now, Prada Parfums has launched a new advertizing campaign that brings these qualities into a fresh alignment.
VOGUE January 2010, Hello Gorgeous Article on Lara Stone
At five feet ten and a size 4, supermodel Lara Stone has struggled to fit in. Stone is about 2 sizes larger than her modeling peers, but this has not stopped her career from skyrocketing. "Lara Stone has a gorgeous women's body," affirms fan Karl Lagerfeld. Stone has appeared in ad campaigns for the likes of Givenchy and has walked the runway for almost every major designer including Marc Jacobs and Balmain.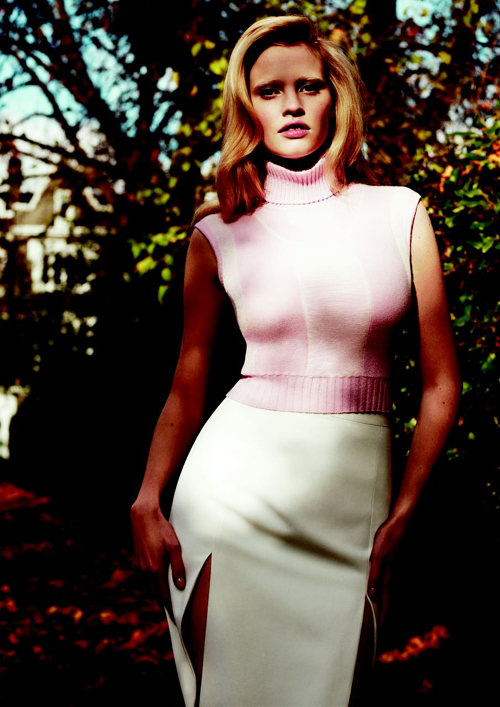 Lara Stone photographed by Willy Vanderperre
In the article Hello Gorgeous, Vogue recalls the days when stylists came to a shoot armed with pins to make the clothes fit the models and examines the absurdity of the thought that clothes only hang nicely on super-skinny girls (aka coat hangers). The opposite is also true – some clothes look better on bodies with "boobs," which is why Stone's career has flourished. Could her unexpected success mean the return of curves? In the January issue of Vogue, Stone opens up to Rebecca Johnson about how difficult it can be to constantly hear how different she is, her methods of coping, and how she views herself now.