VOGUE January 2010, Hello Gorgeous Article on Lara Stone
At five feet ten and a size 4, supermodel Lara Stone has struggled to fit in. Stone is about 2 sizes larger than her modeling peers, but this has not stopped her career from skyrocketing. "Lara Stone has a gorgeous women's body," affirms fan Karl Lagerfeld. Stone has appeared in ad campaigns for the likes of Givenchy and has walked the runway for almost every major designer including Marc Jacobs and Balmain.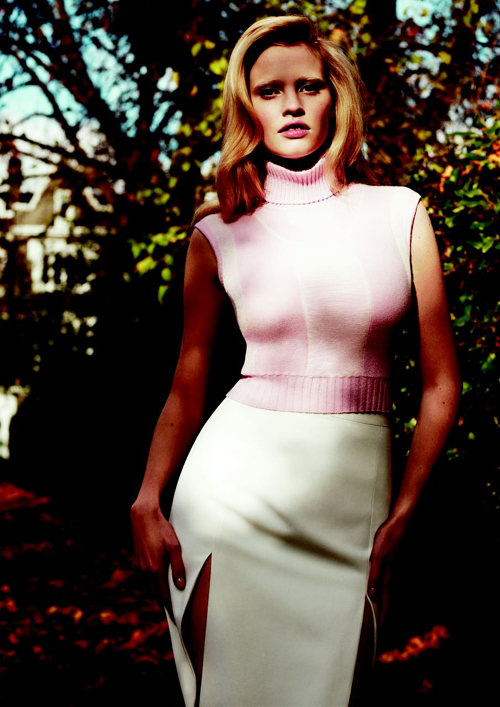 Lara Stone photographed by Willy Vanderperre
In the article Hello Gorgeous, Vogue recalls the days when stylists came to a shoot armed with pins to make the clothes fit the models and examines the absurdity of the thought that clothes only hang nicely on super-skinny girls (aka coat hangers). The opposite is also true – some clothes look better on bodies with "boobs," which is why Stone's career has flourished. Could her unexpected success mean the return of curves? In the January issue of Vogue, Stone opens up to Rebecca Johnson about how difficult it can be to constantly hear how different she is, her methods of coping, and how she views herself now.
Highlights From The Article
On being a size four in a land of zeros:
"It's depressing when the clothes don't fit and you are always the odd one out…I was on a shoot last week and the stylist took out this tight corset dress and said, 'Here, put it on,' and I was like, 'Who are you kidding?' There was no way, so that was very rude of her. It's like, come on, she's a woman; whether you're buying jeans at the mall, or wearing couture, you know what it's like for clothes not to fit. It's not an easy kind of rejections, because it's very personal. It's you, you're body. You take it to heart."
Virginia Smith, Fashion Market Editor of Vogue, on Lara:
"Lara makes clothes look good. It's refreshing to see her come down the runway. Sometimes I'll call in a piece, it will arrive, and I'll think, Why did I think I liked that? Then I'll remember, oh, because Lara wore it."
On trying to lose weight and how it created a whole new set of problems:
"She has tried to lose weight with diet and exercise, but nothing worked: ' I even tried pills, but they made my heart race.' Eventually, Stone admits, she started drinking alcohol to get through the day. Nobody in the business noticed…Stone knew she had a problem. 'I was waking up shaking, I couldn't do anything until I had a drink. I hated it. I didn't like the person I became. Plus, I was looking like absolute shit, waking up with a swollen red face, pimples everywhere.'"
On how she views herself now:
"People still tell me I'm fat, but when I look in the mirror, that's not what I see."
Read full article in vogue.com