All Posts Tagged With: "Johnny Depp"
Fashion News. Actor Johnny Depp wore a TOM FORD black herringbone, three-piece, peak lapel suit to the Italian premiere of 'The Tourist,' held at The Space Cinema on December 15th, 2010 in Rome, Italy. To the same premiere actor Brad Pitt wore a black master-twill, three-piece, peak lapel suit and a white shirt.
I'm excited to share with you my interview with Amy Bailey who has begun to make her mark within Hollywood's demanding movie stars. Amy can be seen in the star-studded movie, "Nine" along side Nicole Kidman, Penelope Cruz, and Kate Hudson. Up next for the actress, she will be playing the Hatteress in Tim Burton's "Alice in Wonderland."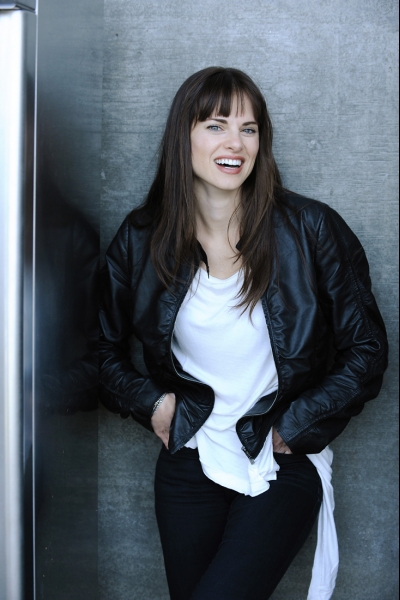 Amy Bailey
In this interview Amy Bailey tells Marta Walsh about how it all began for her in Hollywood. Her role in the film "Nine" and what was it like working with its director Rob Marshall. How one day she took Penelope Cruz and her sister to see the Royal Ballet perform. Her latest acting role in  "Alice in Wonderland", also staring in this film Johnny Depp. Future plans, and of course, style and beauty secrets!
Marta Walsh: Where did you grow up and where is home for you?
Amy Baliey: I grew up in a coastal town called Corpus Christi, in South Texas. I loved going to the beach right after school. Now I divide my time between London and L.A.
MW: How did you decide on a career in showbiz, and what were some of your first breaks?
AB: I was a professional ballerina by 17yrs old, so I guess being onstage always felt pretty natural. My parents couldn't believe that as a teenager I would skip out parties because I had ballet class the next morning. It kept me out of trouble, for the most part

In the February 2010 issue of GQ is naming the 25 Most Stylish Men in the World for 2010, and heading up the list is Johnny Depp. Also making the list: Robert Pattinson, David Beckham, Ed Westwick, Ryan Gosling, Jay-Z, Tom Brady, Anderson Cooper, LeBron James and more! The February issue of GQ hits news stands nationally on January 26 and is available on iTunes. GQ will be posting the complete list for people to vote on THE MOST stylish man, later today on GQ.com.
Read full article in GQ.com

Cover photo: Patrick DeMarchelier / GQ
Adam Lambert from American Idol is maybe famous for his eyeliner, but it looks like Adam isn't the first celebrity man with makeup!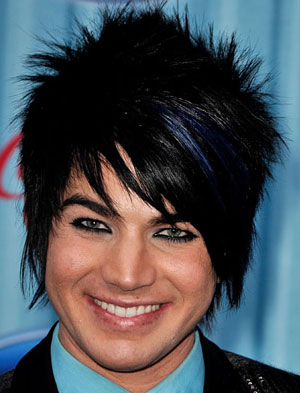 Adam Lambert
Here are some photos of other men celebs with makeup.
Tell us what you think: who is your favorite celebrity man with makeup:)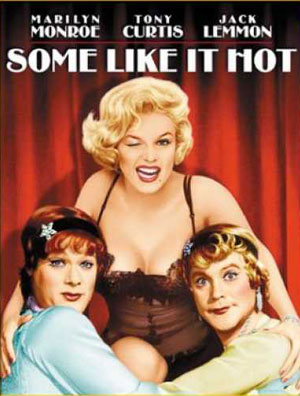 Tony Curtis and Jack Lemmon in Some Like It Hot film (1959)
International Makeup Artist Trade Show or IMAT.
I have to interrupt my original train of thought for a special story:…..
The International Makeup Artist Trade Show….that's where I was in Pasadena,
tag3
CA this weekend. I was demonstrating the
<
strong>Luminess Air Airbrush machine and Mineral, Water-Based Makeup used by the likes of Ve-Johnny Depp's Makeup Artist for "Pirates of The Caribbean" and "Sweeney Todd".
Ve was kind enough to show me exactly how she did Johnny Depp's makeup for Sweeney "Todd" on Sunday using this awesome, quiet, light little machine. Unbelievable. By using a very light, almost white makeup on Johnny's face as a base, Ve was able to use the Luminess Air machine in a much, much darker shade to create the crazy contours on his cheekbones and chin to give him that ghostlike quality. Followed up by RED eyeliner inside the rim of his eyes which bled out to his bottom lashes to make him especially doom-inspired!
There were many awesome finds at the IMAT show. One of my favorites was "PROS-AIDE" Water-based, non-toxic adhesive for facial hardware (Prosthetic pieces) to replace the very TOXIC Spirit Gum of days gone by.