All Posts Tagged With: "Nicole Kidman"
Nicole Kidman, Screen Actors Guild Award (SAG) 2006 nominee for Outstanding Performance By A Female Actor for her TV film role in Grace of Monaco, looked timelessly elegant and absolutely dazzling as she walked the red carpet wearing a beautiful Gucci gown and an eye-catching hair look designed by celebrity stylist Italo Gregorio for Pai-Shau. The look was sophisticated and polished with long, side-parted luminous waves.
How the Look Was Created:
Celebrity hairstylist David Babaii began the 2012 award season by focusing on pre-red carpet preparation of the hair prior to styling. According to David, "First, we created a change in Nicole's hair color opting for a lighter strawberry blonde. To achieve true tonal color while improving the condition of the hair use IT&LY HAIRFASHION's Colorly 20/20 Professional Hair Color (www.italyhairfashion.com)."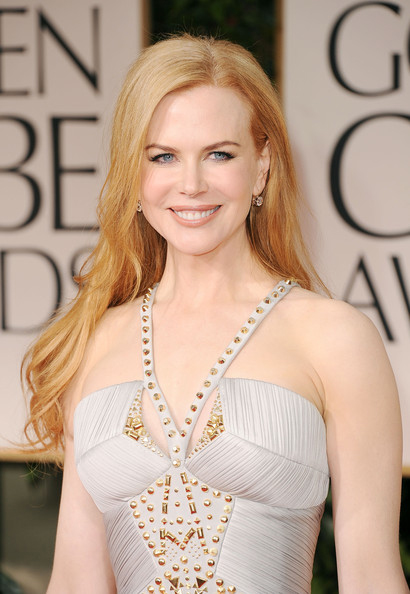 How to get Nicole Kidman's hairdo at the 2012 Golden Globes
Carol Shaw, Celebrity Makeup Artist and Founder of LORAC Cosmetics, has been working with Nicole Kidman for years and we also hear Kidman is a fan of LORAC's BREAKTHROUGH PERFORMANCE FOUNDATION with SPF 14. She uses shade SMS 1, a light shade that matches her porcelain skin perfectly.

LORAC's BREAKTHROUGH PERFORMANCE FOUNDATION is available for $38 at LORACcosmetics.com, ULTA, Sephora, ulta.com, sephora.com and beauty.com.
Celebrity Hairstylist David Babaii created this "Beach Romantic" hairstyle for Nicole Kidman for the 2011 Film Independent Spirit Awards held on February 26th, 2011. The event was held at Santa Monica Beach serving as a perfect location for this look.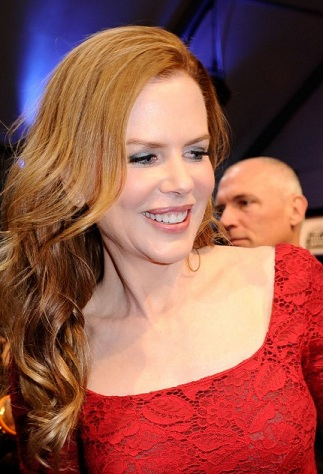 How To Get Nicole Kidman's Hairstyle:
After washing and gently towel drying, apply Couture Colour Pequi Oil Treatment (now available at www.sephora.com) to nourish and protect the hair against thermal styling. Next, dry the hair thoroughly, applying additional Couture Colour Pequi Oil Treatment to serve as a UV protector against the sun and drying winds.

Nicole Kidman's Stick Straight Hair vs. a Voluminous Blowout — Which Do You Prefer?
The A-list actress traded in her usual straight hair for some voluminous waves. Do you like it?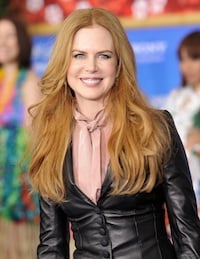 This is a TotalBeauty.com celebrity hairstyles article
New mommy Nicole was sporting a trendy "voluminous blow out" — meaning that her hair was lifted at the roots and locked into place. Prefer it over her sleeker look at last year's "Nine" premiere?
We just found out that Carol Shaw celebrity makeup artist and founder of LORAC Cosmetics will be doing Nicole Kidman's makeup for the Grammy's this weekend.
Celebrity Hairstylist David Babaii Presents His "Style How To" for Nicole Kidman at the 17th Annual Screen Actors Guild Awards.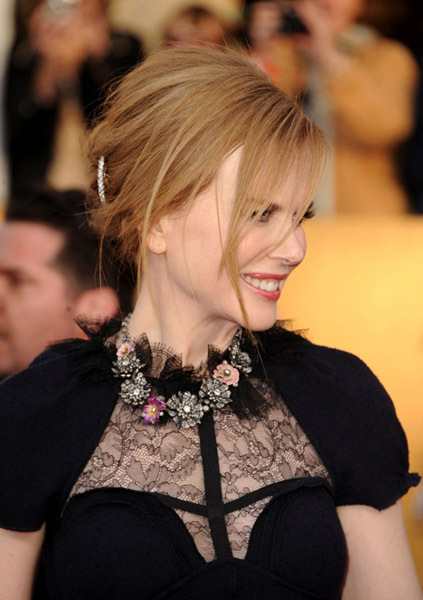 Modern elegance was David Babaii's inspiration for Nicole Kidman's SAG red carpet look.
Starting with clean hair, David applied his new favorite must have product called Couture Colour Pequi Oil Treatment to her entire head. It is rich in moisture-restoring antioxidants, Vitamin A, E, proteins and lipids.
The inspiration celebrity hairstylist David Babaii used in creating this years' 2011 Golden Globes red carpet looks for both Nicole Kidman and Sandra Bullock drew from vintage hairstyles from the 60's and 70's. His predictions for this years' award season is the use of natural textures and waves, creating healthy and shiny hair while simplifying how to get the look by using only 1 product and the finest styling tools.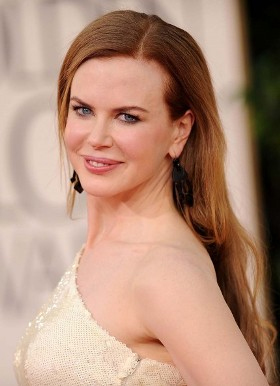 Nicole Kidman Grammy's Hair How-To. The Hair Tutorial.
Celebrity hairdresser David Babaii created this romantic and elegant up-do to emphasize Nicole's beautiful bone structure and Prada dress design. He began by spraying her entire head with David Babaii for WildAid Bohemian Beach Spray, scrunching into her hair for body, lift and texture. Next, he dried her hair using a large round brush concentrating on the root area for maximum lift.
Once dry, he divided tresses into 4 sections (top, sides and back leaving the nape area free). Using the H2Pro 300SE Styling Iron, he created "ribbon curls" by taking small "V" shaped partings. To achieve, wrap the hair around and inside the styling iron close to the scalp area and pull the iron down (similar to curling ribbon). After curling the entire head, he applied some David Babaii for WildAid Hair Polish into his hands, using his fingers to loosen the curls from the mid-section to the ends only.
I'm excited to share with you my interview with Amy Bailey who has begun to make her mark within Hollywood's demanding movie stars. Amy can be seen in the star-studded movie, "Nine" along side Nicole Kidman, Penelope Cruz, and Kate Hudson. Up next for the actress, she will be playing the Hatteress in Tim Burton's "Alice in Wonderland."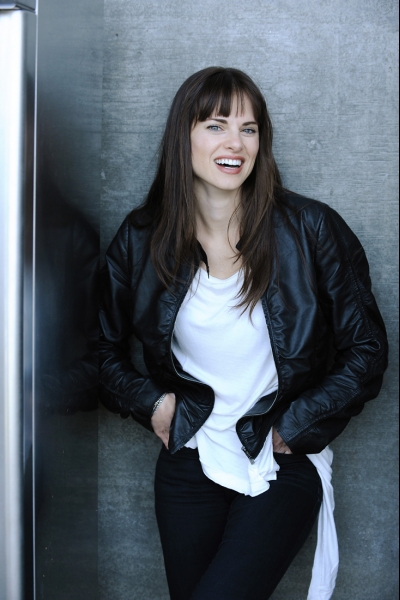 Amy Bailey
In this interview Amy Bailey tells Marta Walsh about how it all began for her in Hollywood. Her role in the film "Nine" and what was it like working with its director Rob Marshall. How one day she took Penelope Cruz and her sister to see the Royal Ballet perform. Her latest acting role in  "Alice in Wonderland", also staring in this film Johnny Depp. Future plans, and of course, style and beauty secrets!
Marta Walsh: Where did you grow up and where is home for you?
Amy Baliey: I grew up in a coastal town called Corpus Christi, in South Texas. I loved going to the beach right after school. Now I divide my time between London and L.A.
MW: How did you decide on a career in showbiz, and what were some of your first breaks?
AB: I was a professional ballerina by 17yrs old, so I guess being onstage always felt pretty natural. My parents couldn't believe that as a teenager I would skip out parties because I had ballet class the next morning. It kept me out of trouble, for the most part 🙂