All Posts Tagged With: "Nicole Kidman"
GET THE LOOK: Nicole Kidman's hairstyle at the 2010 SAG Awards
Celebrity hairdresser David Babaii achieved Nicole Kidman's red carpet look by combining eras of vintage fabric textures with the perfect epoch red hair color. According to David, "Nicole Kidman always inspires me but for the 2010 SAG Awards, her beautiful skin tone and breathtaking beauty took the lead. The right style and hair color became my main objective." David fell in love with this unique period wig that had various tones of ginger.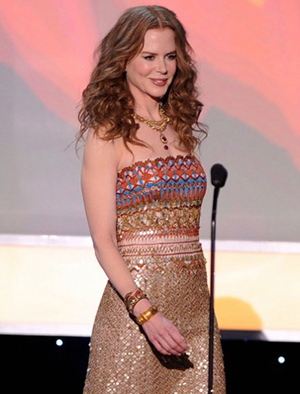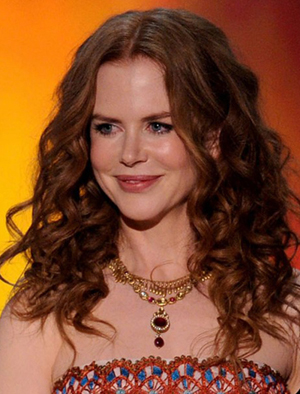 In order to achieve the perfect color match, David sought out the master talents of celebrity hair colorist Lorri Goddard-Clark. Lorri created Nicole's rich new color, while David created the perfect texture needed to enhance this natural but classic "Bohemian" look.
The Color: Lorri Goddard-Clark matched the vintage wig selected by David Babaii by utilizing a combination of deposit-only color, her signature foil-out reverse highlighting technique and a sulfate-free glaze. Nicole's hair was transformed from a medium blonde into a rich, warm Gingered Toffee Red to enhance her azure eyes and porcelain skin.
GET THE LOOK:  Nicole Kidman was wearing CHANEL Beauté at the 67th Annual Golden Globe Awards.  Nicole's makeup look was created by Makeup Artist Angela Levin.
Beauty Inspiration & The Look: "Nicole is a true Hollywood movie star – and I knew I wanted to go with an old Hollywood look. Somewhere along the way, I decided to kick it up a bit and make her eyes more sexy and sultry."
Beauty Tip: "To prepare Nicole's skin, I used CHANEL Sublimage Cream all over her face and neck, and CHANEL Sublimage Eye Cream under the eyes. Her eyes were a combination of CHANEL Soft Touch Eyeshadows – in Jungle, Bois Bleu, and Le Bronze. I gave her a slightly dramatic look with two coats of CHANEL nimitable Mascara in Noir. On Nicole's cheeks I used the perfect coraly ink blush, CHANEL Powder Blush in In Love. On her lips she wore CHANEL Rouge Allure Laque in Santal."
What's wrong with Nicole Kidman's makeup at the NY premiere of NINE? You tell me!:) A great example of it's not what makeup you put on it's the technique.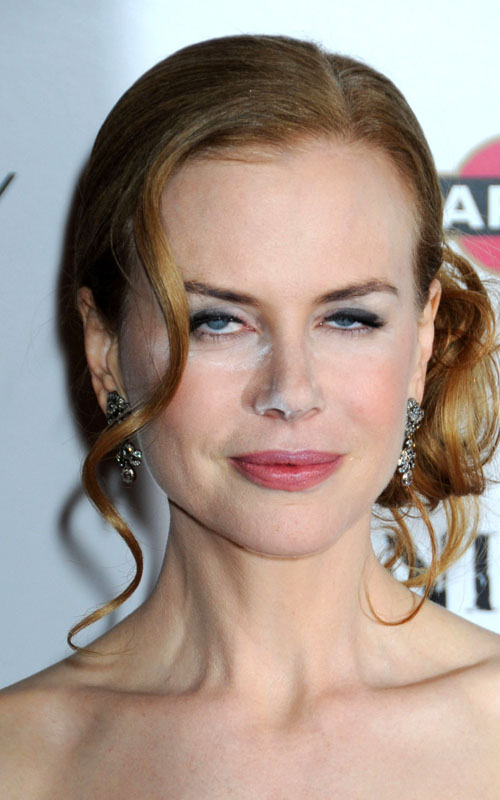 Stars of 'Nine' Nicole Kidman, Marion Cotillard, Penelope Cruz, and  Kate Hudson grace the Vogue Magazine cover November 2009. This Vogue cover was photographed by Annie Leibovitz. The movie "Nine" directed by Rob Marshall is about a famous film director Guido Contini who struggles to find harmony in his professional and personal lives, as he engages in dramatic relationships with his wife, his mistress, his muse, his agent, and his mother. Release Date:25 December 2009 (USA).
Which "Nine" star on the cover of Vogue Magazine November 2009 is your favorite or is the perfect 10?:)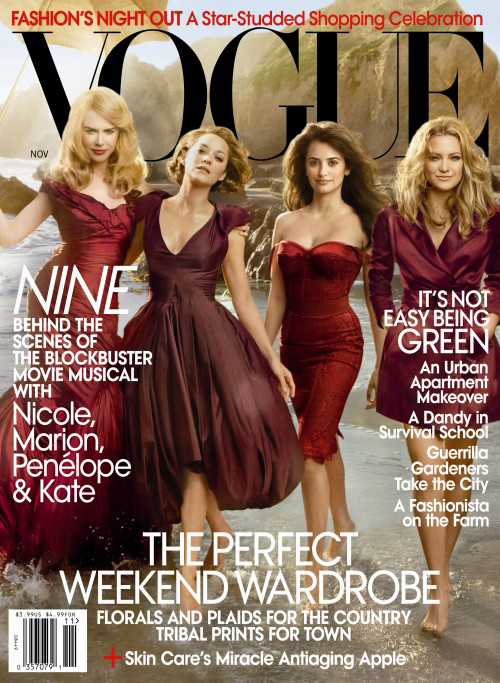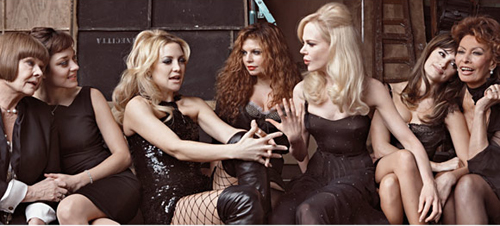 The Women of Nine [From Left]: Judi Dench, Marion Cotillard, Kate Hudson, Fergie, Nicole Kidman, Penélope Cruz, and Sophia Loren, at London's Shepperton Studios.
CHANEL Beauté and its Makeup Artist, Angela Levin, created Nicole Kidman's makeup look for the 2009 Academy Awards.
Beauty Inspiration: "When I asked Nicole what we wanted to do for the Oscars, she told me she just wanted to look beautiful! So I decided to go for basic, beautiful makeup that shows who she is – an unbelievable beauty, timeless and glamorous. Her look was pure and gorgeous, just as it should be for the 81st Academy Awards."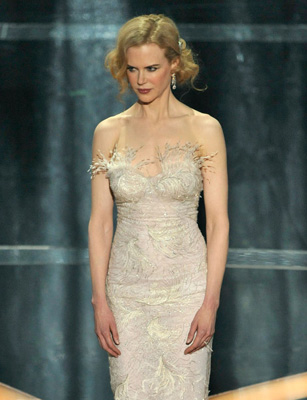 How to get Nicole Kidman's Oscars 2009 red carpet makeup look: Angela prepped Nicole's skin with he favorite skin care product, CHANEL Hydramax + Active Moisture Boost Cream. On her eyes, she used the sultry shades from the CHANEL Quadra Eye Shadow in Reflets d'Ombre. Several coats of CHANEL Inimitable Mascara in Noir-Black were applied to create a glamorous, modern eye.