All Posts Tagged With: "Marion Cotillard"
Marion Cotillard covers VOGUE August 2012. Starring in Christopher Nolan's superhero blockbuster The Dark Knight Rises and Guillaume Canet's ensemble piece, Little White Lies, Marion Cotillard proves she's that rare creature—a French siren with Hollywood appeal.
VOGUE/Peter Lindbergh
The No Brow Look. Marion Cotillard is looking fabulous and brow-less on the cover of Vogue Paris September issue 2010. Do you love?
French siren Marion Cotillard is featured on the cover of VOGUE July 2010. With a new film out this month, the Oscar winner reveals to Contributing Editor Joan Juliet Buck her passion for music and Modigliani—and her true bohemian spirit. Photographed by Mario Testino.
Marion Cotillard on playing in the Expressionist-Surrealist band Yodelice fronted by composer Mazim Nucci: "I play the bass guitar, keyboard, and tambourine—I'm their one-woman band and all-purpose maid," Cotillard explains. She's taken to appearing with Yodelice on tour, dressed as a man, under "Simone," the name of her maternal grandmother. "It's pretty refreshing to be in a situation where the spotlight is on someone else."
Marion Cotillard is in the new Dior campaign called "Lady Blue". The setting is Shanghai's beautiful skyline including the Oriental Pearl Tower. Dior's Lady Blue campaign was photographed by Steven Klein and it also includes a 12-minute film directed by David Lynch and premiere on Ladydior.com on May 15, 2010.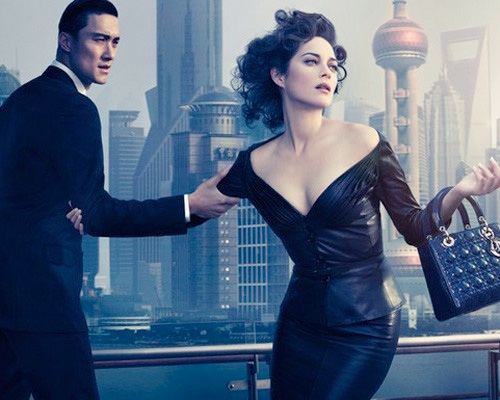 The award show season is officially upon us, which means gorgeous gowns and trendsetting beauty looks are de riguer on the red carpet. The Golden Globes set the bar pretty high, but the the Screen Actors Guild  Awards (SAG), which were held on Saturday, took the glam factor to the max. From the ladies of Nine, shown above, to the rest of Hollywood's elite, the hairstyles and makeup effects were off the gorgeous charts. Here, our favorite trends:
Old Hollywood Glamour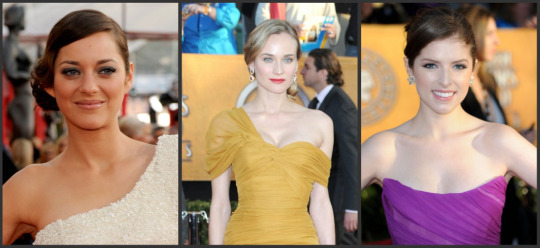 From left, Marion Cotillard Photo: © Kevork Djansezian/Getty Images, Diane Kruger and Anna Kendrick Photos: © Frazer Harrison/Getty Images
They say true glamour never goes out of style and in the case of Diane Kruger, Anna Kendrick and Marion Cotillard, this couldn't be more true. Each of these stunning stars opted for retro, old-school Hollywood vibe, which meant classic, structured updo's, seriously smoky eyes, lots of lashes and a strong lip look. We think Diane stole the show with her creamy red lip, porcelain skin and sleek hairstyle, but bright-eyed newcomer Anna and French siren Marion were also red carpet standouts with their bold, colorful eyeshadow and side-parted 'dos. Read full article in dailymakeover.com
Stars of 'Nine' Nicole Kidman, Marion Cotillard, Penelope Cruz, and  Kate Hudson grace the Vogue Magazine cover November 2009. This Vogue cover was photographed by Annie Leibovitz. The movie "Nine" directed by Rob Marshall is about a famous film director Guido Contini who struggles to find harmony in his professional and personal lives, as he engages in dramatic relationships with his wife, his mistress, his muse, his agent, and his mother. Release Date:25 December 2009 (USA).
Which "Nine" star on the cover of Vogue Magazine November 2009 is your favorite or is the perfect 10?:)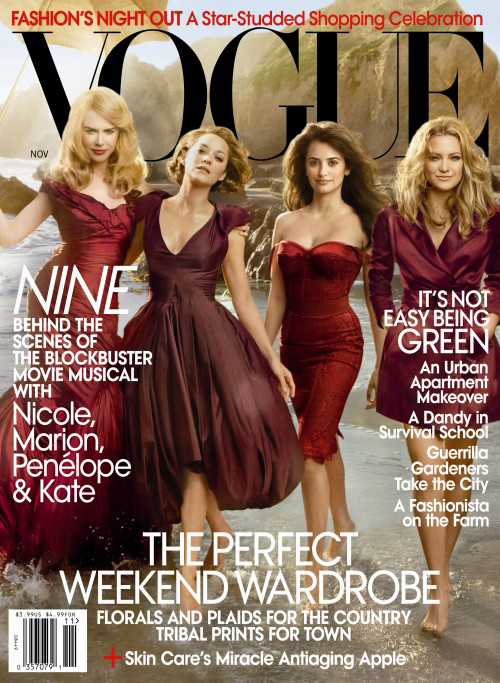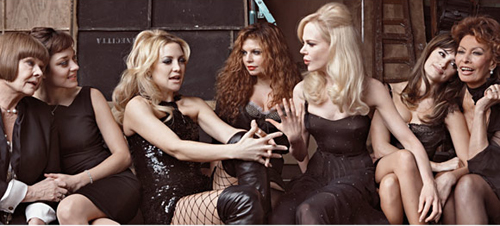 The Women of Nine [From Left]: Judi Dench, Marion Cotillard, Kate Hudson, Fergie, Nicole Kidman, Penélope Cruz, and Sophia Loren, at London's Shepperton Studios.
Lady Dior advertising saga, featuring Marion Cotillard: The next chapter in the Lady Dior advertising saga, featuring Marion Cotillard, sees the actress continuing her adventures — this time in New York City as "Lady Red."
Print ads, photographed by Annie Leibovitz, are slated to break in August fashion titles and be plastered around Paris during fashion week in October. Read full story at: wwd.com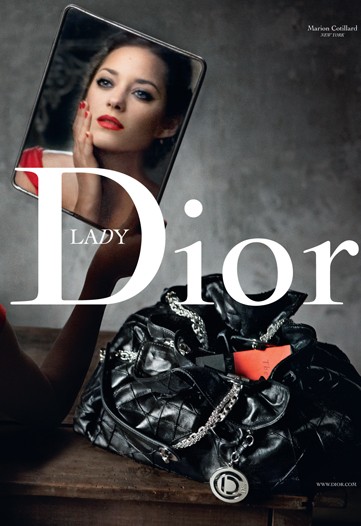 Marion Cotillard in a Dior ad.
Photo By Annie Leibovitz
Oscar presenter Marion Cotillard once again proved to be one of the most striking and beautiful arrivals on the red carpet. Robert Vetica for Moroccanoil Styles Marion Cotillard's Hairstlye for Oscars 2009. Robert Vetica is the author of the new book, "Good to Great Hair" (Fair Winds Publishing).
Top celebrity hair stylist Robert Vetica, who styled Marion Cotillard's hair for her La Vie En Rose Best Actress Oscar win last year, created a flawless, dramatic look that worked to perfection with the elegant John Galliano for Christian Dior gown that she wore.

Marion Cotillard.
Vetica created a shimmering, ultra modern take on the French Twist, that was inspired by Cecil Beaton's portraits of the great fashion and society icons of the 40's and 50's. Polished and styled close to the head, the French Twist was rolled large and emphasized volume for a contemporary edge.
To create the beautifully sculptured French Twist, Vetica first blow-dried Marion Cotillard's hair with a round brush using Moroccanoil Hydrating Styling Cream (MSRP: $30.00 / 10.2 fl. oz.) to smooth, detangle strands and to prevent frizz, and created a low side part. He then teased the hair all over with added attention to the crown and the back of the head.