All Posts Tagged With: "movies"
Elizabeth Olsen New Hollywood. Marta Walsh has a sneak peek to V MAGAZINE spreads featuring emerging actress Elizabeth Olsen, 21-year-old younger sister to Mary-Kate and Ashley Olsen, and a montage of the new faces in Hollywood (such as Glee's Chord Overstreet) in the upcoming issue of V MAGAZINE (issue #69): "The Discovery Issue". V does not hit newsstands until January 13th, 2011.

Elizabeth Olsen New Hollywood in V Magazine
Sneak Peek: Behind the scene photos from Dolce&Gabbana's Motion Pictures new film "Quando, Quando, Quando". Also watch the trailer. I can't wait to watch the movie. I'm a huge Dolce & Gabbana fan!

Watch Quando, Quando, Quando –©Dolce&Gabbana Motion Pictures in Drama |  View More Free Videos Online at Veoh.com
I'm excited to share with you my interview with Amy Bailey who has begun to make her mark within Hollywood's demanding movie stars. Amy can be seen in the star-studded movie, "Nine" along side Nicole Kidman, Penelope Cruz, and Kate Hudson. Up next for the actress, she will be playing the Hatteress in Tim Burton's "Alice in Wonderland."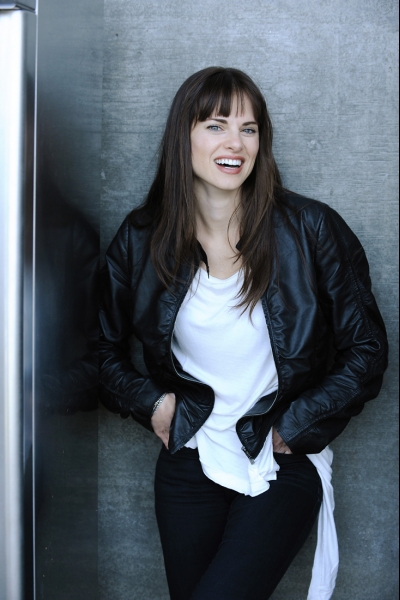 Amy Bailey
In this interview Amy Bailey tells Marta Walsh about how it all began for her in Hollywood. Her role in the film "Nine" and what was it like working with its director Rob Marshall. How one day she took Penelope Cruz and her sister to see the Royal Ballet perform. Her latest acting role in  "Alice in Wonderland", also staring in this film Johnny Depp. Future plans, and of course, style and beauty secrets!
Marta Walsh: Where did you grow up and where is home for you?
Amy Baliey: I grew up in a coastal town called Corpus Christi, in South Texas. I loved going to the beach right after school. Now I divide my time between London and L.A.
MW: How did you decide on a career in showbiz, and what were some of your first breaks?
AB: I was a professional ballerina by 17yrs old, so I guess being onstage always felt pretty natural. My parents couldn't believe that as a teenager I would skip out parties because I had ballet class the next morning. It kept me out of trouble, for the most part 🙂
I absolutely love Eve Mendes outfit at the premiere of Sherlock Holmes at the Alice Tully Hall, Lincoln Center on December 17, 2009 in New York City. It's refreshing to see a white lacy dress underneath her boyfriend's jacket. I'm totally inspired! More white goes into my closet because at the moment I'm the black queen. I also love the updo. And if you agree with me, I have tips on how to get Eva's hairdo thanks to Thomas Dunkin from the Sebastian Professional Stylist Design Team.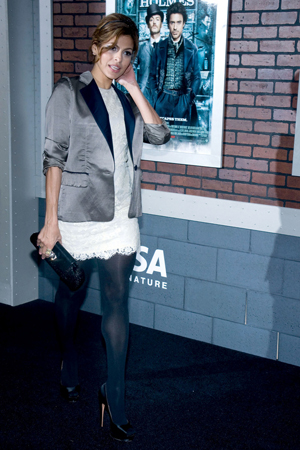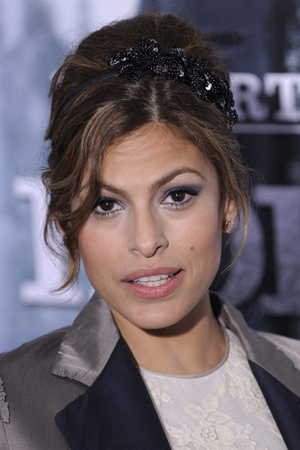 Thomas shares his styling tips for recreating Eva's red carpet look at home:
1) Start by dampening the hair and pulling through a small amount of Sebastian Professional Potion 9 Lite. Take a 4″ section of hair at the crown and saturate it with Thickefy Foam before blow-drying. Then put in approx. six medium-sized velcro rollers.
Kate Hudson and Penelope Cruz both looking fabulous in CHANEL Haute Couture at the NY Premiere of "NINE", December 15th, 2009. Which CHANEL dress are you?
Penelope CRUZ was wearing a long asymmetrical satin red dress Chanel Haute Couture. The dress was specially chosen by Karl Lagerfeld for Penelope from the Chanel Conservatoire. This unique dress was shown during the Spring/Summer Haute Couture show of Karl Lagerfeld for Chanel in1989.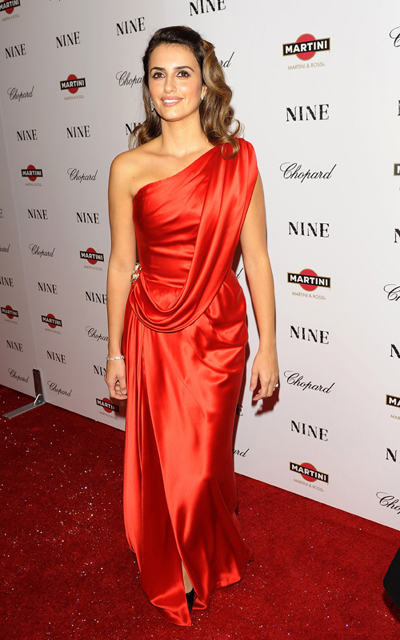 Kate Hudson was wearing an embroidered dress from the Fall/Winter 2009 Haute Couture collection.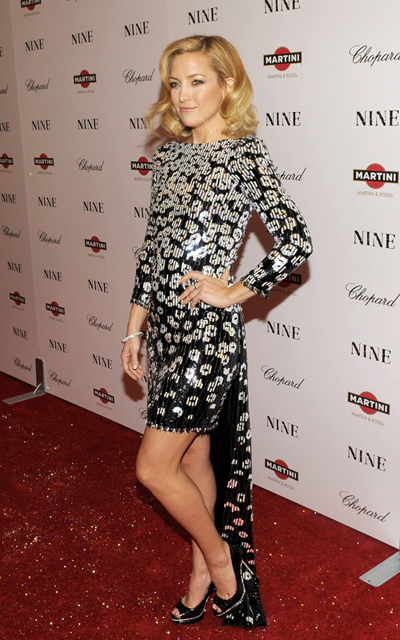 The January 2010 issue of Vogue Magazine which is on newsstands nationwide December 22nd,2009,  is featuring Rachel McAdams, the star of the highly anticipated Sherlock Holmes.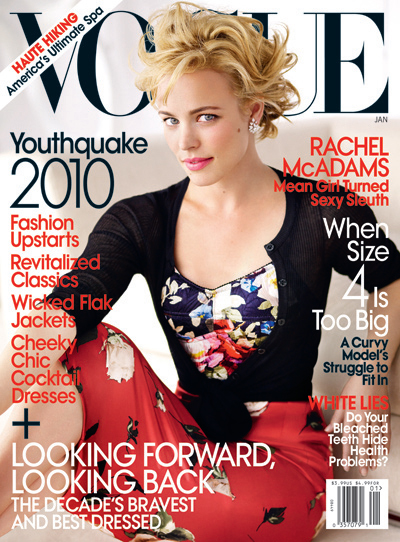 The Rachel McAdams article and interview in Vogue Magazine January 2010 is titled: Mean Girl Turned Sexy Sleuth By Sally Singer.  Photographs: Mario Testino. Cover fashion: Dolce & Gabbana; De Beers white gold–and–diamond earrings.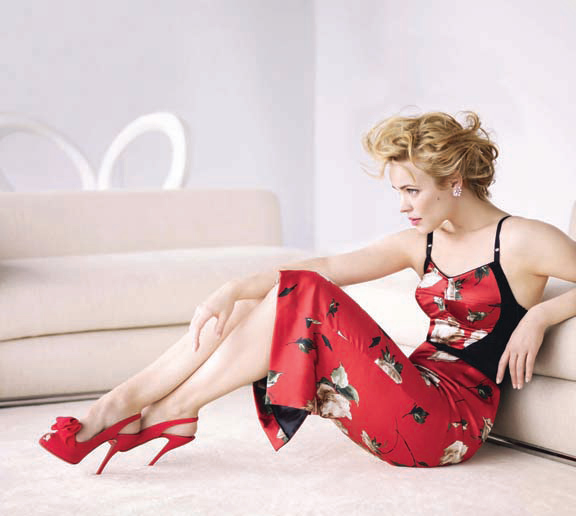 "Such a brilliant actress—not like Meryl, but she has that kind of intelligence. That brain is substantial, and if you have that along with a face you can't take your eyes off, it's so compelling. It's rare."—Diane Keaton on Rachel McAdams
CHANEL Celebrity Makeup Artist Kara Yoshimoto Bua worked with Rachel Weisz for her premiere of  The Lovely Bones on Monday, December 7, 2009.
Thanks to CHANEL Beauté Talking Makeup has the scoop on how to get Rachel's makeup look!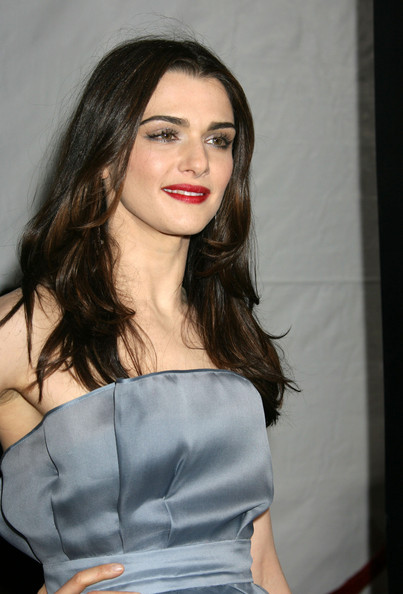 "I was inspired by the colour of Rachel's dress which was calling out for a perfectly red lip! I chose the semi-matte CHANEL Rouge Allure Laque in Dragon. I love this shade because it is a very pigmented blue true red, perfect with Rachel's fair skin, and can be worn very sheer yet give vivid colour. I wanted shimmery soft eyes to be tonal with the colour of the dress so a not to compete with the lips. CHANEL Quadra Eye Shadow in Murano has the most beautiful greenish-grey shimmers that accent Rachel's dark hair and brown eyes. CHANEL Blush Duo Tweed Effect in Tweed Rose gives her a soft hint of colour in the apples of her cheeks. Finally, CHANEL Inimitable Mascara in Noir-Black opens up her eyes by lengthening and separating her already thick lashes without any clumps!"
Bree Turner is an actress who began her journey in Hollywood as a professional dancer. Bree was a background dancer in such hit films as The Big Lebowski (1998), She's All That (1999) and Mike Myers' Austin Powers: The Spy Who Shagged Me (1999). Bree's love for performing and being on stage makes acting a natural transition. Most recently, Bree Turner can be seen opposite Katherine Heigl and Gerard Butler in The Ugly Truth.
I caught up with Bree Turner via telephone from Los Angeles early in the morning few months ago, to talk about her beginnings in Hollywood, her role film The Ugly Truth opposite Katherine Heigl, future career plans and even some beauty secrets!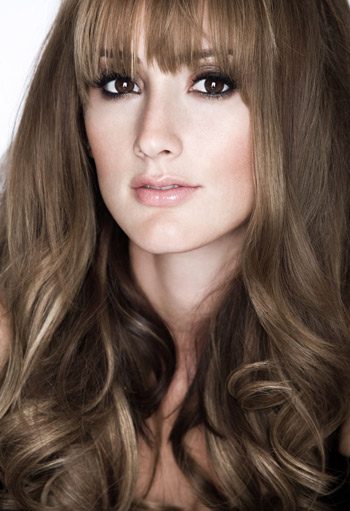 Actress Bree Turner
Marta Walsh: How did you decide on a career in acting, and what were some of your first breaks as an actress?
Bree Turner: I started out as a dancer which got me on stage. I was pretty shy as a kid so my mom decided to enroll me in a dance class, and I fell in love with being on stage and performing. I danced all through my teens and early 20's. Dancing brought me down to Los Angeles with a dance scholarship in UCLA. I heard that you can actually make money as dancer, so I got a dance agent and began working in commercials, music videos, and the Grammys. I did that for about 6 years. I then decided to pursue acting. I was so in love with being on set and movie making. I loved movies since I was a baby. It was the only thing that would calm me down. I was very colicky as a child so my mom would take me to watch movies. Grease was the movie that would stop me from crying. Dancing, performing, and being on stage is all I've done forever, it's all I really know.
All I can say about Natalie Portman at the screening of "Brothers" in NYC this week is: I'm mesmerized! Natalie is one of the most beautiful and most photogenic stars on planet earth.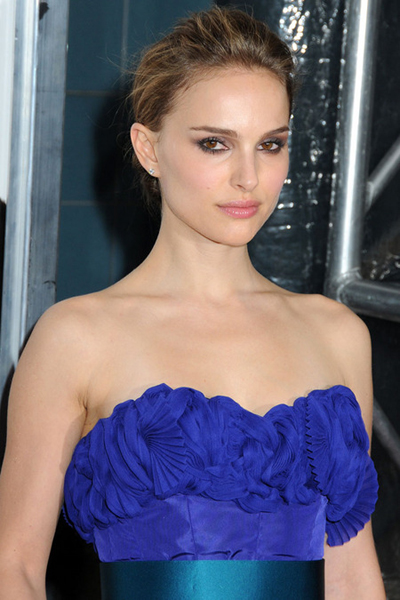 Lancôme and Lollipop Theater Network celebrated the launch of La Collection Lollipop last week at Bellacures in Beverly Hills. Jordana Brewster and Jennie Garth hosted the festive soiree, where guests were treated to champagne, cupcakes and manicures using the nail polishes from the collection.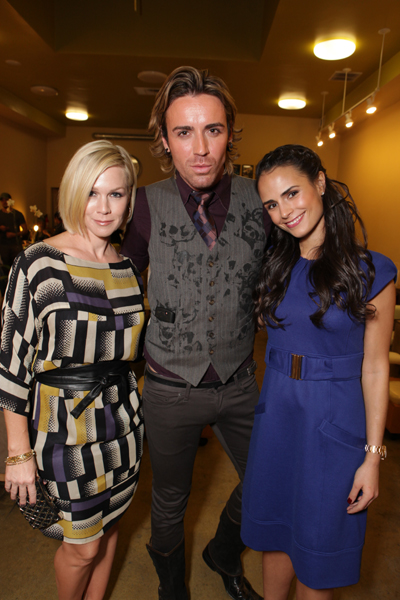 From left: Jennie Garth, Darais, and Jordana Brewster