I absolutely love Eve Mendes outfit at the premiere of Sherlock Holmes at the Alice Tully Hall, Lincoln Center on December 17, 2009 in New York City. It's refreshing to see a white lacy dress underneath her boyfriend's jacket. I'm totally inspired! More white goes into my closet because at the moment I'm the black queen. I also love the updo. And if you agree with me, I have tips on how to get Eva's hairdo thanks to Thomas Dunkin from the Sebastian Professional Stylist Design Team.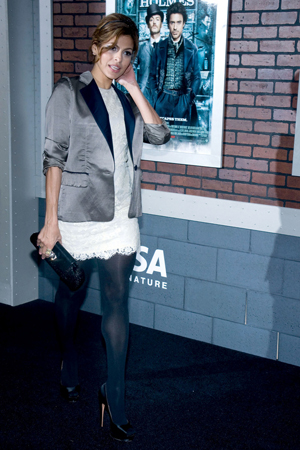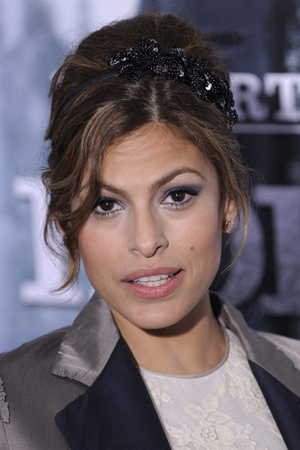 Thomas shares his styling tips for recreating Eva's red carpet look at home:
1) Start by dampening the hair and pulling through a small amount of Sebastian Professional Potion 9 Lite. Take a 4″ section of hair at the crown and saturate it with Thickefy Foam before blow-drying. Then put in approx. six medium-sized velcro rollers.
2) Leave the hair to dry and the crown section to set for several minutes.
3) Next, make a soft part on the left hand side and pull the hair back around to the right. Holding the hair around tightly to the right, bobby pin upwards toward the crown securing the hair very tightly. From here, pull the hair back, twist it under and secure over the bobby pins placed previously.
4) Now the crown section needs to be backcombed and manipulated over the twist at the back. Use a medium-sized curling iron to create a soft wave at the front that falls over one eye giving a soft sensual feel to the hair. Place a hair band just in front of the height and leave random pieces of hair to gently fall out, adding a natural feel to a look that can easily appear too structured otherwise.
5) To finish, lightly layer some of the Sebastian Professional Microweb Fiber to give a textured effect, which is rare in an updo. To hold the look for the evening, apply Shaper Fierce Hairspray to make sure the hair stays immaculate for the evening.