All Posts Tagged With: "red carpet beauty"
Cameron Diaz was a luminous presence at Tuesday's UK premiere of What To Expect When You're Expecting. Makeup artist Emma Lovell used Hourglass Cosmetics to create her leading lady look with a focus on dramatic eyes, plum lips and radiant skin. "The makeup was designed to complement Cameron's cream Stella McCartney jumpsuit, her choppy blonde bob and her dramatic earrings. I wanted a cute feline eye to be the main attraction, keeping the lips pretty and fresh with a plum stain."
How to get Cameron Diaz' makeup look
Greta Gerwig, decked out in NARS, attended the world premiere of her film Arthur in NYC, April 5h, 2011.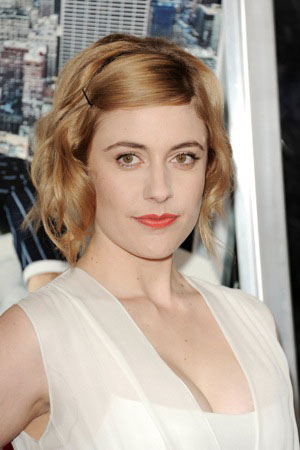 Makeup artist Daniel Martin used the new NARS Wonder Lip Gloss (available for Summer 2011!) to achieve her "quintessential cool-girl look," by pairing it with NARS Heat Wave Lipstick. "I thought back to the 90s, and to Caroline Bessette. She always looked effortless, with minimal makeup but a bright red lip," said Daniel about the inspiration behind the look. "The key for Greta's look was to modernize that idea by creating a bright orange lip in a glossy texture, while playing up her skin."
I absolutely love Eve Mendes outfit at the premiere of Sherlock Holmes at the Alice Tully Hall, Lincoln Center on December 17, 2009 in New York City. It's refreshing to see a white lacy dress underneath her boyfriend's jacket. I'm totally inspired! More white goes into my closet because at the moment I'm the black queen. I also love the updo. And if you agree with me, I have tips on how to get Eva's hairdo thanks to Thomas Dunkin from the Sebastian Professional Stylist Design Team.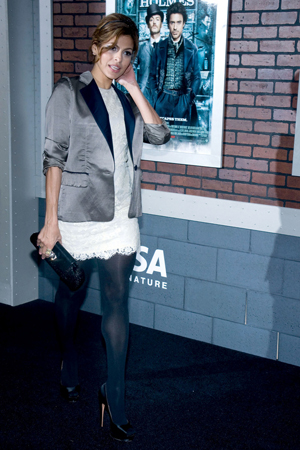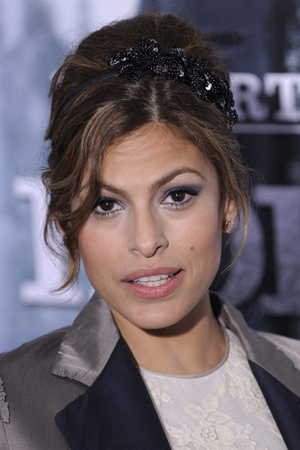 Thomas shares his styling tips for recreating Eva's red carpet look at home:
1) Start by dampening the hair and pulling through a small amount of Sebastian Professional Potion 9 Lite. Take a 4″ section of hair at the crown and saturate it with Thickefy Foam before blow-drying. Then put in approx. six medium-sized velcro rollers.