All Posts Tagged With: "Diamond"
If you consider purchases anything with diamonds, whether it be an engagement ring, a necklace or an earring, there are four things to consider. These are cut, color, clarity and carat weight. A common question many prospective customers may ask is what the best "cut" of diamond is.
When it comes to jewelry like diamonds, saying what's the "best" cut is something that can be considered rather subjective. It depends on the piece of jewelry, it's size, the color and its purpose (formal, casual or general wear). Thankfully, since there are varying opinions, it does mean that you can find one that is unique to the person for whom you're buying it: whether it be for a significant other, a parent or yourself. Ultimately, the "cut" refers to the diamond's ability to reflect light.
The shape of the diamond will therefore have a significant impact on how much the rock will sparkle. Not everyone wants a blinding stone, so that's also good to keep in mind when expanding your diamond education.
Diamond Shapes
Some of the most common diamond shapes include round and square (also known as "cushion"), the rectangular types (emerald, Asscher, radiant and princess). Two other common types are pear and heart-shaped. Oval is also known as marquise, with pointed edges. Preferences for shape are, of course, a matter of taste and the kind of jewelry you're purchasing.
Cutting a Little Deeper
Facets and angles are referred to when speaking about the "cut" of a diamond. Number, proportion and symmetry are all factored in as these are what effects the way in which light reflects out of the stone. Diamonds that reflect as much light as possible are referred to as "excellent". "Poor" stones are those which lose light either out of the bottom or the sides.
Diamonds that are cut with great skill will reflect as much light as possible from the top face (known as the "table"). It is this "brilliance" which will then have an effect on the value of the stone.
Popular Diamond Cuts
Those buying diamonds may wonder what the most popular cuts are. These tend to be round brilliant stones as a number of sources announce that three-fourths of diamonds sold are of this shape. When purchasing a stone or an engagement ring of any kind, however, popularity isn't the only thing you should look for. Your own personal taste is going to have just as much an effect on the satisfaction you get.
Brushing up on diamond education will ensure that you make an informed choice. To reiterate, it's also important to keep other factors in mind. Color, clarity and carat weight will all end up
determining the price you pay. Then there are much less technical details to focus on. Do you like the actual shape itself? The jewelry or ring band it comes on? Will your significant other appreciate it, or is there something that is more their taste? These are questions that you can only really answer yourself as they are far more subjective in nature.
The January 2010 issue of Vogue Magazine which is on newsstands nationwide December 22nd,2009,  is featuring Rachel McAdams, the star of the highly anticipated Sherlock Holmes.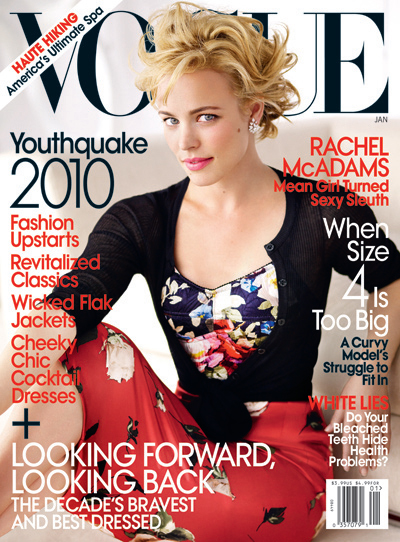 The Rachel McAdams article and interview in Vogue Magazine January 2010 is titled: Mean Girl Turned Sexy Sleuth By Sally Singer.  Photographs: Mario Testino. Cover fashion: Dolce & Gabbana; De Beers white gold–and–diamond earrings.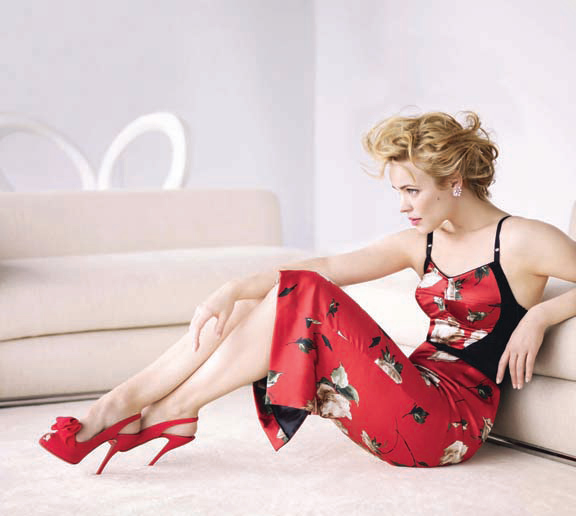 "Such a brilliant actress—not like Meryl, but she has that kind of intelligence. That brain is substantial, and if you have that along with a face you can't take your eyes off, it's so compelling. It's rare."—Diane Keaton on Rachel McAdams
Do you live in New York or planning to visit? In honor of the strength of their bond as teammates and to celebrate the holiday season Tanith Belbin and Ben Agosto, Olympic Silver Medalist Ice Dancers, along with Everlon invite New York to come join them at the Rockefeller Center Ice Rink for a special appearance followed by a weekend of free skating!
Hosted by Everlon, Ms. Belbin and Mr. Agosto will open the weekend by skating a special routine Thursday, December 10th at 12:30pm. Thereafter anyone who comes to the Rockefeller Center Ice Rink for the 12:30pm – 2pm sessions Thursday, December 10th through Sunday, December 13th will be treated by Everlon to a free session of skating.