All Posts Tagged With: "Tanith Belbin"
Do you live in New York or planning to visit? In honor of the strength of their bond as teammates and to celebrate the holiday season Tanith Belbin and Ben Agosto, Olympic Silver Medalist Ice Dancers, along with Everlon invite New York to come join them at the Rockefeller Center Ice Rink for a special appearance followed by a weekend of free skating!
Hosted by Everlon, Ms. Belbin and Mr. Agosto will open the weekend by skating a special routine Thursday, December 10th at 12:30pm. Thereafter anyone who comes to the Rockefeller Center Ice Rink for the 12:30pm – 2pm sessions Thursday, December 10th through Sunday, December 13th will be treated by Everlon to a free session of skating.
I'm so excited to share with you my interview with an Olympic Ice Dancer Tanith Belbin! I love watching figure skating and ice dancing therefore interviewing Tanith is a dream come true.
Tanith Belbin is a Canadian-American ice dancer. Though she holds dual citizenship, she competes for the United States and has competed for the U.S. since she began skating with Benjamin Agosto in 1998. With Agosto, Belbin is the 2006 Olympic silver medalist, four time World medalist, three time Four Continents champion (2004–2006), and five-time U. S. champion (2004–2008).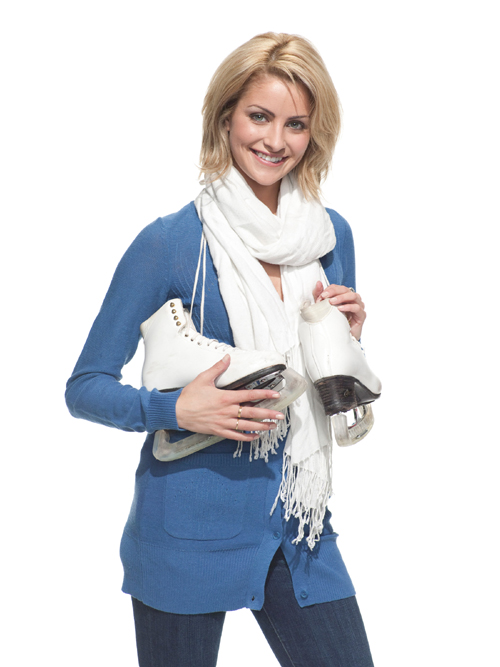 Photo credit: NBC Sports / USOC
Tanith Belbin was born in Kingston, Ontario and raised in Kirkland, Quebec. She lived and trained in Canton, Michigan for many years, before moving to Aston, Pennsylvania to train at Ice Works. Belbin's mother, Michelle (McKinlay) Belbin, is a costume designer and she makes some of Belbin's costumes. She trained as a figure skater in St. John's, Newfoundland.