All Posts Tagged With: "Bvlgari"
Father's Day is just around the corner and what better way to celebrate the number one man in your life then by giving him the gift of a handsome and powerful scent! Bvlgari Parfums' Man Black collection perfectly captures the scent of masculinity in a mature yet fresh blend of notes created by master perfumer Alberto Morillas.
Bvlgari Man Black Cologne
This post is because I love shopping at Nordstrom and these are a good selection of perfumes just in time for Mother's Day or anytime.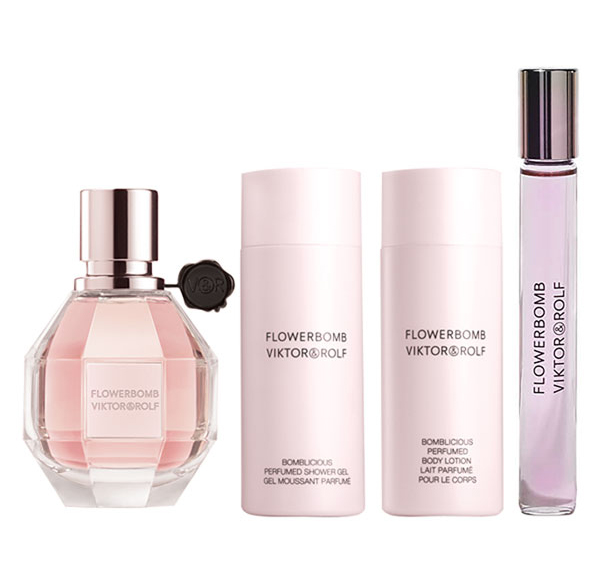 Viktor & Rolf 'Flowerbomb' Mother's Day Set
Full-bodied and opulent, Flowerbomb is a floral explosion, a profusion of flowers that has the power to make everything seem more positive. Set includes eau de parfum, body lotion and shower gel (1.7 oz. each) and a roller ball, (0.34 oz.). Notes include: bergamot, tea, freesia, jasmine, orange blossom, orchid, rose and patchouli. Price: $118 ($144 value);
At my last visit at ULTA here in Scottsdale Arizona I became intrigued by BVLGARI BLV Notte Eau de Parfum Spray Pour Femme so I decided to get it. Lately I've been in the mood for perfume exploration. I'm just curios to see what's out there and which perfumes are just amazing. So far I'm loving this perfume. I love the dark chocolate note which lingers delicately and softly all day. Other notes include: Galanga, Iris, and Vodka. Looks like BLV Notte is a limited edition.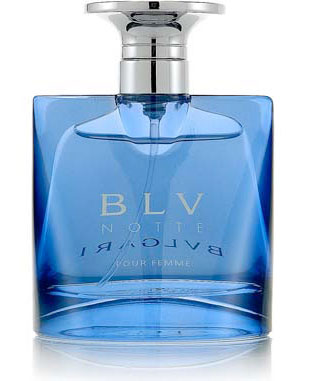 I'm so excited to share with you my interview with an Olympic Ice Dancer Tanith Belbin! I love watching figure skating and ice dancing therefore interviewing Tanith is a dream come true.
Tanith Belbin is a Canadian-American ice dancer. Though she holds dual citizenship, she competes for the United States and has competed for the U.S. since she began skating with Benjamin Agosto in 1998. With Agosto, Belbin is the 2006 Olympic silver medalist, four time World medalist, three time Four Continents champion (2004–2006), and five-time U. S. champion (2004–2008).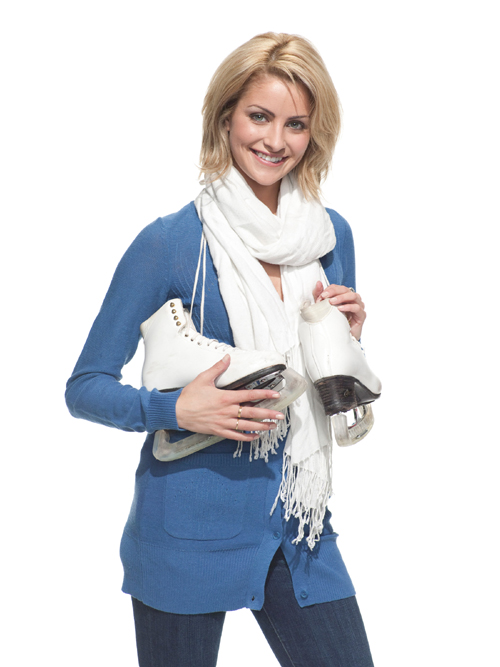 Photo credit: NBC Sports / USOC
Tanith Belbin was born in Kingston, Ontario and raised in Kirkland, Quebec. She lived and trained in Canton, Michigan for many years, before moving to Aston, Pennsylvania to train at Ice Works. Belbin's mother, Michelle (McKinlay) Belbin, is a costume designer and she makes some of Belbin's costumes. She trained as a figure skater in St. John's, Newfoundland.
Everything about BVLGARI sounds so chic to me and I happen to love their perfumes as well. Always so elegant. BVLGARI Jasmin Noir Eau de Toilette is their latest and I can't wait to smell it on my next Sephora or Nordstrom visit.
Captivating and caressing, Jasmin Noir is a floral-woody fragrance with multiple facets. Infinitely sensual and addictive, its seductive scent is sublimely revealed by jasmine, a flower whose beauty is as pure as it is tantalizing. SRP: $75 for 1.7 oz. $103 for 3.4 oz
I'm very excited to bring to you my interview with Christina Moore who plays Tracy Clark, Naomi's mom, on CW's Beverly Hills 90210. I've interviewed Christina for Talking Makeup's celebrity beauty section: www.beautyinterviews.com
Christina Moore also plays the role of Candy Sullivan, a nurse with a unique sense of duty, in an upcoming television drama on TNT called HawthoRNe, directed by Mikael Salomon. Jada Pinkett Smith is also starring on HawthoRNe.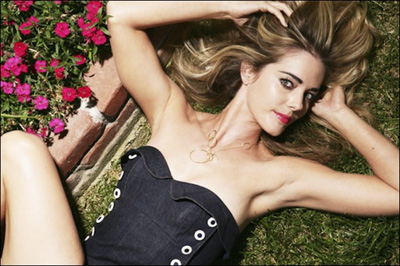 Photo Credit: Rudy Martinez.
Marta Walsh: How did you decide on a career in acting, and what were some of your first breaks as an actress?
Christina Moore: I loved the theatre. I got into a professional theatre troupe when I was in High School. We toured around the Chicago suburbs doing musicals. It was like a 2nd family for me. There is such a kinship in the arts and I knew I wanted to be a part of it forever.
I got lucky when I landed (alone) in LA. I was cast in a string of popular sit-coms all produced at the Warner Bros studio. (Friends, Suddenly Susan, Just Shoot Me, Drew Carrey) This led to me auditioning for Hyperion Bay, which was my 1st series regular job. I had only been in LA for 2 years at that point. And from there-I was off and running in television.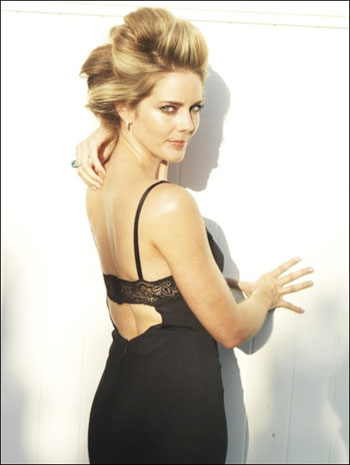 Photo Credit: Rudy Martinez.
Bvlgari Pour Femme was first introduced in 1994.  According to Paolo Bvlgari, Bvlgari Pour Femme was created as: "a tribute to women, as an answer to their desire to rediscover luxury and find it renewed and different, characterized by understatement and absolute quality."  Kate Moss is the face of Bvlgari Pour Femme. 
Now check out Bvlgari Pour Femme Jeweler's Edition which comes in a limited edition bottle with a Swarvoski crystal-bejeweled cap that's designed to fit your existing Bvlgari bottles.  Main notes:  Jasmine, Rose, Bergamot, Citrus, Tuberose, Hesperidic, Musk.  Cost:  $145 for a 3.4 oz Eau de Parfum Spray.   
The Bvlgari  brand was founded by Sotirio Bulgari.  The Bulgaris descend from an ancient family of Greek silversmiths in a small village of Epirus.  In the late 19th century, the craftsman moved to Italy to open their first shop in Via Sistina, Rome.  In 1905 Bvlgari also opened their shop in Via Condotti which till today serves as the brand's flagship store.  Bvlgari first became famous for creating luxurious jewelery, watches, and precious gems.  In the 1990's Bvlgari expanded into creating a collection of perfumes.  The Bvlgari brand now days stands for an ultimate luxury.