I'm very excited to bring to you my interview with Christina Moore who plays Tracy Clark, Naomi's mom, on CW's Beverly Hills 90210. I've interviewed Christina for Talking Makeup's celebrity beauty section: www.beautyinterviews.com
Christina Moore also plays the role of Candy Sullivan, a nurse with a unique sense of duty, in an upcoming television drama on TNT called HawthoRNe, directed by Mikael Salomon. Jada Pinkett Smith is also starring on HawthoRNe.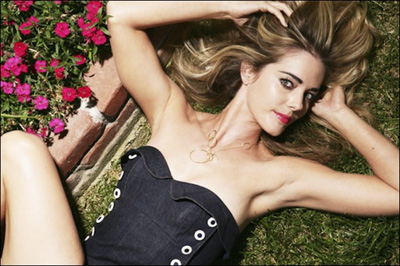 Photo Credit: Rudy Martinez.
Marta Walsh: How did you decide on a career in acting, and what were some of your first breaks as an actress?
Christina Moore: I loved the theatre. I got into a professional theatre troupe when I was in High School. We toured around the Chicago suburbs doing musicals. It was like a 2nd family for me. There is such a kinship in the arts and I knew I wanted to be a part of it forever.
I got lucky when I landed (alone) in LA. I was cast in a string of popular sit-coms all produced at the Warner Bros studio. (Friends, Suddenly Susan, Just Shoot Me, Drew Carrey) This led to me auditioning for Hyperion Bay, which was my 1st series regular job. I had only been in LA for 2 years at that point. And from there-I was off and running in television.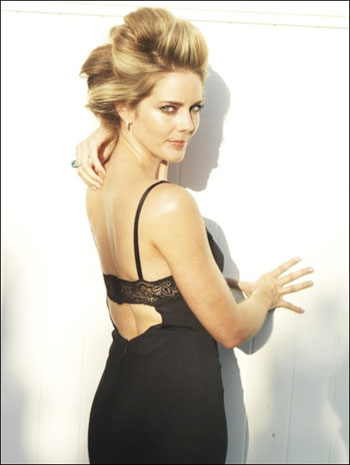 Photo Credit: Rudy Martinez.
MW: What attracted you to Tracy Clark, Naomi's Mom, on the hit CW series Beverly Hills 90210?
CM: Really… What didn't attract me to Tracy Clark?! She is such a great character. She is rich- like crazy rich and lonely- like crazy lonely and desperate. This is a recipe for disaster, which, for an actress, means lots of great stuff to do. I love the storyline between her and Harry. And I am still looking forward to finding our real SON!!! Plus Naomi is a red, hot mess and being her mom is a roller coaster ride- for sure.
MW: How would you describe your acting role in HawthoRNe on TNT, and was it difficult to play it emotionally?
CM: Candy Sullivan is very different from Tracy Clark. It has been a challenge switching from one to the other. Nurse Candy is grounded and sure of herself. She works with her own set of rules, rules that maybe only she understands. I have had interesting discussions with the producers about her mysterious nature. I am sure that Candy has secrets, but I don't know how long it is going to take for them to come out. So, to answer your question, yes, it has been difficult to play her- emotionally & mentally. But I love every minute of it.
MW: What was it like meeting Jada Pinkett Smith on set of HawthoRNe, and the rest of the cast?
CM: Jada is a dream. She is kind and generous and so full of life. She is as big as a minute, but NEVER underestimate her joie de vivre. Her life force is huge and magnetic.
My other cast mates are great. I especially enjoy David Julian Hirsh, who plays Ray. He and I relate, off camera, much like Candy and Ray. It is a playful tug o war.
MW: What is next for Christina Moore?
CM: We shall see…. Juggling 2 TV series has kept me very busy, but work begets work, so watch out, I might just add a feature film to my to do list any day now.
I keep my hair beautiful thanks to…
L'Oreal Professionnel Expert– Absolut Repair- (shampoo, conditioner, deep conditioner): it is the best at repairing my damaged ends and keeping my hair from looking fuzzy & broken.
Moroccan Oil: after shower, before blow-dry. This oil smoothes out the frizzies and protects my hair from the heat. Plus, it smells like a tropical vacation.
My favorite skincare products are…
Mannatech Optimal Face Wash: it is creamy and doesn't dry out my skin
Kinara Intense Moisturizer: I can't live without it. VERY HYDRATING-and again, the smell, like vanilla cookies. Yummy.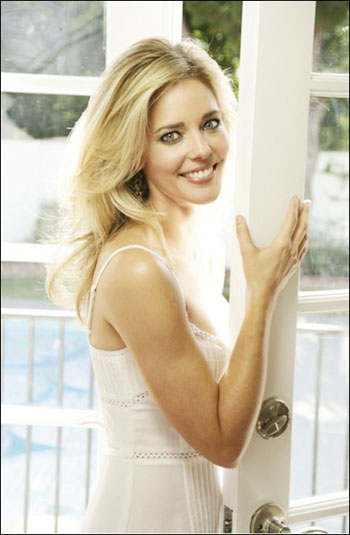 Photo Credit: Rudy Martinez.
I get my eyelashes looking long, full, and sexy using…
Cover Girl Lash Blast (in the orange tube) – the best everyday mascara
FRESH (tube: black, covered in white flowers)- very good
THE BEST- Dior (it only lasts for one month- so I save it for special occasions)
The best lip-gloss I ever owned…
This is the hardest question for me. I LOVE lip-gloss. If I was left on an island and I could only have one thing-it would be lip-gloss. I carry about 12 different tubes in my purse everyday.
Liplicious– tasty lip color (from Bath and Body works) in Frozen Blackberry. It is creamy and glossy and tastes good- I wear it the most.
Other mentionables:
Lancôme- Juicy Tubes
Hourglass- in Search
Mirabella- Outshine-in Subtle
My signature fragrance is…
Bvlgari- Pour Femme (the yellow one)
I LOVE IT!!!
The one beauty product you will always find in my purse is…
Cle de Peau correcteur visage concealer in beige.
Nothing works as well for under the eyes. NOTHING!
My number one beauty secret is…
Vitamins- I take supplements every day and they have kept me healthy from the inside out. Mannatech makes a packet with all of the essentials. I have some in my car, my purse, next to bed, just in case.
The celebrity I find most beautiful is…
Jessica Lange- her grace and fragility and endurance. WOW.
The city I love the most…
Rome, Italy. I have been 3 times in the past 5 years. I can't get enough of it. I find the presence of ancient history to be comforting- calming. You just know how small you are in the history of the world standing in awe of the Pantheon.
One or two things some people may not know about Christina Moore…
I love country music. It is really all I listen to. I go to the concerts- I buy the mp3's. I am a true FAN.
If I wasn't an actor, I would like to be a serial killer profiler.
I love Nacho Cheese Doritos.
It was great to discuss beauty secrets withChristina make sure to check out the official site for both of her hit shows. www.tnt.tv/series/hawthorne / and www.cwtv.com/shows/90210