All Posts Tagged With: "diamonds"
If you consider purchases anything with diamonds, whether it be an engagement ring, a necklace or an earring, there are four things to consider. These are cut, color, clarity and carat weight. A common question many prospective customers may ask is what the best "cut" of diamond is.
When it comes to jewelry like diamonds, saying what's the "best" cut is something that can be considered rather subjective. It depends on the piece of jewelry, it's size, the color and its purpose (formal, casual or general wear). Thankfully, since there are varying opinions, it does mean that you can find one that is unique to the person for whom you're buying it: whether it be for a significant other, a parent or yourself. Ultimately, the "cut" refers to the diamond's ability to reflect light.
The shape of the diamond will therefore have a significant impact on how much the rock will sparkle. Not everyone wants a blinding stone, so that's also good to keep in mind when expanding your diamond education.
Diamond Shapes
Some of the most common diamond shapes include round and square (also known as "cushion"), the rectangular types (emerald, Asscher, radiant and princess). Two other common types are pear and heart-shaped. Oval is also known as marquise, with pointed edges. Preferences for shape are, of course, a matter of taste and the kind of jewelry you're purchasing.
Cutting a Little Deeper
Facets and angles are referred to when speaking about the "cut" of a diamond. Number, proportion and symmetry are all factored in as these are what effects the way in which light reflects out of the stone. Diamonds that reflect as much light as possible are referred to as "excellent". "Poor" stones are those which lose light either out of the bottom or the sides.
Diamonds that are cut with great skill will reflect as much light as possible from the top face (known as the "table"). It is this "brilliance" which will then have an effect on the value of the stone.
Popular Diamond Cuts
Those buying diamonds may wonder what the most popular cuts are. These tend to be round brilliant stones as a number of sources announce that three-fourths of diamonds sold are of this shape. When purchasing a stone or an engagement ring of any kind, however, popularity isn't the only thing you should look for. Your own personal taste is going to have just as much an effect on the satisfaction you get.
Brushing up on diamond education will ensure that you make an informed choice. To reiterate, it's also important to keep other factors in mind. Color, clarity and carat weight will all end up
determining the price you pay. Then there are much less technical details to focus on. Do you like the actual shape itself? The jewelry or ring band it comes on? Will your significant other appreciate it, or is there something that is more their taste? These are questions that you can only really answer yourself as they are far more subjective in nature.
E! Live from the Red Carpet co-anchor, Giuliana Rancic carried the Revelation clutch from Daniel Swarovski's 20th Anniversary collection at the 2010 Emmy Awards. The 'Bling' & Diamonds by Everlon Diamond Knot Collection/Martin Katz. Stacked Everlon Diamond Knot Bangles, Diamond Cuff by Martin Katz. Everlon Diamond Knot Drop Earrings by Martin Katz. Everlon Diamond 3 Knot Pave Ring.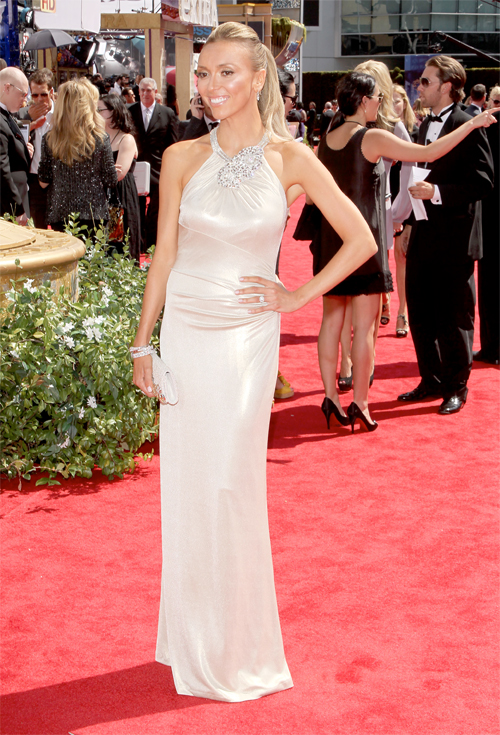 L'Oréal Paris and Carelle have once again collaborated to create gorgeous compacts to celebrate and honor Hollywood's leading ladies. This year, L'Oréal Paris received a prestigious star on the Friends of Hollywood Walk of Fame. To celebrate this achievement, each of the three different compacts showcases shooting stars encrusted with diamonds. The three compacts are made in sterling silver and plated in a different color 18kt gold, which enhances the beauty of the stones and embodies the spirit of the award show for which it is exclusively made.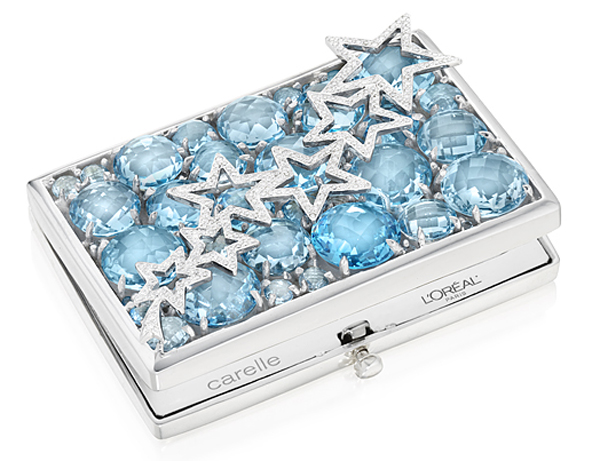 To celebrate their "Best Actress in a Feature Film" nominations, L'Oreal Paris and Carelle are thrilled to congratulate Sandra Bullock, Helen Mirren, Carey Mulligan, Gabourey Sidibe and Meryl Streep with these exclusive compact mirrors.
Introducing Essie Loves Diamonds by Judith Ripka: A Nail Color Collection Infused with Diamond Dust and Hidden Gemstones.
How do you wear diamonds? Prep nail and polish. Essie Cosmetics and Judith Ripka – two iconic luxury brands – joined forces to create the ultimate luxe accessory. Introducing Essie Loves Diamonds by Judith Ripka – a limited-edition collection of 3 nail colors infused with genuine diamond dust.
"Judith Ripka is a visionary brand with stunning jewelry pieces and they are the perfect partner for this collection," says Essie Weingarten, Founder/President of essie. "With Judith, I created this collection for every woman who loves diamonds – the colors are chic and classic."

To celebrate the launch of this collection, Essie and Judith Ripka are offering 3 lucky winners the chance to find and own a genuine precious gemstone. A sapphire, emerald and diamond will each be hidden separately inside three different polish bottles. The lucky finders will become owners of these stunning stones.
When you buy any of the three polishes, go to www.essie.com  and www.judithripka.com  and enter the UPC code on the bottom of the bottle for additional discounts and promotions.