All Posts Tagged With: "Gabourey Sidibe"
Gabourey Sidibe Oscars 2010: The Makeup.
Celebrity Makeup Artist Toby Fleischman created Gabourey Sidibe's Oscars 2010 makeup look.
How to get Gabourey Sidibe's Oscars 2010 makeup look by Toby Fleischman:
"I had the honor of working with Gabourey Sidibe yesterday for the Oscar…It was Gabby's big night after a long 14 month promotion of "Precious" so we really wanted it to be all about her. After seeing the magnificent Marchesa gown, it was an easy choice as to what her make up look should be – keep it simple and toned down so she could shine with her amazing spirit and beauty. MAC Studio Fix Fluid keeps Gabby's skin looking creamy and gorgeous and it's matte quality works to keep the shine down. We wanted a soft metallic eye to pick up the jeweled accents on the dress.
Gabourey Sidibe looks glamorous in a Marchesa gown at the 82nd Annual Academy Awards. Gabourey wears a sapphire silk chiffon dress with draped bodice and sleeves with hand embroidered crystal detail. Do you love?
L'Oréal Paris and Carelle have once again collaborated to create gorgeous compacts to celebrate and honor Hollywood's leading ladies. This year, L'Oréal Paris received a prestigious star on the Friends of Hollywood Walk of Fame. To celebrate this achievement, each of the three different compacts showcases shooting stars encrusted with diamonds. The three compacts are made in sterling silver and plated in a different color 18kt gold, which enhances the beauty of the stones and embodies the spirit of the award show for which it is exclusively made.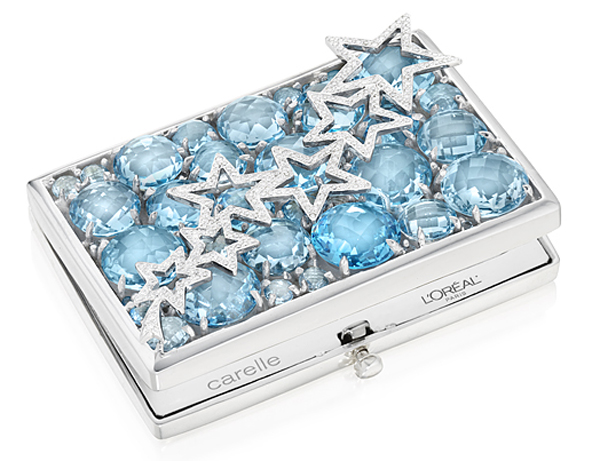 To celebrate their "Best Actress in a Feature Film" nominations, L'Oreal Paris and Carelle are thrilled to congratulate Sandra Bullock, Helen Mirren, Carey Mulligan, Gabourey Sidibe and Meryl Streep with these exclusive compact mirrors.
GET THE LOOK:  Gabourey Sidibe, Golden Globe nominee for her lead role in the movie Precious, partnered with Bobbi Brown to create her Golden Globe glow.
"I wanted Gabourey to look pretty powerful, but still like herself, so I gave her glowing skin and modern, sexy eyes. She doesn't need a lot of makeup, so we added some sparkle shadow, lashes and color to her lips and cheeks, and she was perfect. I love this look because she has a natural glow and looks like the prettiest version of herself."-Bobbi Brown.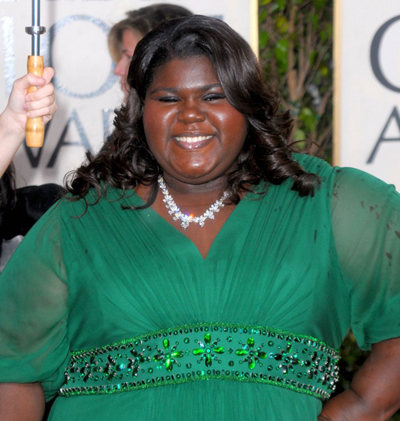 Makeup tutorial on how to get Gabourey Sidibe's makeup look at the 67th Golden Globe Awards using Bobbi Brown products:
Step 1: Prep skin with Soothing Face Tonic and Hydrating Face Cream
Step 2: Apply Chestnut Concealer under eye. Use Concealer Brush to get an even application.
Step 3: Apply Oil-Free Compact Foundation in Chestnut with a sponge and/or Foundation Brush