All Posts Tagged With: "under-eye concealer"
GET THE LOOK:  Gabourey Sidibe, Golden Globe nominee for her lead role in the movie Precious, partnered with Bobbi Brown to create her Golden Globe glow.
"I wanted Gabourey to look pretty powerful, but still like herself, so I gave her glowing skin and modern, sexy eyes. She doesn't need a lot of makeup, so we added some sparkle shadow, lashes and color to her lips and cheeks, and she was perfect. I love this look because she has a natural glow and looks like the prettiest version of herself."-Bobbi Brown.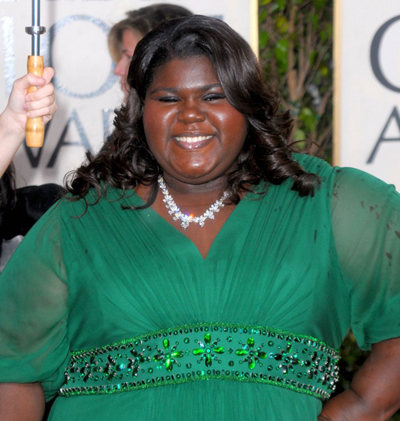 Makeup tutorial on how to get Gabourey Sidibe's makeup look at the 67th Golden Globe Awards using Bobbi Brown products:
Step 1: Prep skin with Soothing Face Tonic and Hydrating Face Cream
Step 2: Apply Chestnut Concealer under eye. Use Concealer Brush to get an even application.
Step 3: Apply Oil-Free Compact Foundation in Chestnut with a sponge and/or Foundation Brush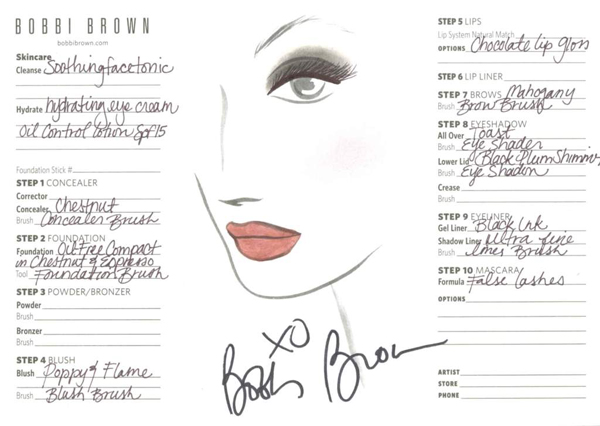 GET THE LOOK: Thanks to Celebrity Makeup Artist Gita Bass Talking Makeup has the scoop on how to get Toni Collette's radiant look at the 67th Golden Globe Awards last night.
"For Toni Collette I combined warm healthy skin with a bronze metallic smoky eye and nude glossy lip" according to Gita. She prepped her eyes with AMOREPACIFIC Moisture Bound Intensive Vitalizing Eye Complex (available at Sephora.com)  to reduce any puffiness and to ensure the concealer and shadow stay in place all night. To create the perfect canvas for a flawless radiant complexion, Gita prepped Toni's skin with AMOREPACIFIC Moisture Bound Refreshing Hydra Gel. The whole look was set with AMOREPACIFIC Moisture Bound Skin Energy Spray for a final touch of hydration and staying power. 
 "I added a layer of La Mer's The Body Crème to keep her skin looking glowing and radiant. To keep her face looking flawless I used The Radiant Concealer SPF 25 under her eyes and on any redness. I prepped her lips with the amazing La Mer Lip Balm to keep them full and hydrated all night long." added Gita.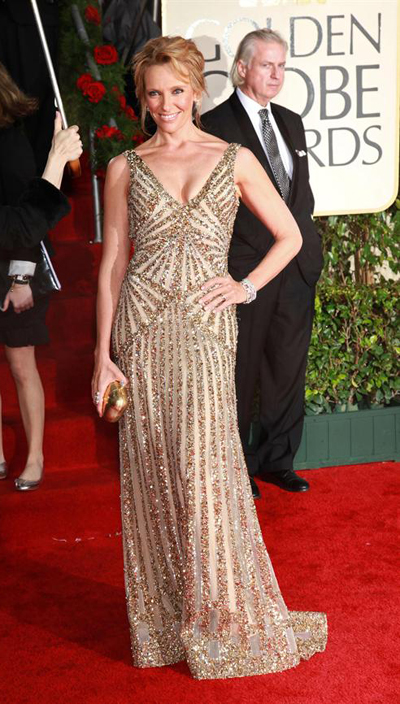 GET THE LOOK: Christina Hendricks from Mad Men makeup look was created Celebrity Makeup Artist Vanessa Scali using products from shu uemura's newest launches: Depsea Hydrability and Égérie Spring 2010 Collection.
Inspiration & The Look: "Effortless and chic: sheer satin eyes, pink milk-maid cheeks and a siren mouth. Christina's dress has a sexy, yet soft look. We mirrored this with her make up. I love the contrast of the angelic, innocent face with the sexy edge of a strong mouth."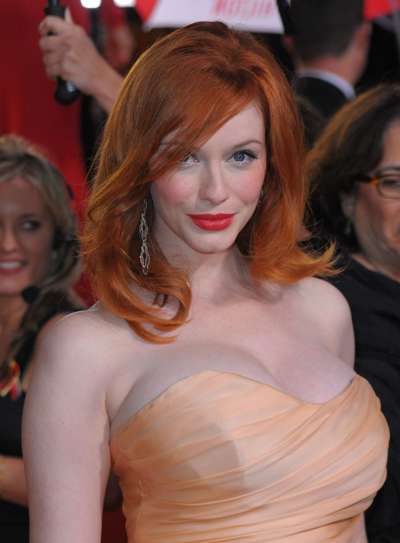 Here is how to get Christina Hendricks' red carpet makeup look at the 2010 Golden Globes:
PREPARE: I used shu uemura's new Depsea Hydrability Moisture Cream. This cream seriously hydrates, yet disappears into the skin leaving the skin feeling fresh and smooth.
UNDEREYE: Lancôme's Effacernes in Porcelain.
FOUNDATION: Applied minimal foundation, because Christina has nearly flawless skin. I used shu uemura's Nobara Cream Cover Stick foundation.
Last year I had an amazing opportunity to interview "CSI:Miami" star Eva La Rue about her beauty secrets. Eva was such pleasure to chat with. She was the sweetest!
I would like to share with my interview with Eva La Rue, just in case you've missed it.
Eva La Rue is the beautiful actress best known for her role of Natalia Boa Vista on CSI: Miami. Beginning season 5, Eva became a full-time cast member. Previous to CSI: Miami, Eva La Rue portrayed Dr. Maria Santos Grey on All My Children. In this interview, Eva La Rue reveals some of her beauty secrets, her romantic engagement in Africa, what some people may not know about her, and her movie with Samuel L. Jackson called: Lakeview Terrace.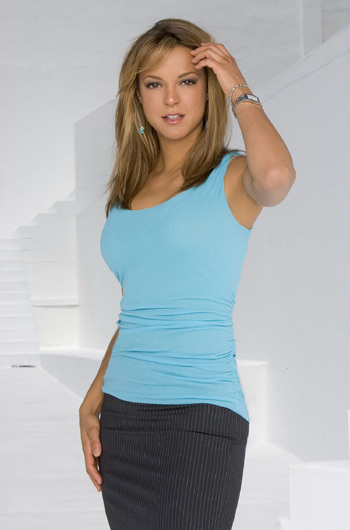 I keep my hair beautiful thanks to…
I have really oily hair, I have girlfriends who can go three days without washing their hair. My hair gets oily overnight. I do use a dry shampoo that extends my wash by one day, but no more than that. I use a Fortifying Deep Conditioning Sleek & Shine by Fructis by Garnier. It also works really well when you want to dry your hair straight.
My favorite skincare products are…
I use Astara Bio Genic Skincare. Of all the creams I have used, it's the only brand I re-buy. Astara is by far the most active. It supposed to be all natural too. Sometimes I see their masks at Sephora but I don't think they carry the whole line, so I always order Astara Skincare products online.
I get my eyelashes looking long, full, and sexy using…
Revita-Lash. It's pricey, $140, but it really works. It gives you spider leg long lashes. I was skeptical first. But for some reason, I put on false eye lashes, I pulled them and it pulled a whole chunk of my lashes, so I was desperate. You have to give it 3 weeks to work, and then you notice you have Daddy Long Leg size eye lashes.